Sitting around a Dal dorm room one evening this July, Chloe Brydon and some of the new friends she'd recently made in the SHAD Dalhousie program were feeling a little hot.

"The temperature in my room was 26 degrees, so someone turned the thermostat down," says Chloe, a grade 11 student from Penticton, B.C.

While the teens might not have thought twice about deciding to adjust the thermostat in another social setting, in this case it prompted them to ask a question: "We thought, 'I wonder how much it costs us to keep it at 26 degrees?'"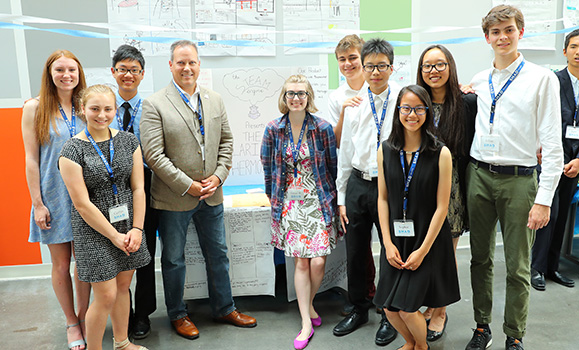 The Clarity Thermostat with MP Darren Fisher at the SHAD Dalhousie Open House.

Seeing no easy answer, Chloe and the others came up with an idea that could help provide just that — a thermostat that tells you how much money you are going to spend or save every time you change the temperature of your house.

It seemed a perfect fit for the team's SHAD innovation challenge. As participants in SHAD, a month-long summer program aimed at empowering exceptional high-school students to make the world a better place, they were tasked with figuring out ways Canadians can meaningfully reduce their energy footprint.

"We thought environmental conscience wasn't going to be enough to motivate people to change their behaviour, so we chose to use cost incentives because money plays such a big part of everyone's life," explains Chloe, one of the nine team members who worked on the idea for the Clarity Thermostat.
Bringing STEAM to life


The group was one of six teams to present its project to the Dal community, local MPs Andy Fillmore and Darren Fisher and others last Thursday as part of the SHAD Dalhousie Open House. The event serves as a showcase of sorts for the different projects and experiences during the four-week program.

About 800 high-school students from different parts of the country participate in the program each July, with 54 students allocated for Dal. Like the other host universities, the Dal program provides unique experiential-learning opportunities for youth centred on the STEAM disciplines (science, technology, engineering, the arts and mathematics).

As a SHAD Dalhousie staff member since its launch in 2001, and program co-director since 2013, Dal Information Management professor Mike Smit has seen a lot of different teams come through the program.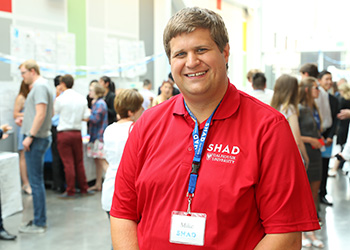 "This is one of the strong cohorts of students I've seen," says Dr. Smit (right). "We get far more applicants than we can take each year, so one of the biggest challenges is how do we find the best people we can. The better we get at that, the more they are able to bond as a group, the more creative they are collectively, the more that they are able to achieve."
Building ideas from scratch


SHAD programming this year ran the gamut from talks by Dal faculty such as Jeff Dahn and Peter Duinker to workshops and engineering challenges — all aimed at inspiring youth to approach the year's topic with a creative, evidence-based and entrepreneurial mindset.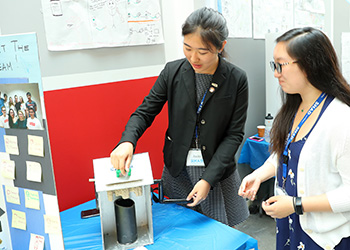 Another of this year's teams hatched an idea for an industrial-sized manual compost bin that could be situated at campgrounds in national and provincial parks. Designed with a unique shredder system, the CAMPost would allow campers to grind up food waste that is then deposited into a big drum where it decomposes over a month before being reused as fertilizer nearby.

"It eliminates the need to transport food waste from a camp site to a process facility because it all happens on site," explains Katie Huh, a team member from Mississauga, Ontario.

Teammate Jacki Zhang of Victoria, B.C., says the SHAD experience taught her a lot about how to work in a group setting with people you don't know.

"At school, we usually do projects and go with our friends first, but here they put us in groups and it is a very different dynamic. Everything is basically from scratch," she says.

A stellar learning atmosphere

Near the end of the program, each team has the chance to present their project in front of a room of people. Awards are then presented to teams by a panel of judges, while the students vote on which project will move forward to face off against teams from each of the other SHAD campuses at the SHAD Cup this October in Toronto, Ont.

In the end, it was the team behind the Clarity Thermostat that won this year's challenge. While the team members have plans to refine their idea and redo their business plan ahead of the SHAD Cup, it's clear their time at Dal has already made the SHAD experience worthwhile.

"It's been pretty incredible," says teammate Caitlyn Waterhouse of Saskatchewan. "I think we'd all agree that the atmosphere here has been great and so welcoming."