Researchers from three provinces are challenging the stigma surrounding end-of-life care by merging scientific research with performance art.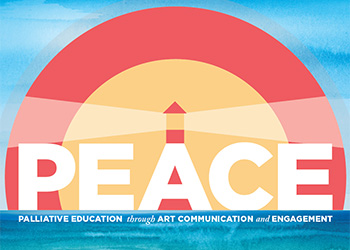 Brenda Sabo, an associate professor in Dal's School of Nursing, and a research team that includes physicians, nurses, family members, an epidemiologist and a bereavement counsellor have created the PEACE Project (Palliative Education through Art Communication and Engagement).

In 2015, Dr. Sabo began interviewing patients and family caregivers who have experienced palliative care. Along with 18 other researchers from Nova Scotia, Ontario and Quebec, she sought to change the stereotypes associated with end-of-life care and develop new methods of educating the public and health professionals about an uncomfortable topic.

"I've been using art as a medium to present my research since 2007," says Dr. Sabo. "It seemed like a no-brainer to include artistic elements in this project as well."

One in four Canadians will die of cancer, according to the Canadian Cancer Society, making it a leading form of terminal illness in the country and a focal point for researchers on end-of-life care. The deaths, while not preventable, can be managed to make them less unpleasant.

Education through authenticity

After weeks of discussion and workshops, the PEACE Project became a 50-minute theatrical performance featuring students from the Fountain School for the Performing Arts. However, the script wasn't written with a plot in mind.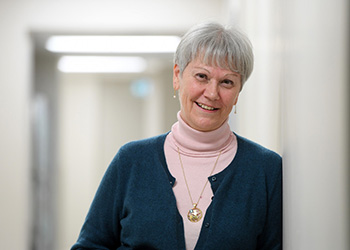 "The voices of the actors are actually the stories of the individuals I interviewed," explains Dr. Sabo (right).

The work, which was performed for the first time on June 25 at the Halifax Central Library, doesn't feature specific stories from beginning to end, but rather uses snippets of interviews with similar themes to paint the picture of end-of-life care as a whole. Some of these themes included LGBTQ relationships, the language surrounding terminal illness, and how cancer impacts the family dynamic.

One actress told the story of a woman taking care of her terminally ill mother. The pair chose not to dwell on the uncertainties and fear of the illness, but rather decided to focus on making positive memories of their last days together. The duo held a "girls' night" in hospice palliative care where they watched movies and enjoyed the company of one another. The scene presented a perspective on palliative care that is not often discussed, one of joy and love despite the circumstances.

Starting a discussion

More than 80 people came out for the event, many of them seated in a circle for an interactive experience. The piece also featured interactive exhibits of common palliative-care scenes such as a table filled with textiles, slippers, and quilts. Each exhibit featured sounds to paint the scene and pages of direct quotes from interviewees. Audience members had the opportunity to engage with each scene before the show began.

"This project is going to be used as an educational module for nursing students at Dalhousie" Dr. Sabo told the audience. "We hope to have these modules available this coming fall."

In addition to the educational modules, the show will continue to be developed throughout the summer. The group will be presenting the piece in Montreal and Toronto in August, and will be returning to Halifax in September for the Halifax Fringe Festival.

Following the performance, audience members were encouraged to share their stories and ideas surrounding end-of-life care.

"We need to start talking," said Dr. Sabo. "I hope to encourage early referrals to palliative care. We can't be afraid of the topic and we need to discuss solutions."