Cheyenne MacDonald has a passion for traveling and learning from other cultures, but her biggest dream is to start a business using traditional knowledge from her own.

Cheyenne is a member of the Sipekne'katik band in Indian Brook and is enrolled in the Plant Science program at the Faculty of Agriculture on Dal's Agricultural Campus. She began her student career in the Health Science initiative for Aboriginal students on the Agricultural Campus, changing programs twice — first to Animal Science, then to Biology with a minor in Spanish — before finding her place in the Plant Science program.

"I came back to the AC to study plant science, because of my dream to be an ethnobotanist and to specialize in herbal remedies," says Cheyenne. "Using products from the earth is important in my culture, so I would like to incorporate the values that I grew up with in my work."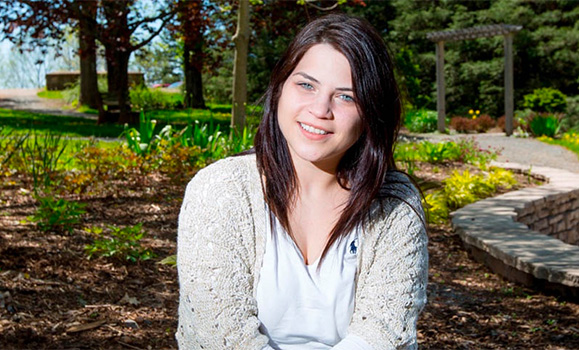 Cheyenne hopes to one day start a business using traditional Aboriginal medicinal plants to create natural tinctures and creams. A tincture is a liquid extract of herbs that can be utilized in a more concentrated form. She completed an esthetics program in 2010 and has been working in the profession ever since.
Making a difference

"Being an esthetician, I've seen how skin ailments can affect how people feel about themselves," she says. She hopes to improve the confidence of those with skin ailments by providing effective natural treatments.

Art Stevens, manager of Aboriginal students with the Faculty of Agriculture, says it's inspiring to work with students like Cheyenne.

"I have the pleasure of working with and for students like Cheyenne who show a resilience and willingness to work hard and not give up on their academic goals," says Stevens.

Cheyenne also has a connection to the Halifax campus as her mother, Nancy MacDonald, is an assistant professor in the School of Social Work.

Outside of her program, Cheyenne is passionate about volunteering, especially with animals and in nature. She is a regular volunteer with Canada's National Parks and with Hope for Wildlife Nova Scotia.

"I have a curiosity for the world and to be able to see new places and experience new things and learn about other ways of life helps me appreciate the world from another point of view."