It takes thousands of people across the university to support Dalhousie's mission — in the classroom, in the lab and in offices and units on all campuses.

The Dalhousie Professional & Managerial Group (DPMG) is the association that includes the university's managers and professional employees. Last week it held its annual all-day conference — under the theme of "Leadership Challenges & Opportunities — at which it announced the recipients of the 2017 DPMG Awards.

The award recipients were also celebrated at a luncheon on Tuesday, June 6.

In addition to three honourees for the longstanding DPMG Award — which recognizes exemplary contributions to the university — the DPMG also handed out a new honour: the DPMG Early Career Award for Outstanding Achievement. The new award celebrates employees with less than four years of service in the DPMG.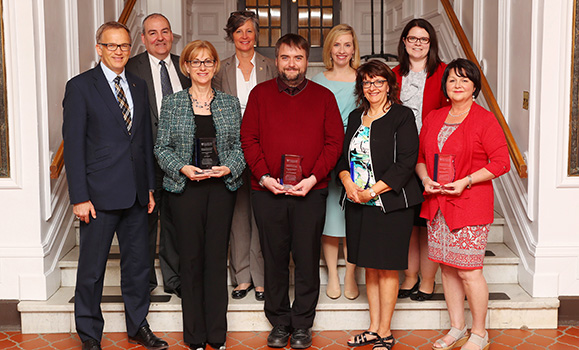 Back row, left to right, the 2016-17 DPMG executive: President Robert Wooden, Secretary Andrea Power, Vice-President Jennifer Morawiecki and Treasurer Kate Somers.
Front row, left to right: Dal President Richard Florizone with DPMG award winners Gail Power, Darrell Rhodenizer, Debbie Parker, Cathie Smith-Gillis.

Debbie Parker
Manager of Compensation and Senior Human Resources Consultant
Human Resources

Building and maintaining positive relationships with a wide variety of employees and managers is something that everyone wants to do and is a great skill for any employee to possess. But being able to do this successfully while also leading the university's job evaluation process, which can sometimes be emotional and overwhelming for employees, is impressive. And this is what Debbie Parker has done for many years at Dalhousie.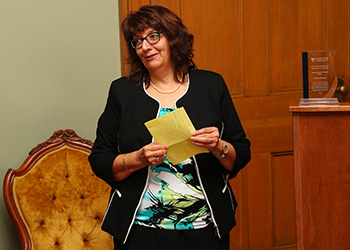 Debbie is both trusted and respected across campuses, and her nominator and supporters have heralded her for her compassion and dedication to a role that, at times, can be difficult and thankless. But Debbie performs her role with a very high level of integrity and commitment and she works hard to contribute to the reputation of Dalhousie as an employer of choice.

Among the many highlights of her nomination package was her work in the merger of the Nova Scotia Agricultural College with Dalhousie, a large and complex task on many fronts. Debbie was instrumental in the alignment of the Government of Nova Scotia's compensation structure to the compensation structure of Dalhousie. This project involved evaluating hundreds of positions from various union and employee groups. And behind each position was a person. While there were challenging questions, Debbie was always able to address these in a kind and warm manner, while always remembering that this process was doubtless a very anxious one for our Truro campus colleagues.

Debbie's nominator, Sheila MacLean from Human Resources, stated in her nomination letter that Debbie is a confidante to many, a strong and knowledgeable leader within human resources and someone who is always considers the big picture when making decisions or providing advice. And, quite simply, she is a very proud member of the Dalhousie community.

Gail Power
Faculty Administrator
Faculty of Agriculture

Things seem to have come full circle for Gail Power. She joined Dalhousie in 1991 as a Facilities Manager for Housing and Conference Services. She received her DPMG Award in Shirreff Hall, one of the buildings she originally managed, just a few short weeks before she retires from the university.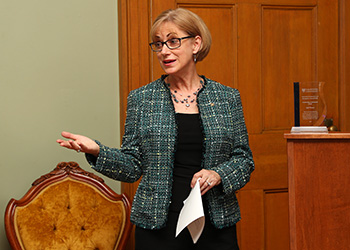 After her first role with Housing and Conference Services, Gail held roles with the Department of Chemistry, Research Services and with the Faculty of Agriculture. During her 15 years with Chemistry she provided a leadership role for new initiatives within the department, including working with 25 faculty members writing a first-year chemistry textbook and the 2008 strategic review of the department.

Most recently, Gail has served as the first Faculty Administrator for the Faculty of Agriculture, a newly created role as a result of the merger of the Nova Scotia Agricultural College with Dalhousie. While the role of Faculty Administrator is well known at Dal, it was new to the Agricultural Campus. Gail's nominator, Dean David Gray, described how the merger of the two institutions, with campuses located nearly 100 kms apart, created the need for an exceptional effort — not only to deal with the transition and integration of the merger with the Halifax campuses, but also with the day to day operations of an entire faculty.

Results-focused, knowledgeable, positive, personable, understanding, supportive, highly engaged, determined and committed are just a few of the words used to describe Gail by her nomination supporters, Jean Lynds from the Faculty of Agriculture and Janice MacInnis from Human Resources. Jean states not once, but twice, that Gail's contribution to their campus and Faculty has been exceptional.

Cathie Smith Gillis
Director of Human Resources
Faculty of Health Professions

Cathie Smith-Gillis is integral to the smooth operation of the large and complex Faculty of Health Professions, home to 10 different schools and over 1,400 full-time and part-time faculty, staff, sessional instructors, casual employees, teaching and research assistants and postdoctoral fellows.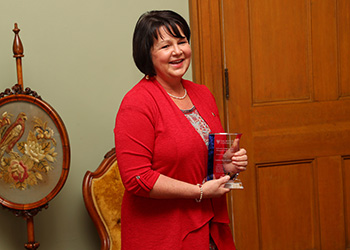 She was nominated for the DPMG award by her dean, Dr. Alice Aitken, who tells us that "Cathie's consistently high performance is instrumental in ensuring that we are not just meeting, but in fact exceeding, the standard. In every way, Cathie exemplifies the qualities of an outstanding employee."

Considered by her peers and community to be an invaluable asset, Cathie consistently goes above and beyond to lead HR initiatives, offer exceptional service, and provide reasoned and thoughtful advice — ensuring that the majority of the human resource issues her Faculty encounters do not have to move beyond the level of the Faculty.

Her achievements are many, but in nominating her for this award, her supporters have highlighted several. These include her efforts to help streamline the workload guidelines for DFA members, and her preparation of a highly-regarded Employment Equity plan for the Faculty.

Perhaps most notably, Cathie has developed a performance support and professional development tool for use across the Faculty. This initiative, which arose out of feedback from workplace surveys identifying issues with the ACHIEVE program, required careful thought around how a performance review tool could foster individual and team development, build accountability and feedback into annual routines, and capture the varied and multifaceted contributions of a broad range of employees.

Darrell Rhodenizer (recipient of the Early Career Award)
Associate Director for Advancement Systems & Reporting
Office of Advancement

Darrell Rhodenizer is in the early stages of his Dalhousie career as a DPMG member. He joined the Office of Advancement less than three years ago as the Manager for Information Systems, and within a year he took on a leadership role with the Advancement Operations & Planning unit as Associate Director.

Darrell's supporters say that he came to Advancement ready for new challenges, and immediately applied his considerable skills and aptitude for learning to some of the thorniest and longest-standing barriers to progress that Advancement staff faced in trying to fulfil their mission. Within a very short time, his supporters were regarding him as a "game-changer."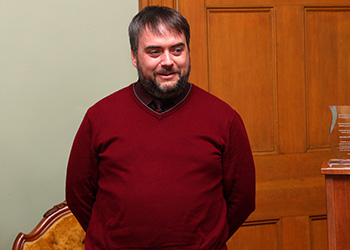 His contributions include a complete revamping of Advancement's fundraising reports from the ground up (eliminating many laborious manual processes in doing so); envisioning and creating a "data mart" to accelerate the Office's ability to bring data together into reports and analyses to drive decision-making; streamlining and automating processes to help staff become more efficient; developing tools and implementing systems to allow fund raisers and alumni officers to work more effectively; helping to set strategic direction for how Advancement Operations can most effectively support the unit's mission and goals; and representing Advancement's needs to central IT better than it has ever been done before.

His nominator, Suzanne Huett, says, "I have been involved in the fundraising profession for over 30 years and I have never witnessed anyone who has his exceptional ability to holistically understand the work of Advancement. He has developed a universal, integrated and collaborative approach to tackling goals by being an active listener and an engaged participant in any committee, task or challenge that is he involved with."

Darrell's work with Advancement has been transformational, and forms an important part of the foundation Dalhousie needs to effectively manage the University's relationship with its alumni, donors, and prospective donors, as his Office seeks to maximize support for the University's overall mission.