Robyn Follet says that when she heard Dalhousie University's name echo through the PA of Western University's McKellar Room last Wednesday afternoon, it almost didn't seem real.

"It didn't quite believe it," says the Psychology and Creative Writing student. "It took a while to sink in."

Robyn and her teammates — Biology student Alicia Roy and Accounting student Danielle Skuy — had been announced as the winners of the first ever international World's Challenge Challenge (WCC). Hosted by Western University, the international competition invited ten student teams from six countries to pitch their proposals for solutions to global issues and challenges.

The trio's project, Total Dimension Prosthetics, is for a mobile clinic that would provide 3D printing training to local female prosthetists in developing countries, allowing them to make prosthetics from recycled plastics. The project would help reduce inequities caused by gender, disability and economic disparity.

Having previously emerged as the winner from Dalhousie's local competition, the team went to Western, where its members delivered a 5-to-7-minute pitch up against competition from teams from Canadian schools such as UBC and Waterloo, as well as international schools from the U.S., Hong Kong, Australia and more.

With a sample lower-leg prosthetic socket to show — made in five hours, and part of a complete prosthetic that would cost $400, 10-times less than using conventional technology — the Total Dimension Prosthetics proposal won over the judges, banking $30,000 for the students to help bring their idea to life.
Refining the idea

The three students come from three very different academic backgrounds, but share in common one "key" connection: all are members of the Golden Key, the world's largest collegiate honour society. The three served on the executive for the Dal chapter of the organization, and came together when they learned about the WCC compeititon.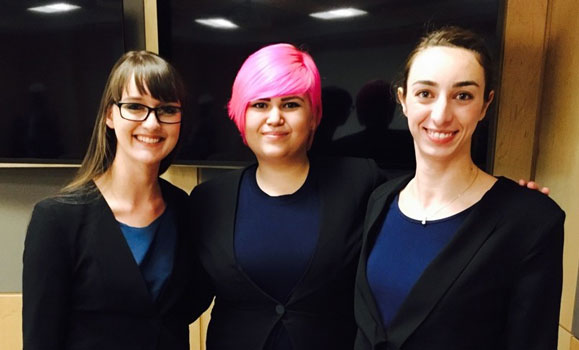 "We had our first group meeting and just brainstormed around our different areas of expertise, and we had no idea what direction it would take us," says Danielle, who graduated at Convocation this past week. "And at every stage we've been refining our solution. By the end of it, I think we totally understood what our roles were in our solution and who would make this happen."
Read past coverage: Dal changemakers take on the World's Challenge Challenge competition (March 30)

Dal professor Jenny Baechler, associate director of Dal's corporate residency MBA program and coordinator of the Management Without Borders program, provided some coaching to the team ahead of the international competition.

She says she encouraged the team to think beyond the concept of their project and more about the specifics and details of how they would actually roll it out if they won the $30,000 prize.

Rather than introducing the project in several countries with a wide range of partners, they decided they would approach it more modestly with a smaller-scale pilot program — one focused on Uganda — to see what pieces work and what ones might need change again.

"What's great about them is they were so open about how their idea might evolve," says Dr. Baechler. "They broke the idea down and then built it back up. It might have looked very similar to where they started, but they had made some refinements."

Learning from each other

Team member Alicia, who like Danielle graduated from Dal last week, says the diversity of perspective and styles on the team helped them work really well together to advance their idea.
 
Robyn agrees. "It really took each of us, and our different skills, to make this happen," she says.

"Everybody brought a different approach to things, and we were totally able to leverage that," adds Danielle. "It's the best team experience I've ever hard."

Although the trio is now spread across the country, work on Total Dimension Prosthetics continues. The team is currently discussing their proposal with a potential technology partner with an eye to fully developing a pilot run of the project in the not-too-distant future, adding a research study to measure the impact of the clinic on women as well as the barriers for females to prosthetic care.