Behind every successful student lies a collection of people who have provided support along the way. Teachers come to mind, of course, but so do the many faculty and staff who have committed their time and effort to helping students in other important ways.

That's why in 1995 Dal established the Rosemary Gill Award, an honour created specifically to recognize those individuals at the university who have provided outstanding service to students in a non-teaching capacity.

The award is named after Rosemary Gill, a graduate of the Faculty of Medicine. Later, she became director of Student Health Services from 1985 until shortly before her death in 1991, and throughout was an exemplar of incredible service to students.

"During her time at Dal, Dr. Gill really exemplified the commitment, passion and the exceptional service to students and patients and other members of our community that we so value here," said Dal President Richard Florizone at a ceremony for this year's awardees Tuesday. "This prestigious award is presented every year to members of our faculty or staff who mirror those qualities that we so admired in Dr. Gill."

Meet this year's recipients:

Sharon Forward, Faculty of Medicine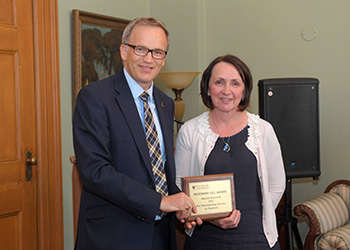 Sharon Forward is often the first person students come into contact with when they apply to medical school at Dal. And for nearly 30 years, she has worked tirelessly to make what can be a nerve-wracking process as seamless and comfortable for students as possible.

Sharon got her start in the Faculty of Medicine in 1989 as a coordinator in the Undergraduate Medical Education Office, where she spent 13 years working on everything from curriculum and evaluation initiatives to organizing scholarships, awards and convocation.

In 2002, Sharon moved into her current role as director of admissions and student affairs. She regularly works to incorporate student feedback to refine the overall experience and has led several initiatives to help streamline the application process, including the implementation of a multiple mini-interview process that enables interviews for up to 400 applicants over one weekend.

Sharon's relationship with students doesn't end at admission, though. She plays an integral part throughout their entire journey at medical school from orientation week to their transition into the workforce. She designed and implemented a four-year career-planning program and assists them in the often-stressful Canadian Resident Matching Service (CaRMS) process, which matches students with their postgraduate medical specialty. She created a fifth-year career-enrichment program for those students left unmatched in CaRMS.

Students' affection for Sharon is no secret. She has been made an honorary member of the graduating class three times during her career (1999, 2005, 2013).

"Without her constant drive for improvement to student life and willingness to go the extra mile for students, the student experience at Dal Med would be much less robust," said one of the seven individuals to provide a Rosemary Gill nomination letter for Sharon.

Sharon said in remarks at Tuesday's reception that working with students has made for an extremely rewarding career. "There are so many examples of how I get to interact with them, and I feel very grateful and very honoured to be able to do this," she said.

Eileen Kaiser, Department of Pathology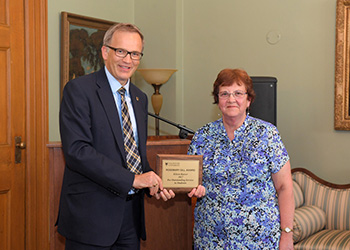 When Eileen Kaiser joined Dal's Department of Pathology more than 25 years ago, its master's program had only three students. Today, it has 32. She has played an important role in fostering a sense of community in the department as it has grown (including the addition of a PhD program in 2003), connecting students with each other and with faculty and staff.

Officially, Eileen has three different titles in her department: administrative assistant, graduate secretary and department head secretary. She has been praised for her problem-solving skills and for helping students through challenging personal and professional situations, and has been described as a "keystone" to grad student success.

As one student put it in a nomination letter: "Pursing a graduate career can be a lonely endeavour, but each and every grad student knows Eileen is there behind them, rather like a den mother."

Indeed, Eileen is more than just an assistant to students. Described as an ally, she gives them a voice when they need it most and ensures their concerns are heard and acted upon. Although Eileen will retire next year, she is still very actively involved in contributing to the department. She is said to have almost single-handedly organized a recent Pathology research day that brings the clinical and research sides of the department together.
"Being a part of the Pathology department, especially the grad programs, has been my pleasure and pride for years," she said.

Lugene Young, Manager Health Services (Agricultural Campus)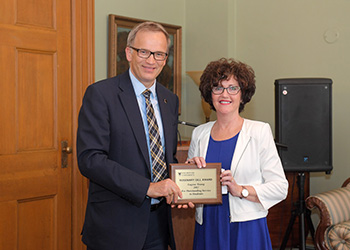 Receiving the Rosemary Gill Award is particularly special for Lugene Young, who actually worked alongside Dr. Gill at times during her early career as a labour and delivery nurse at the Grace Maternity Hospital in Halifax in the late 1970s.

If Lugene's 23 years serving as manager of health services on the Dalhousie Agricultural Campus (formerly the Nova Scotia Agricultural Campus) are any indication, the influence of her early mentor stuck.

Lugene has built a reputation over the years as a passionate advocate for student health. Motivated by a belief that quality health care is necessary for student success and student retention.

Often described as "passionate," Lugene is well known for providing a holistic approach to health care for students — one that takes into account their physical, emotional and sexual health. She has struck up partnerships with local psychologists and psychiatrists to improve mental health of students and helped introduce Elephant in the Room, an anti-stigma workshop, to the Truro campus.

Among Lugene's other achievements (of which there are many) was her creation of a peer-to-peer health promotion program that empowers student leaders to educate fellow students on topics of health and wellness.

And then there are the one-on-one relationships that she builds with students, which go well beyond a regular job description.

"She is more than a nurse, she is a health educator, a mentor, an inspiration and a friend," said one former student in a nomination letter.

"Most days, I can't believe what a privileged position I have at Dalhousie University," said Lugene after receiving her award.  ""It truly is an honour to work with students, to watch them develop their own understanding of life."