A curiosity and passion for the ocean is what initially drew Marine Biology student Kaitlin Burek to Dalhousie, but it was the possibilities she saw in co-operative education that sealed the deal.

"Through high school eyes, co-op seemed like the ultimate adventure that could provide a platform to discover and explore interests, network with inspiring professionals and grow as a person," she says.

Five years later, it has done all that and more. The Science, Information Technology, Engineering Co-operative Education (SITE) Co-op program gave Kaitlin the opportunity to explore pre-existing interests and discover new ones. She worked with Environment Canada as a research assistant in a harmful algal bloom and management laboratory in Burlington, Ontario. She educated eager whale watchers about the Bay of Fundy and the local fauna with Brier Island Whale and Seabird Cruises in Westport, Nova Scotia. And she worked on-campus at Dal as a research assistant, developing a variety of laboratory and fieldwork skills.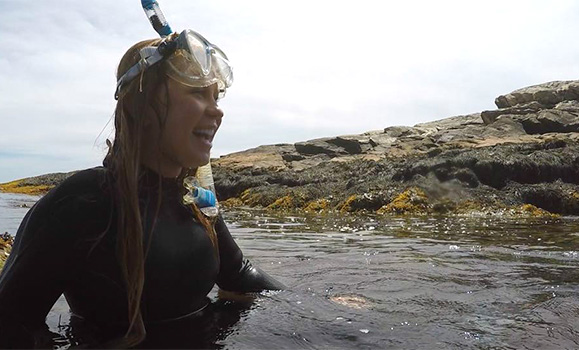 "I really do feel like I've struck it rich on my co-op journey," she says. "I've been surrounded by approachable and incredibly smart people that inspire me daily. I've also been able to create a space that allows people to recognize the importance and beauty of the natural world.

"Co-op provided an avenue where marine sciences came to life, becoming more than a line or an image in a textbook and that has been amazing. My experiences, although varied equipped me with a plethora of skills and ultimately demonstrated the essence of co-op, to be open-minded and take risks."
Hands-on learning

It was during her work experience in Robert Scheibling's benthic ecology laboratory at Dalhousie that the question of where her marine biology degree would lead began to be answered.

Her work in the lab was wide-ranging — from demonstrating how invasive seagrass impacted native species to doing photo analysis of kelp beds in Nova Scotia. She also participated in a sea urchin study, a marine bryozoan study, a scientific diving class and literature searches.

"I was encouraged to partake in different projects that employed a variety of skills, all of which contributed to a better understanding of my career goals and the skills necessary to achieve them."

It was Dr. Scheibling (Killam Professor in the Department of Biology), her supervisor, who nominated her for one of Dalhousie's Top Co-op Student of the Year Award — which she received at a ceremony last month. The Dalhousie Top Co-Op Student Awards are a joint effort between SITE Co-op along with Management Career Services and Architecture & Planning Co-op & Career Services.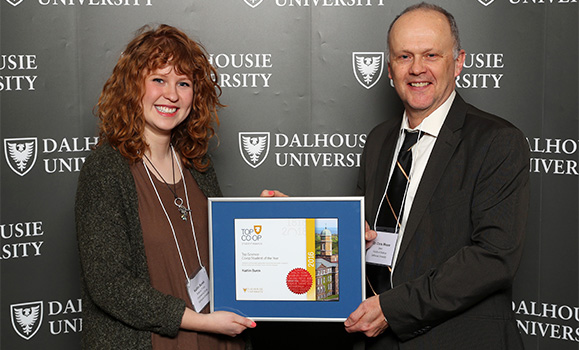 "I can't think of anyone more deserving than Kaitlin for the Top Co-op Student of the Year award, wrote Dr. Scheibling in his nomination submission. "It has been a privilege and an honour to serve as her mentor so far. Kaitlin's assistance with ongoing field research during her co-op work term paved the way for her honours research, which has become impressive in scope and rigor."
Making the most of her experiences


Looking back on her three placements as she approaches the end of her degree, Kaitlin is convinced of the power of co-op.

"I've been exposed to a variety of work environments, learning opportunities, people, and places," she says. "These experiences have led to career and personal development and provided an enriched academic experience. I'm proud to say I went to Dalhousie and was involved with the co-op program, but even more so how it encouraged me to remain just as curious and passionate about the ocean realm as I was when I first pursued a marine biology degree."