For Martha Crago, her upcoming journey to Montréal is a homecoming. For the Dal community, it's a very fond farewell.

On Monday afternoon, the atrium of the Steele Ocean Sciences Building was filled with colleagues, friends and supporters who came out to give their regards to Dr. Crago. After nine years as Dalhousie's vice-president research, she is leaving the university to become vice-principal of research and innovation at her alma mater, McGill University, effective July 1.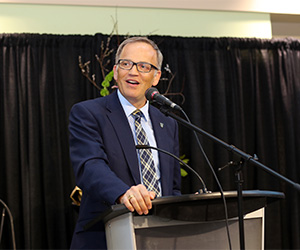 "It is an understatement to say that Martha will leave a lasting legacy at Dalhousie," said Dal President Richard Florizone in his remarks, "from significant policy changes to new investments to her personality, leadership and charisma that has filled the halls of this institution."
Dr. Florizone described Dr. Crago as a "charismatic convener," one who "inspires [people] in a way that unites their passion and their energy to action."

A transformative tenure

Under Dr. Crago's leadership, Dalhousie has grown its research funding by 28 per cent, acquired support for numerous large-scale research initiatives and built key partnerships to fuel innovation and economic development. From drafting and implementing the university's Strategic Research Plan and Institutional Framework for the Support of Research to welcoming German Chancellor Angela Merkel to campus in 2012, it's been an eventful nine years for Dr. Crago

Some of her most notable achievements at Dalhousie have been in support of ocean research. These include a $25M Network of Centres of Excellence grant for MEOPAR (Marine Environmental Observation Prediction and Response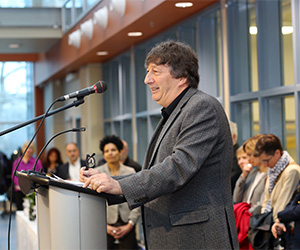 Network) and the successful application to the Canada First Research Excellence Fund that launched the Ocean Frontier Institute (OFI) with the largest federal research grant in Dal's history (nearly $94M). These transformative projects have helped place Atlantic Canada on the global stage in ocean research.

"It's an amazing story of what you can do when you combine a grand vision with the ability to motivate people to work together, and then add a pretty heavy dose of determination," said Doug Wallace, MEOPAR's scientific director and Canada Excellence Research Chair in Ocean Science and Technology.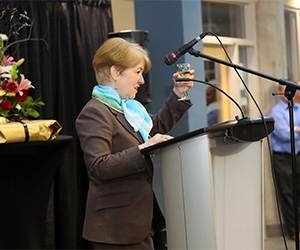 Wendy Watson Wright, CEO of OFI, paid tribute to Dr. Crago's achievements in verse.

"You made your mark, there is no doubt, you know the system inside out," she rhymed. "Your contributions were immense, and though at times things could get tense, you always were sincere and straight, and quick to enter the debate. You never failed to state your view to help some funding get through."

John Risley, whose $25M donation was key to catalyzing support for OFI, told the story of his first meeting with Dr. Crago about ocean research at Dalhousie.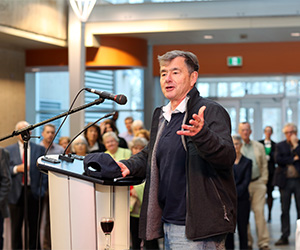 "I came away from that meeting enormously impressed by Martha, and wanting to do whatever it was to help her do what she felt was important," he said. "I'm really proud I was hopefully able to do something to help you, but I'm more proud of what it is you've done for Dalhousie, and for the community."

"The best job ever"

Among those who turned out to celebrate Dr. Crago were former Premier Darrell Dexter, Halifax Mayor Mike Savage, former Senator and past Dalhousie Board Chair Jim Cowan, current Dalhousie Chancellor A. Anne McLellan and National Research Council President Iain Stewart.

Stewart previously served alongside Dr. Crago as Dal's Assistant Vice-President Research, and was one of many current and former colleagues Dr. Crago thanked in her remarks. Among them: John Newhook, former associate vice-president research, who is currently taking a short bit of time off before serving as Dalhousie's acting vice-president research beginning May 1.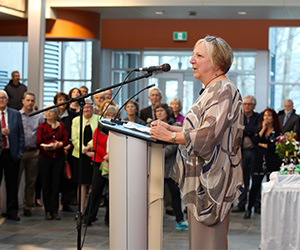 For Dr. Crago, returning to McGill is a homecoming in two ways: a return to the university where she not only completed three degrees but was a faculty member for much of her career, and also an opportunity to be closer to her family and her grandchildren. But it was clear from the reception that the bonds she made at Dalhousie will last no matter where her future takes her.

"I always say that working in universities is the best job ever," she said. "You get to be curious, it's a great cause, and you have wonderful company like all the people in this room. It will always be a pleasure for me to work in universities, and this particular one will always have a very special place in my heart."