One of the world's best high-powered telescopes is about to be built in South America — with the help of Dal expertise.

Scott Chapman, Killam Professor in Astrophysics in Dal's Department of Physics and Atmospheric Sciences, is part of the international group of scientists constructing the Cerro Chajnantor Atacama Telescope-prime (CCAT-p).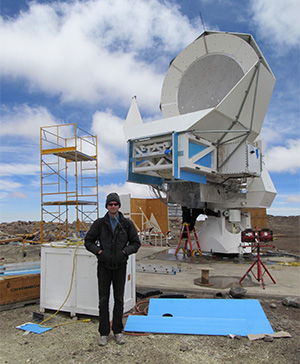 Located 5,600 metres above sea level at the summit of Cerro Chajnantor in Chile's Atacama Desert, this state-of-the-art, six-metre aperture telescope will help us see the sky in unprecedented ways. In a few years, scientists will be able to learn more about the galaxy, planet and star formation, dark energy and the sum of neutrino masses.

"We're trying to understand the earliest history of galaxies like our own Milky Way, and the origins of the Universe," says Dr. Chapman (left). "Many of the most interesting objects in the universe emit light in the far-infrared and submillimetre range, which is invisible to the naked eye."

The telescope's novel optical design, high-precision mirrors and high-altitude location will establish the CCAT-p telescope as a premier facility for astrophysics and cosmology research.
The extremely high altitude and thin atmosphere of the telescope's location will not only allow for accurate observations year-round, but also minimize blockage of the critical wavelength range in earth's atmosphere.

The institution responsible for organizing the CCAT-p project is Cornell University. In addition to academic institutions in the U.S., Germany and Canada, faculty and staff from several Chilean universities are also involved in the science planning and development.

The Canadian portion of the project includes over 40 researchers from 12 universities across Canada, and is being led by the University of Waterloo. Dr. Chapman's role will be to help build instruments and plan surveys that map the sky in the submillimeter to millimeter wavelengths.

"Our Dalhousie group has been developing key technologies over the last six years — electronics and detectors working at temperatures near absolute zero — that will help make the CCAT-p telescope and its first light instruments a great success," says Chapman.

Construction on the telescope will begin soon and is scheduled for completion in 2021.