In 1994, in a brief lull in the fighting during the Rwandan Genocide, Lieutenant-General Roméo Dallaire came across a young boy in the middle of a road. As Force Commander of the United Nations Assistance Mission in Rwanda, LGen Dallaire was wary of the child's intentions, believing that he was being used as a distraction.
Upon closer inspection, however, LGen Dallaire quickly realized that this child was not unlike his own son at home. He instantly questioned why the Rwandan child was not being given the same right to life as his son. What made one more human than the other?
In the McInnes Room on Wednesday night, LGen Dallaire (Ret'd) shared this story with a rapt audience as he delivered this year's Shaar Shalom Lecture at Dalhousie University. The lecture series hosts an annual talk that explores broad themes of tolerance, multiculturalism, diversity and difference in contemporary Canadian society, and is co-hosted by Dal's Faculty of Arts and Social Sciences and the Shaar Shalom Synagogue in Halifax.
This year's lecture, titled All Humans Are Human, focused on the use of child soldiers as strategic weapons of war. For a talk about humanity in the face of such evil, few speakers are more fitting than LGen Dallaire.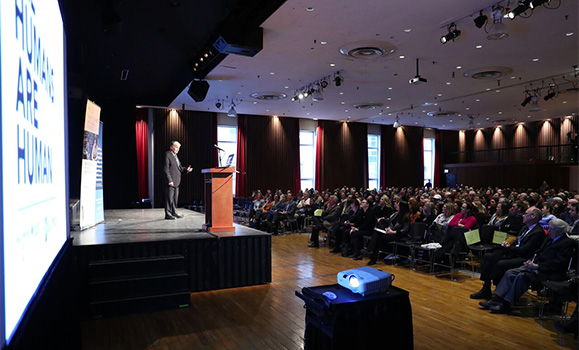 Following his time in Rwanda, LGen Dallaire served on multiple UN Advisory Committees and as a Canadian senator. He has also written a number of bestselling books about his experiences during and following the genocide, including 2010's They Fight Like Soldiers, They Die Like Children: The Global Quest to Eradicate the Use of Child Soldiers. Today, LGen Dallaire has made it his life's mission to end the recruitment and use of child soldiers.
The Roméo Dallaire Child Soldiers Initiative, based at Dalhousie since 2010, was started as a result of General Dallaire's growing concern over the use of children as weapons of war. Despite NGOs and non-profit organizations working in nations where child soldiers are commonly used, the number of children used in war was not declining.
Read also: Dalhousie Magazine cover story, winter 2017 — "Ending the world's use of child soldiers"
"All the NGO world has been looking at are child soldiers as a social, humanitarian and economic problem," said LGen Dallaire, who spoke with Dal News just ahead of his talk. "They've looked at it as these poor kids as child soldiers; we've got to take care of them now. But in doing that, they haven't reduced the numbers — they just take care of the ones that make it through. When I looked at it, I looked at it the other way. I said first of all, a lot of kids never make it to rehabilitation because they're killed, so there's a massive loss there."
The Dallaire Initiative is the first in the world to change the direction of the approach. Instead of rehabilitating former child soldiers, the Dallaire Initiative seeks to prevent their use entirely through a comprehensive program of training and education. Security sector actors, like police and the military, are trained on how to handle the child soldiers they encounter. This is coupled with education programs aimed at young, children between the ages of 8 and 12 who are educated on concepts of peace and conflict and to avoid recruitment if war was to erupt.
"I think that it's the awareness of the fact that these conflicts are being fought by children in adult wars," says LGen Dallaire about the importance of the Dallaire Initiative's mission. "The aim is to make child soldiers unthinkable as an instrument of war."
Towards the end of his lecture, General Dallaire compared the work of the Dallaire Initiative to eating a one tonne marshmallow — it will take time, it will require small steps, and it will be messy.
But it will be worth it in the end.
For more information about the Dallaire Initiative and what you can do to help, please visit its website at childsoldiers.org.