When disaster strikes, do you have an evacuation plan? Many families may have a general idea of how to prepare for a storm, disaster or other emergency. But what if you had to evacuate an entire peninsula?

That question was the subject of a roundtable discussion at the MacEachen Institute for Public Policy and Governance last week. 

Tuesday's Evacuation Roundtable discussed initial results from a multidisciplinary research project looking at scenarios around evacuation of the Halifax peninsula. Presenters included Kevin Quigley of the MacEachen Institute, Ahsan Habib of Dalhousie Transportation Collaboratory (DalTRAC) and graduate student Julia Chappaz from the School of Public Administration.

The project used traffic and flooding scenarios as well as interviews with relevant organizations in the region to develop a better understanding of what an evacuation of the peninsula would look like. The first round of research was supported in part by the Marine Environmental Observation Prediction and Response (MEOPAR) Network, a Network of Centres of Excellence (NCE) hosted at Dalhousie's Steele Ocean Sciences building.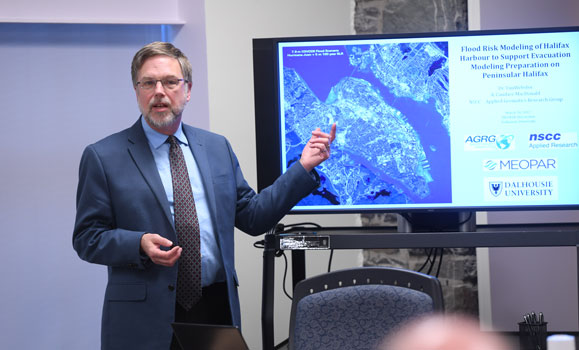 Ron Pelot, Associate Scientific Director at MEOPAR.

Cooperation Needed

Much of the discussion centred upon the need for increased cooperation between organizations, partners and governments. Most organizations, particularly those responsible for vulnerable populations, have some form of emergency plan in place. But as Kevin Quigley pointed out, the challenge with these plans is that they are often developed in isolation.

"Critical infrastructure is owned and operated by a number of people in the private and public sectors; there is a lot of interdependence, and authority doesn't always reside in one place," said Dr. Quigley. An example frequently cited at the roundtable was the use of city transit buses to assist with evacuation of vulnerable or immobile residents of care facilities — useful for a contained crisis, but less so if every facility needs the same resource.

Julia Chappaz, a master's student in Dalhousie's School of Public Administration, reiterated the theme of cooperation.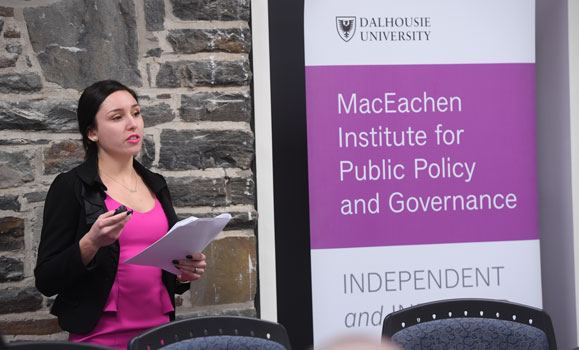 Julia Chappaz.

"There is a need for increased collaboration among partners in order to effectively respond to emergencies and evacuations, especially because of issues of dependence on resources," Chappaz said. "We need a multi-agency response to coordinate evacuation."
Chappaz identified shared Incident Command System training and emergency management exercises as ways to improve collaboration across organizations and sectors.
What's next?

Working with the Nova Scotia Emergency Management Office (EMO), the project is currently negotiating an extension in funding from Defence Research and Development Canada (DRDC) and the Centre for Security Science to build on the research results from the first phase.

The goal over the next two years is to develop more complex modeling of evacuation scenarios. Eventually, this would lead to a game simulation allowing emergency management personnel to make decisions in a virtual environment, depending on different scenarios and variables.
For example, the game could play out the difference in evacuation success rates if an evacuation is called 12 versus six hours ahead of a storm hitting, or allow an employee to practice changing evacuation routes in response to a bridge closure.

The game idea has received some attention in the media recently, but Quigley stresses that the team is working toward a training tool, adding complexity to evacuation models to improve response in changing circumstances. 
"Online users are highly optimistic about solving problems," said Dr. Quigley. "We want to channel that positive energy.

"Technology can fail. Rehearsing the perfect plan will only get you so far. This allows emergency planners to build and test their capacity to adapt."

There may never be a mass evacuation of the Halifax peninsula, but research like this project will help improve adaptive capacity among emergency responders here, and around the world.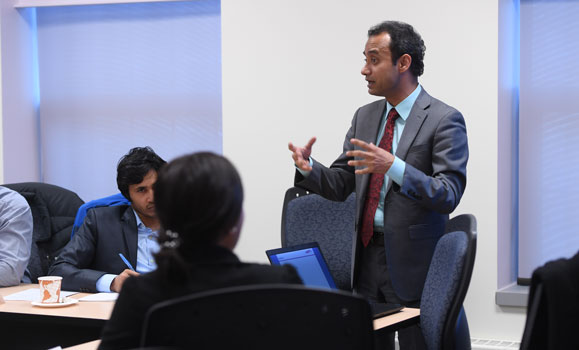 Ahsan Habib of Dalhousie Transportation Collaboratory (DalTRAC).