Some of Dal's senior executives and administrators transformed themselves into classic country music stars last Friday night, raising more than $100,000 for mental health in the process.

Dal President Richard Florizone, VP Advancement Peter Fardy, and AVP Communications and Marketing Catherine Bagnell Styles belted out a set of golden-era country hits as part of the 14th annual "A Different Stage of Mind" fundraiser in support of the Mental Health Foundation of Nova Scotia (MHFNS).

"We all went into this with some apprehension, but we knew we couldn't say no," explains Fardy, who adopted the persona of Willie Nelson for the night. "Mental health is just too important an issue to pass on the opportunity to help raise awareness and money for the cause. We were thrilled to raise as much money as we did, and it turns out it was a great deal of fun."

Bagnell Styles donned a fringe shirt and sparkly belt for her performance as Patsy Cline.

"Channelling my inner Patsy Cline was more fun than I ever imagined, albeit in a sometimes terrifying kind of way," she says. "But like talking about mental health, the more we practiced, the more comfortable we got."
'A great evening for a great cause'

President Florizone slung a guitar around his neck and a cowboy hat on his head to play the part of bandleader Glen Campbell.

The trio was joined onstage at the World Trade and Convention Centre in Halifax by a chorus of 16 backup singers, all leaders from across the university, in a reimagining of the Glen Campbell Goodtime Hour — a network TV music and comedy variety show that aired in the late 1960s and early 1970s.

"It was a great evening for a great cause," said President Florizone, "and I want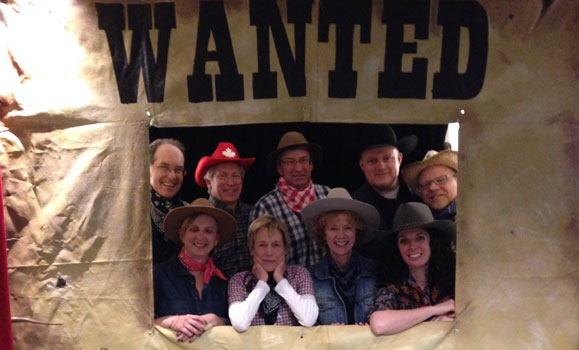 to say a big thank you to everyone involved in the performance, particularly the members of our senior executive team who enthusiastically signed on. Their involvement demonstrates just how sincere our commitment and support is for the broader community beyond Dal's campus and to mental health."

(Above right, Halifax Mayor Mike Savage, back row second from right, poses alongside some of the Dal team's backup singers.)
The team raised a total of $109,266 in the lead up to the event for MHFNS, funds that will make a difference in the lives of Nova Scotians living with mental illness and their families.

Starr Dobson, president and CEO of the Mental Health Foundation of Nova Scotia, says she was thrilled by the success of Team Dalhousie.

"Glen, Patsy and Willie brought the house down with their entertaining performance, passion for the cause and remarkable fundraising skills," she says. "Thank you to Richard, Catherine and Peter for helping us change the way people think about mental illness and addictions across Nova Scotia. You guys rock!"

Chris Moore, dean of the Faculty of Science and one of the members of the Goodtime Band singers, praised university leadership for what he called a "truly memorable" event.

"The profoundly important cause of mental health, combined with the unfettered enthusiasm of the stars of the show made this happen," he says.

Several rehearsals went into preparing for the performance, which included renditions of Campbell's "Rhinestone Cowboy", Cline's "Walkin' After Midnight" and Nelson's "On the Road Again."

"Dal hit a home run at this event. Great performances by the team, a major successful fundraising effort led by Peter Fardy, and it supported a great cause," says David Anderson, dean of the Faculty of Medicine and backup singer. "As a bonus, everyone had a great time."