"The more you put in, the more you get out."

These wise words, imparted to a young Matthew Cohen back in his summer-camp days, continue to influence the third-year Bachelor of Commerce student many years later.

Recently selected as a Top Co-op Student of the Year, Matthew reveals that he applied this adage to his most recent co-op work term experience. His hard work and dedication wasn't lost on his employer, Robotnik, who nominated him for the award at this month's inaugural Dalhousie Top Co-op Awards — an event coordinated jointly by Dalhousie's Management Career Services, Science, Information Technology, Engineering Co-operative Education, along with the Faculty of Architecture and Planning.
All in the family

Hard work and accomplishment are nothing new for Matthew, who says his high-achieving family has set a standard for personal and academic success.

Matthew's father is a doctor and his mother a nurse, while his two older brothers are currently undertaking advanced science degrees. Throw in a sister en route to a US Division I Track & Field scholarship, and it's clear to see how Matthew's family has both raised the bar and been a source of motivation for him.

Matthew says the Commerce Co-op program has provided him with a structured approach that's allowed him to harness these contrasting attitudes: "Knowing that we have only a short time in each work term to grasp the responsibilities of the job and make a successful impact is … a strong motivator," he explains.
Motivation to succeed

Hired during the fall of 2016 to administer Robotnik's social-media presence and to provide customer service to the computer support company's small retail business, Matthew found himself seeking additional projects to make the most of his time.

Given his aptitude for technology, enthusiasm for learning and appreciation for working with people, the scope of Matthew's work quickly grew to include sales, technical support and website management for two of the company's software products, Dragon Medical and Dragon Veterinary.

Matthew credits the fantastic mentor he found in his supervisor Tomek Obirek as a key reason for his work term success. He says Tomek encouraged and supported his expanded role.

Pleased with the extra work Matthew was completing, including a website redesign and build of an entire online support portal, Tomek worked with Matthew to support the finishing touches needed to complete the projects. This, he says, provided an extraordinary learning experience and was a "shining moment in [his] co-op work term."

Juggling the additional responsibilities meant many early mornings and late evenings and often required him to be on call nearly 24 hours a day. Matthew says that being involved with a company that's making real-world industry impact provided him with the inspiration to work harder: "Being part of [the] transition toward a more technologically-centered approach to medicine made my job more rewarding."
A revelatory experience
 
Matthew says the work term also provided the opportunity to learn more about his own skills, including the fact that he excels in sales and marketing.

Within a few days of taking on Dragon Medical, Matthew ran a marketing campaign that produced sales of more than $30,000 in a matter of days. By the end of his work term, his efforts had generated more than $200,000.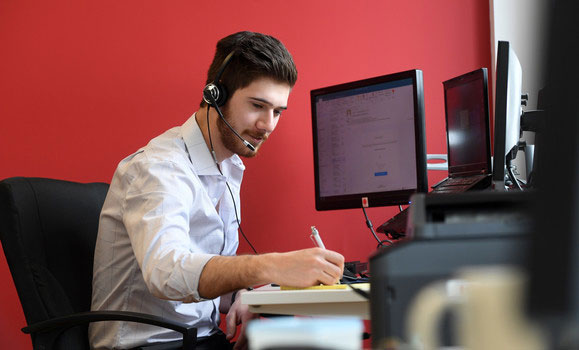 Considering these results, it may come as a surprise that Matthew's original intention was to major in finance; without co-op, this personal insight may never have emerged.

Tomek reflects that Matthew's legacy at Robotnik is one that will not soon be forgotten. In fact, when hiring Matthew's replacement, he felt the need to hire two students to fill the void that Matthew's departure created.

While much of Matthew's future career is still indefinite, it is guaranteed that he'll be returning to Robotnik for his final co-op work term this summer. And further to that, he's been given a standing offer of full-time employment with the organization – just as soon as he's finished his degree.

Dalhousie was proud to recognize its top co-op employers and students at this month's inaugural joint Dalhousie Top Co-op Awards. The complete list of this year's award winners can be found on the Management Career Services website.