From March 9-12, the Dalhousie Tigers men's basketball team took on Canada's best as the university hosted the Final 8 national championships in Halifax. The Tigers pulled off a thrilling, final-second 67-65 win over Alberta in the quarter-finals before a packed house of Dal fans. Although the team would come up short in the semi-finals against Ryserson, they prevailed in Sunday's bronze medal game — the team's best-ever national finish.
Writer Matt Semansky was at Thursday night's quarter-final and spoke to Tigers fans about their experience.
--

What's the next best thing to hitting the winning shot with one second left in the game? Cheering on the one who does.
No matter the sport, a Tigers game is an experience that unites students, alumni, staff and faculty in attendance in a common purpose: to energetically encourage the team to reach its highest level of performance  — and to have fun doing it.

Win or lose, Tigers fans never fail to succeed at the fun part.

"It's just a really hype experience," says Alison Chan, a third-year Commerce student who counts many players on the men's basketball team as friends and often comes out to support their games.

Of course, the more a team excels, the more exciting the atmosphere becomes at their games. The men's basketball team has won three consecutive Atlantic University Sport (AUS) championships and has advanced to at least the semifinals at U Sports Men's Basketball Final 8 tournament in Halifax this week.
Photo essay: A fantastic Final 8
"My friends and I are super fired-up about it and we're just out here to have a good time," says David Cormack, a third-year Accounting student, prior to a thrilling upset win by the Tigers in the national quarterfinals on Thursday.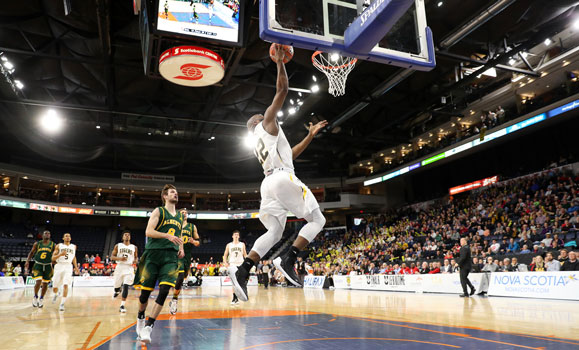 Supporting a varsity team in a tight game certainly gets the adrenaline pumping. But students and alumni also point to the sense of community that comes with being a Tigers fan.

Phoebe Lenderyou is a third-year management student and a member of Dalhousie's AUS-winning women's swim team. As both an athlete and a fan, she's built personal connections and learned more about a variety of sports.

"I don't know much about basketball itself, but after watching (the Tigers) I feel like I'm getting into it," Phoebe says. "And I've found the atmosphere at the games makes you love the sport along with it."
Photo essay: A fantastic Final 8
Phoebe's former teammate Kara McCallum, who graduated from the Kinesiology program in 2016, agrees. "The environment is really fun. Everybody wants to have fun and support the team.

"It's contagious."

Dalhousie president Richard Florizone has definitely caught the fan bug. Cheering on the Tigers, he says, is a powerful part of his own life at Dal.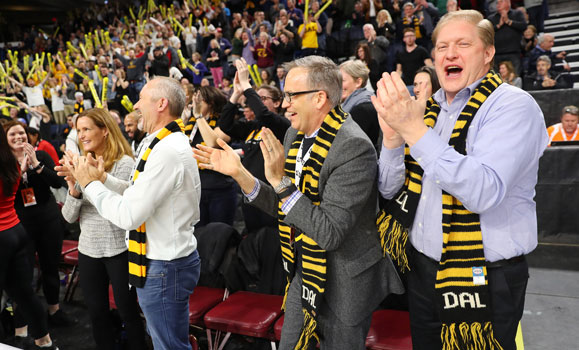 "These are amazing students who do so well in academics and then demonstrate leadership, grit and determination on the court and the rink and the playing fields," says Dr. Florizone. "It's great to be out here to celebrate what they do, and to recognize all the coaches and parents and alumni who support them.

"I get inspired by it."