Coffee may not be everyone's cup of tea — but for many in the Dal community, it's a big part of their daily lives.

On a typical day you'll find long lineups for coffee across campus, from Tim Hortons and Starbucks to offerings at other Food Services retail locations like the dining halls and outlets like Fillings (Dentistry) Brief Break Café (Law) and many others.

That's why, as one small part of the university's overall 200th anniversary celebrations in 2018, Dalhousie Food Services wanted to contribute a new brew to campus: a "Dal 200" blend.

"The idea came to us at a staff brainstorming session," says Heather Sutherland, assistant vice-president of Ancillary Services, the department that oversees Dal Food Services. "We know seasonal coffee blends are popular, so we thought it would be fun to have a special 200 anniversary brew." 
And tea lovers won't be overlooked either, as her team is also in the early stages of sourcing a commemorate tea blend.

Sutherland says the specialty coffee is just one of several ways her department is planning to help celebrate Dal's bicentennial, and she invites members of the Dal community to pass along their own ideas.
Sampling the options


Sutherland's team helped organize a series of taste tests beginning this week and taking place on all four campuses. During Tuesday's testing on Sexton campus, a steady lunchtime crowd of students and staff took up the invitation to help find Dal's signature 200 anniversary blend. The taste tests, featuring three locally sourced, fair-trade blends, are being conducted blind, so students don't know which coffee is which.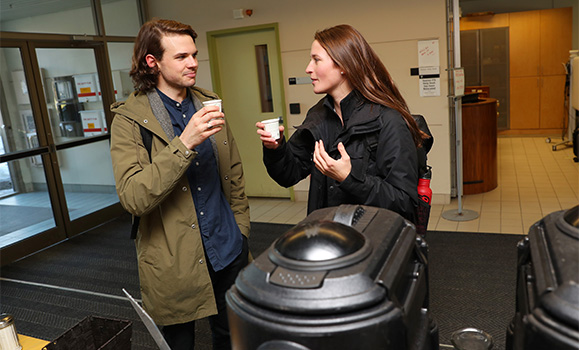 David MacDonald and Nicole Westeinde, two fourth-year Environmental Engineering students, both chose blend number three.

"I'm not really a coffee aficionado — I normally just drink tea — but I like the full bodied flavour and smoothness of blend number three," said David.

"It just tasted better," said Nicole.

They were not alone. Jon Hierlihy, a Materials Engineering student in his final year and a part-time barista for a local coffee shop, also selected number three. "I'm not a fan of citrusy tasting coffees," Jon said in comparing the number three blend with number two. "They come off as a little too acidic for my taste."

Yet, for Rita Durnford, a 20-year employee in Enrolment Services, the dark and fruity notes of mystery blend number one was her choice. "I like it because it's not too bitter and doesn't leave much of an after taste. I also noticed that it has a dark, fruit flavour."
Finding Dal's flavour


But what tastes embody Dal — this venerable institution on the eve of celebrating its 200 anniversary?

"Maybe sweet, like caramel," says Zyad Alshammaky, who's in his final year of Industrial Engineering. "Just because when I go to class I always pick up a cup of caramel flavoured coffee. So when I go back home to Saudi Arabia, I will continue to drink caramel coffee because it will remind me of my time at Dal."

For Rita, for a coffee to represent the true essence of Dal, it has to be accessible.

"I'd say not too bitter, not too sweet," says Rita. "You know, just right. I think that's why I like number one. I felt like when I was drinking it, it could be appeal to everyone."
This article is part of an ongoing series highlighting plans in the works for Dalhousie's 200th anniversary celebrations in 2018. For more information on Dal 200, visit dal200.ca.