A Dalhousie-led ocean research group dedicated to strengthening Canada's capacity to observe, predict and respond to marine risks has received $28.5 million in renewal funding from the federal government.

The Honourable Kirsty Duncan, Minister of Science, visited campus Wednesday to announce the government's re-investment in the Marine Environmental Observation Prediction and Response (MEOPAR) Network through its Networks of Centres of Excellence (NCE) program.

First established through NCE in 2012, MEOPAR enables academic researchers, government scientists and partners across sectors (private, non-governmental and community) to work together to reduce Canada's vulnerability to the changing marine environment — and to take advantage of some of the economic opportunities arising from those changes.

"I want to congratulate and thank all of the researchers here and across Canada who work for and in partnership with MEOPAR," said Duncan, introduced at Wednesday's event in the Steele Ocean Sciences Building by Halifax Member of Parliament Andy Fillmore.

Ottawa's renewed commitment to MEOPAR will be paid over five years and allow the network to build on the groundbreaking research it began with the first round of funding. The group has supported 44 research projects and 21 research core activities at 28 Canadian universities since its inception.

MEOPAR is one of 12 Networks of Centres of Excellence in Canada and one of two to receive renewal funding this round. The Kingston, Ont.-based Canadian Frailty Network, which focuses on improving the care of seriously ill and frail older Canadians, received $23.5 million.

"The two networks we are celebrating today demonstrate our commitment to supporting initiatives that translate the work that you do for the benefits of Canadians," said Duncan.

Assessing risks, recognizing opportunities

Doug Wallace, Canada Research Chair in Ocean Science and Technology and MEOPAR's scientific director, said the well-being of Canada's coastal communities and of industries across the country depends on the kind of work that MEOPAR does.

"This isn't really just about avoiding disaster or mitigating negative impacts or affects," he said. "It's about understanding how things are changing and, through that, creating opportunities for Canadian communities and the Canadian economy to thrive in the face of change."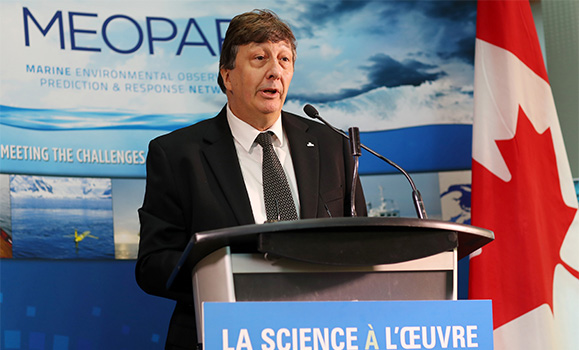 Dr. Wallace acknowledged the contributions of MEOPAR's staff, partners and its Board of Directors in building the network over the past five years, taking a moment to pay tribute to the network's former executive director, Neil Gall, who passed away suddenly just over a year ago.

He said MEOPAR creates opportunities through the development of improved techniques for observation, prediction and response and through the mobilization of this knowledge. And, like other NCEs, MEOPAR trains experts so that society can be better prepared to understand and handle ongoing changes in the future.

More than 70 university faculty members and 100 partners from multiple sectors have been involved in MEOPAR over the past five years, providing employment and training opportunities to more than 250 students, recent graduates, technicians and other highly qualified personnel.

"We're really going to put this network to work doing vital research, training the next generation of ocean leaders and strengthening the partnerships that we've developed and develop new ones," he said.

The power of partnerships

MEOPAR will leverage the new funding to generate an additional $28.5 million in projected cash and in-kind investments from the academic, non-governmental organizations, community, industry and government sectors.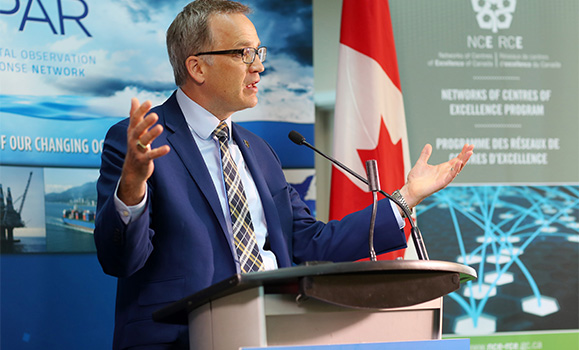 Dal President Richard Florizone, also on-hand Wednesday to thank the government for its continued support, called MEOPAR "the heart" of the ocean-research ecosystem, together with other Dal-hosted groups such as the Ocean Tracking Network and the Ocean Frontier Institute.

He highlighted the important role the ocean plays around the world as a food source, a regulator of climate, and as an engine for economic growth. Ocean-related activity (shipping, fisheries, tourism, etc.) accounts for about five per cent of global GDP — but only about two per cent in Canada, suggesting opportunities for growth.

"We have such a role as Dalhousie to be the catalyst for that development, for taking advantage of those opportunities," he said, "and mitigating those global risks like climate change, like the depopulation of fish stocks."

Dr. Florizone said MEOPAR exemplifies the power of the NCE concept of collaboration, highlighting a $1-million contribution to the group from Irving Shipbuilding that resulted in nine different projects at six universities in six provinces as an example. Another $8 million contribution is on the way to continue the partnership, he said.

Since its creation in 1989, the government's NCE program has successfully brought together the best minds in many disciplines and sectors to solve critical issues for Canadians. Partners from industry, government and not-for-profit organizations contribute additional expertise and nearly $90 million per year of cash and in-kind support.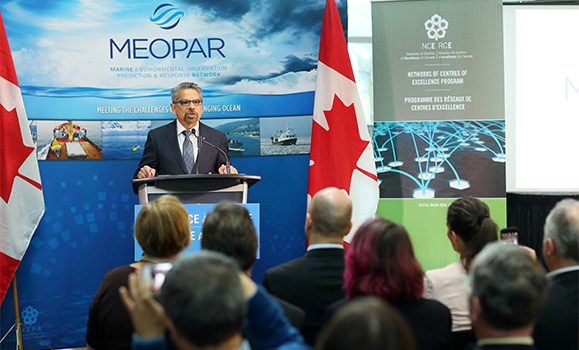 Mario Pinto, president and chair of the Natural Sciences and Engineering Research Council (NSERC), said NCEs are the government's "go-to mechanism" to fund large-scale, multi-disciplinary research, development and delivery.

"MEOPAR, CFN and their fellow NCEs show us how to generate virtual networks which connect nodes of expertise across Canada," he said. "We are taking stars and generating a constellation."