Members of the Dal community expressed shock, sympathy and solidarity in the wake of Sunday night's attack at a mosque in Quebec City.

Campus flags were lowered on Monday, and hundreds attended a vigil on Dal's Studley Campus to honour the victims.
The vigil, organized Monday by the Dalhousie Muslim Students Association (DMSA), was one of dozens held in cities and communities across Nova Scotia and Canada throughout the day.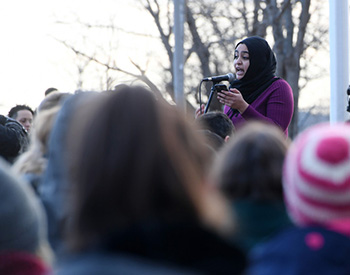 "The only reason we are here today is because hate has drawn us here," said Masuma Asad Khan, DMSA's president. "But what is going to come out of a vigil like this is nothing but love."

While Dal President Richard Florizone was travelling and unable to attend in person, he similarly expressed solidarity in the wake of the shooting.

"Sunday's shooting in Quebec City was shocking and tragic, and an affront to values we hold dear as members of the Dalhousie community and as Canadians," he said. "In expressing our condolences to all affected, we stand in solidarity with our Muslim community and all Canadians in our commitment to building a more just, diverse and inclusive world."
A painful reminder

Students, staff, faculty and community members converged on the lower quad at 4 p.m. for the vigil, which included remarks from several students, prayers, a traditional Mi'kmaq song and a moment of silence for the six dead and more than a dozen injured in the shooting.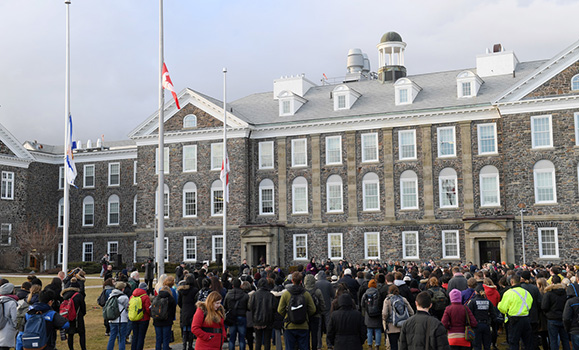 Amina Abawajy, the Dalhousie Student Union's vice-president academic and external, said the attack was a reminder that Canada is not immune to racism and Islamophobia.

"Hate crimes against Muslims are happening in their own homes, they're happening in their places of worship," she said.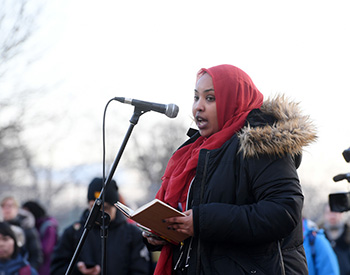 Despite having been born and raised in Canada, Abawajy says she herself has been subject to racism from people telling her to "go home to your own country" and "to not bomb people."

"This is a reality of so many Muslims in the community," she said.

She encouraged those non-Muslims gathered to offer support to Muslims in their own lives and to interject if they witness discrimination and violence, big or small, happening.
Supporting one another

Fourth-year Industrial Engineering student Yazan Khader echoed Abawajy's remarks, urging non-Muslims to have the courage to reach out and do what they can to help Muslims experiencing racism.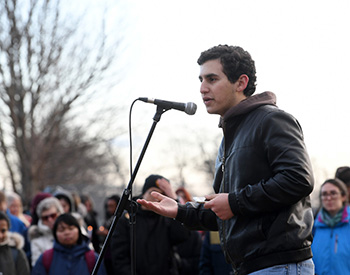 Khader, a third-generation Canadian whose grandfather originally came to Canada as a refugee from Palestine, spoke about his own identity and the many different elements that shaped it.
"I say all these things to remind you and to remind myself how complex we can be, the many things that can make us," he said. "For us to be reduced to one thing and for that one thing to be twisted and turned and made ugly can be very painful and very dark."

Many vigil attendees shed their gloves and mittens to light and hold candles during the assembly despite the chilly temperature. And yet, despite the cold, many continued onwards to a second vigil at the Halifax's Grand Parade Square, scheduled for 6 p.m.

"When we need each other, we can gather together just like this today and stand with one another," said Khan, "together holding each other, healing with one another instead of hurting one another."