If he were home in China this weekend, Roc Wang would be gathering with family to celebrate the start of Chinese New Year. There would be mounds of food, visits with grandparents and firecrackers to set off.

He's not, though. He's here in Halifax, far from the eastern port city of Qingdao where he grew up and used to celebrate alongside family. Once again, the third-year Computer Science student will be left to make plans of his own.

In the absence of family, that usually means gathering with other native Chinese friends, many also looking for a taste of home during this most cherished of traditional Chinese holidays.

Chinese New Year — also known as the Spring Festival due to its links with the turning of the Chinese lunar calendar — is to the Chinese what Christmas is to Canadians, says Roc. It's a time to decompress from the year that was, to think a bit about the year to come, and to reconnect with family and friends.

The first day of the new year shifts from year to year depending on the new moon, with this year's falling on Saturday, January 28. Celebrations typically begin the evening before the first day of the New Year and last 15 days.

"Last year, I cooked a lot with my friends," says Roc. "I made a lot of dumplings."
 
Dumplings are a mainstay of holiday dinners for many on the eve of the new year, much like turkey is for Canadians at Christmas.

Back home, Roc would have followed his new year's eve dinner (often called a "reunion dinner") by joining family around the TV (like 700 million others in China do annually) to watch the CCTV New Year's Gala — a four-hour marathon of music, dance and comedy performances put on by China's state broadcaster.

Instead, he tuned in to watch it online earlier in the day, something he and friends may do again this year.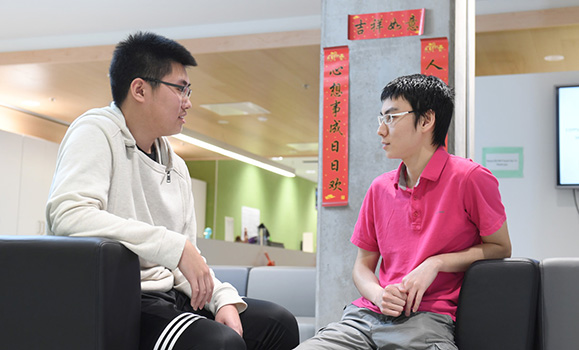 Chinese students now make up nearly half of Dal's international student population and Saint Mary's and other universities draw many others to Halifax as well.

The Dalhousie Chinese Students and Scholars Association (DCSSA) does its part each year to bring some of those individuals and others from the community together to celebrate in person with its own Spring Festival gala.

This year's gala, held at the Cunard Centre last Saturday, ushered in the Year of the Rooster in a spectacle that included singing, dancing, calligraphy performances and other traditions.

While Roc and friend Dave Deng, a third-year Computer Science student from Tangshan, were unable to make the gala this year, that doesn't mean they won't be celebrating — even if their plans may end up being decidedly more casual than they would back home.

Roc says he's been invited to a party at a friend's place where they will cook food and play card games. And if Dave gets his way, those plans could include a trip to the cinema.

"He said he wants to watch a movie," Roc says. "Resident Evil."

It would be a different kind of New Year celebration to be sure, but one that includes a friend all the same.