Each January, approximately 700 commerce students gather for JDC Central, the largest undergraduate business case competition in Canada. The Rowe School of Business team has achieved podium finishes in the past, and this year was no exception.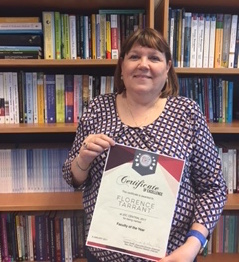 At this year's JDCC, though, a Rowe faculty member also received an honour: Florence Tarrant (pictured left), assistant professor of strategy and the Faculty of Management's academic director of undergraduate programs, was named JDCC 2017's Faculty Advisor of the Year.

"I think the students nominate faculty advisors, so I'm assuming the kids nominated me," says Dr. Tarrant. "And then the judging committee selects from the nominations."
In a nomination letter submitted by 2017 team captains Molly MacDonald and Spencer Hawkswell, they remark on Dr. Tarrant's efforts in past years as well as this one. Dr. Tarrant, they say, was and is constantly present for the students as they prepare. "Bright and early, Florence attended each of our mock competitions, took notes on presentations, and provided feedback to our delegates," says the nomination. "Whether we need cases printed, faculty to judge a mock competition or a room booked at the school, we know we can count on Florence."
Coaching students to success


Despite a busy schedule of teaching and academic admin work, Tarrant has found time to coach the JDCC business strategy team for five years and the international business team for three. She began coaching as a part-time faculty member prior to being appointed to a full-time position in the Rowe School and taking on the position of faculty advisor to the full team.

Even after years of extra work, Dr. Tarrant was taken aback by the award. "I'm honoured," she says. "I can't believe it. I think it's wonderful."
Dr. Tarrant focuses, though, on the students. "Those kids work so hard, they practice so much, and I spend a lot of time with them, but I enjoy every minute of it," she says. "When students are committed like that, it's so easy for faculty to be committed."
Dr. Tarrant reflects on the familial feeling of the Rowe team, recounting hearing a faculty advisor introduce himself to one of his students at JDCC. Tarrant, on the other hand, knows every Rowe competitor.
A strong Dal showing


Aside from crediting the students with making her job enjoyable, Dr. Tarrant also mentions the student winners of this year's competition.
Jessie Blanchard was the Dalhousie team's MVP. Dalhousie's students worked hard and acquitted themselves well, Dr. Tarrant says, with the debate and sports teams making the semi-finals. The team as a whole placed fourth for the Academic Cup and School of the Year.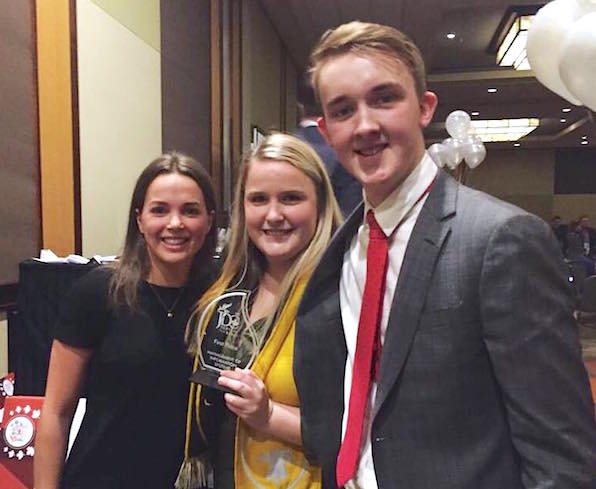 The social team—Max Georgopoulos, Erin Graves, Ashley Sambrook and Mark Veysey—placed second overall, and the Rowe's MIS (management information systems) team achieved first place in their case competition.

Kyung Young Lee, associate professor of MIS, coached the winning team, which consisted of Ally Crapper, Emma Steiner and Matt Chiykowski (pictured left, L to R).
"As a first-time JDCC coach, coaching Ally, Emma, and Matt has been fun and exciting," says Dr. Lee. "Watching them become better and better every week was a really encouraging experience." The students sent Dr. Lee a midnight text from JDCC to let him know they had won their category. "I was so thrilled," he says.

Dr. Lee, like Dr. Tarrant, credits the students on the team, as well as MacDonald and Hawkswell — unsurprisingly, though, he adds others to the list. "Thank you to all the professors who were involved in JDCC 2017," he says. "[And] thank you to Florence Tarrant."