The Black Lives Matter movement began long before Donald Trump was elected U.S. president, but a big turnout for a panel held earlier this week at Dal indicates many see the organization's work as more essential now than ever.

Attendance at the Black Lives Matter (BLM) panel in the Student Union Building last Monday on Martin Luther King Jr. Day was so strong, in fact, that attendees spilled out into the halls and more than 40 people had to listen in from a neighbouring room.

"The attention in the U.S. really helped us publicize and reach a wider audience," says Dominique Oliver-Dares, a Dal law student who helped coordinate the event along with Oluronke Taiwo, director of Dal's Black Student Advising Centre. "The further we can spread our message, the better."

And the panel's message was clear: whether discussing the U.S. or Canada, Black lives matter, and there is a systemic racism problem that needs to be addressed.

"This event is about solidarity and the recognition of our own systemic racism issues here in Canada" says Oliver-Dares. "We have a lot in common with the U.S. and we are giving our support."

Dal professor and Transition Year Program director Isaac Saney moderated Monday's panel, which included El Jones, former Halifax poet laureate; Amina Abawajy, Dalhousie Student Union (DSU) vice-president (academic and external); King's Journalism student Nzingha Millar; and hopeful Oceanography master's student Kareem Wallace.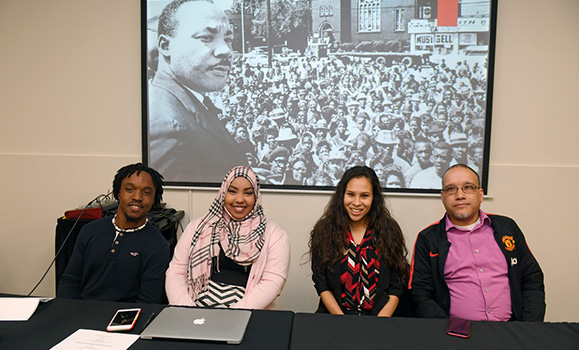 Left-to-right: Panelists Kareem Wallace, Amina Abawajy, El Jones and Isaac Saney.
Understanding systemic racism

The panelists shared stories about some of their own experiences throughout the evening and explored what systemic racism means to them.

Jones, who opened Monday's event with a powerful spoken word poem, said an overwhelming problem is the criminalization of Black bodies, and particularly the overrepresentation of the Black population in prisons.

She noted that in Halifax, Black individuals are three times more likely to be subject to a "street check" than white individuals. "It's about controlling our movements," she said. "Black bodies are seen as threatening."

Abawajy, who is studying Computer Science at Dal, linked the discussion back to Trump, noting he was elected because of the white vote. The panel said that in order to be an ally, white communities must also have discussions about issues affecting those of African descent.

Abawajy said her experience as the first Muslim and female Black student on the DSU executive also led her to think more about the need for inclusiveness within the BLM movement.

"We need to ask how can we help strengthen the movement by being inclusive," she said. "There is a place for everyone in this work."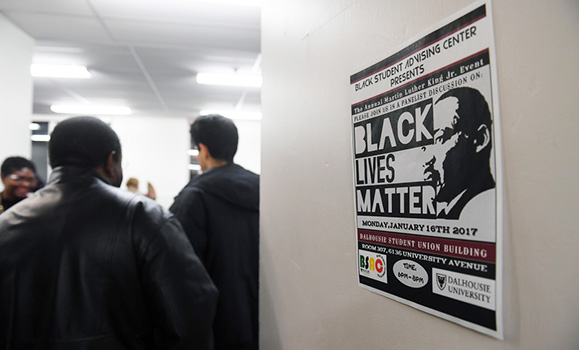 Understanding Black Lives Matter in Canada

Panelists also took the time to explore how the Black Lives Matter movement may be hindered in Canada by the idea of multiculturalism.

"We have been taught that we are multicultural and we want to believe we are there," said Millar. "It hurts a lot of well-meaning people to realize we are not there."

She pointed out that racism in Canada often takes on a passive-aggressive character.

"We often experience issues over social media," she said. "As Black Canadians, we can slip into a problem of voyeurism, speaking out about things happening outside instead of within our own community."

Panelists urged people to organize and take action at the local level, not just online.

"Black Lives Matter is a radical movement," said Millar. "We have to work on grassroots movements, and not be afraid of being radicals."