Each January, grey seals gather in the frigid waters along the shores of Sable Island off the southwest coast of Nova Scotia to mate. And each year, marine researchers bundle up and head to the remote island to visit them.

The scientists are there on a mission: to retrieve tracking devices some of the seals have been toting around with them since the previous summer.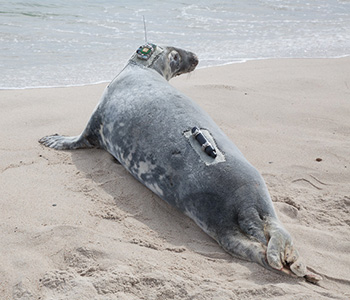 Thanks to the seals, these units — usually a GPS device and a mobile transceiver glued to the seals' fur, which molts naturally in the spring — are packed with oodles of oceanographic information that provides researchers with a glimpse into otherwise hard-to-study parts of the ocean.
"They [the seals] can act as a pseudo-oceanographer," said Dal master's student Benia Nowak, who recently visited Sable Island to work with the seals. "They are collecting data that would otherwise be logistically and financially difficult to obtain."

The unwitting data hunters can collect information as often as every 10 seconds, every day over several months at a time and beam it back wirelessly to satellites when they surface. The data gives researchers, policy makers and marine managers a much deeper understanding of the seals' behaviour, the species they interact with and the ocean environment in which they live.
New funding for OTN


It's one of the many projects the Dal-headquartered Ocean Tracking Network (OTN) will be able to continue in the years ahead thanks to $11.4 million in new funding from the Canada Foundation for Innovation's Major Science Initiatives Fund.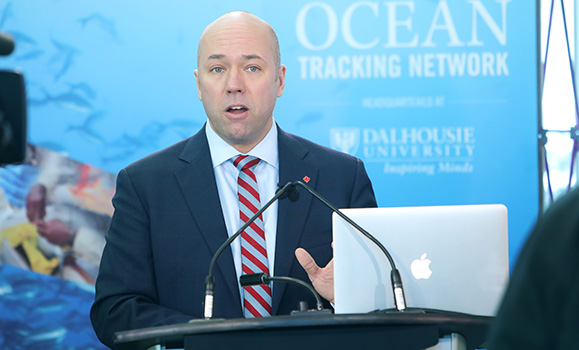 Andy Fillmore announces OTN funding.
OTN was one of 17 research centres across 12 different Canadian universities to receive funding as part of Monday's national announcement, a total pot of $328.5 million.

"OTN research generates incredibly valuable knowledge," said Halifax Member of Parliament Andy Fillmore, who was on campus Monday to announce the funding on behalf of the Honourable Kirsty Duncan, federal minister of science.

"This knowledge is used by the federal government, provincial governments and internationally to guide development and management of responsible fisheries policy and to help us understand the overall sustainability of the world's oceans," said Fillmore.

OTN has been tracking aquatic animals since 2008, building an international infrastructure and research platform that fosters sustainable management of aquatic species. OTN provides and shares global knowledge on animals' movements, migrations, interactions, habitat use and survival.

The network now supports the work of more than 400 researchers in 20 countries around the globe, and boasts a database of 150 million animal detection records from more than 100 commercially important and endangered marine species.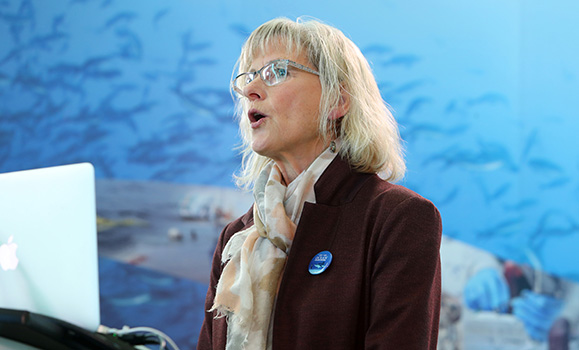 Sara Iverson speaks at the OTN funding event.
"We are focused on aquatic animals because they provide global food security, they contribute billions of dollars in socio-economic benefits," said Sara Iverson, OTN's scientific director, in remarks at the event in the Steele Ocean Science Building. She said these animals — many of them threatened across the globe — also structure healthy ecosystems and are often culturally significant.
Dal ocean leadership

The new funding will enable OTN to better meet the growing demands of its Canadian and international users; maintain its headquarters, infrastructure and operations; and better communicate its findings to help Canada manage its oceans and connected inland waters.

Ian Hill, associate vice-president of research at Dal and MC of Monday's event, said Dal has worked hard to become one of the world's leading ocean research universities, and that having OTN based on campus has played an important part in that.

"We have built a critical mass of some of the world's most accomplished researchers in ocean science, while cultivating the next generation of scientists," said Dr. Hill.

He said there's no way universities could do the type of critical research they do without innovative forms of government investments such as the Major Science Initiatives Fund.

"Great things are happening here in our cluster of ocean innovation and research. This is in no small part supported by federal investments, investments like the one Mr. Fillmore is here today to announce," he said. "The Ocean Tracking Network is a brilliant example of science bringing Halifax to the world and the world to Halifax."
*Seal photo via OTN/Damian Lidgard