Three outstanding students from Uganda and Belize are Dalhousie's newest Queen Elizabeth Scholars. Kalene Eck, Annet Namubiru and Ivan Okello will spend the next 16-20 months at Dalhousie completing their graduate studies.

The Canadian Queen Elizabeth II Diamond Jubilee Scholarship Program is a national collaborative initiative that operates through the Rideau Hall Foundation, Community Foundations of Canada and Universities Canada. Its goal is to foster a dynamic community of young global leaders who share knowledge, exchange ideas and collaborate on meaningful initiatives through cross-cultural exchanges.

Dalhousie's participation in the Queen Elizabeth Scholarship program began in the summer of 2015, and will continue until the autumn of 2018. In addition to the international opportunities offered to Dalhousie students, the university also welcomes graduate students from Commonwealth countries.

Six scholarships are available to students from Commonwealth countries over the course of the project — three for students from Uganda, and three for students from the Caribbean. Each scholarship funds a full master's degree at Dalhousie.

Call it fate

Kalene Eck is a master's student in Marine Management. Originally from Belize, Kalene completed her undergraduate degree in environmental science at Galen University and the University of Indianapolis. After graduating in 2013, she spent three years working at the Belize Fisheries Department as a data manager.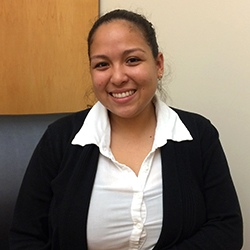 "I heard about the Queen Elizabeth Scholarship Program from a colleague at the Belize Fisheries Department where the scholarship and program of study was advertised," says Kalene. "I applied and the rest is history!"

When looking at different options, it was the Masters of Marine Management program that really stood out to Kalene. "It was exactly what I wanted to learn, when I wanted to learn it," says Kalene. "After doing more research on Dalhousie, its high standard of learning and historic location, I knew immediately that this was the choice for me."

According to Kalene, her experience at Dalhousie has been like no other. Being in a different country and learning the history of Halifax and the university has made her feel proud to be part of the Dal family.

"I'm extremely grateful and honoured that I was chosen to represent Belize and the Caribbean through this scholarship program," says Kalene. "I could possibly call it fate, but it's almost as if Dalhousie presented itself at the right time in my life providing me with the next step and direction that I wanted to take in my career."  

Making connections

Annet Namubiru is pursuing a master's degree in International Development Studies. Originally from Kampala, Uganda, Annet's undergraduate degree is from Makerere University. When asked what made her select Dalhousie for her graduate studies, her response was "It's simple — because of the university's respect for diversity."

Annet arrived in Halifax on September 20 and has "loved every minute" of her time here.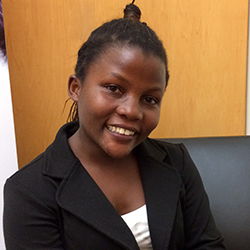 After completing her degree, Annet plans to return home and share what she's learned abroad.

"I plan to make connections and seek funding to set up piggery projects that will employ young fistula women between ages 14 and 20," says Annet.

Fistula is a condition that most commonly occurs among women who live in low-resource countries, who give birth without access to medical help. Women with this condition are often rejected by their husbands and forced out of their villages.

"My dream job is to help out these survivors at a hospital in a non-medical department," says Annet.

A life-changing experience

Ivan Okello is a master's student in the International Development Studies program at Dal. Also from Kampala, Uganda, Ivan has a bachelor's degree in social science with a major in gender studies and a minor in social administration from Makerere University.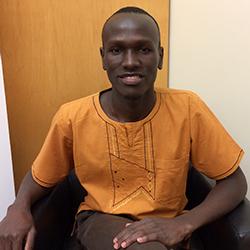 After seeing an advertisement posted on a bulletin board at Makerere and gathering some information about Dalhousie, he decided to apply for the scholarship program.

"Dalhousie stood out because of its rich multicultural diversity, high calibre of professors and its great location in the heart of Halifax," says Ivan. "My interactions with Dal representatives gave me great insights about the university."

Arriving in Halifax on August 26, Ivan has thoroughly enjoyed his time here so far. "At first I was scared leaving my family in Uganda and moving alone, but I've made really great friends already," says Ivan. "The Maritimes is such a beautiful place to explore — this is truly a life-changing experience for me."

Sharing experiences

Kalene, Annet and Ivan recently had the opportunity to attend an annual QES Networking event with other incoming and outgoing QE scholars.  

The reception was held on November 24, and was hosted by His Honour Brigadier-General The Honourable J.J. Grant, CMM, ONS, CD (Ret'd), Lieutenant Governor of Nova Scotia, at Government House. It was the first time that the annual QES event has been held at this location.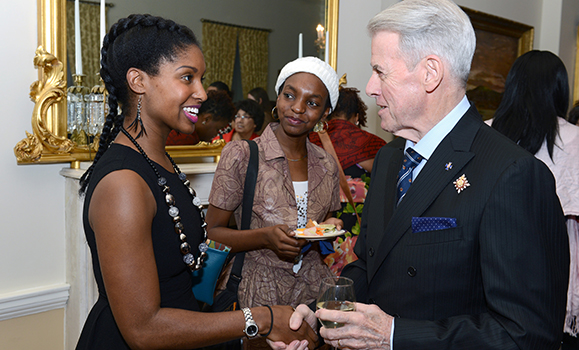 Representatives from Universities Canada, Dalhousie, Saint Mary's and disapora community members (from Tanzania, Uganda and Jamaica, in particular) were also in attendance to celebrate the work being done by the scholars.

"The Queen Elizabeth Scholarship program aims to activate a dynamic community of young global leaders across Canada and around the world," says Jeanne Gallagher, manager, international scholarships at Universities Canada. "Having had the chance already to hear about what these scholars are doing and what they have done — it is nothing less than awe inspiring."

Five scholars, including Ivan, had the opportunity to speak to the crowd about their experiences in the program.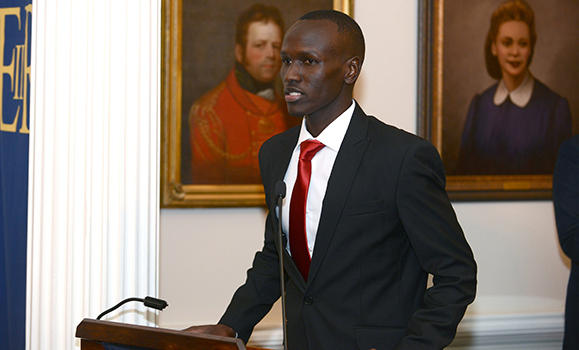 "Being provided with the opportunity to work with groups of students with different backgrounds and experiences has helped inform my knowledge of how communities evolve, and how important it is to have a cohesive and unified approach to addressing problems they might have," says Ivan.

Presentations outlining the work of the scholars were also set up around the room. His Honour had the opportunity to view each presentation, and spent time speaking with the scholars individually.

The Queen Elizabeth Scholarship program is made possible with financial support from the Government of Canada, provincial governments and the private sector. You can learn more about the program online.