With high wind chills, snow, freezing rain, icy roads and sidewalks, winter on Canada's East Coast can be challenging at its worst. For those who are set to experience such conditions for the first time, it be can particularly difficult.

It was with that in mind that the Dalhousie Alumni Association started a Winter Clothing Bursary 30 years ago to support student refugees new to Canada and the university.  

Today it continues to provide invaluable support for students who have come to Dal through the Student Refugee Program, an initiative of the World University Service of Canada (WUSC).

"The Student Refugee Program has a long history of helping young refugees achieve their dreams, providing resources and access to post-secondary education," says DAA President Courtney Larkin (BMgmt'10). "It's an amazing organization and we're happy to play a role in helping them settle into their new community and climate."

Preparing for colder days ahead

Emma Cruddas, chair of WUSC Dalhousie and a fourth-year International Development student says the support from the DAA is a huge help for students who are already experiencing a lot of adjustments in their first few months in Canada.

"We're very grateful for the DAA's funding. WUSC provides many resources to help students through their first year of university, but the cost of preparing for winter can be a big expense," she explains.

To help students prepare, members of the WUSC Dalhousie committee accompany them on a winter clothing shopping trip.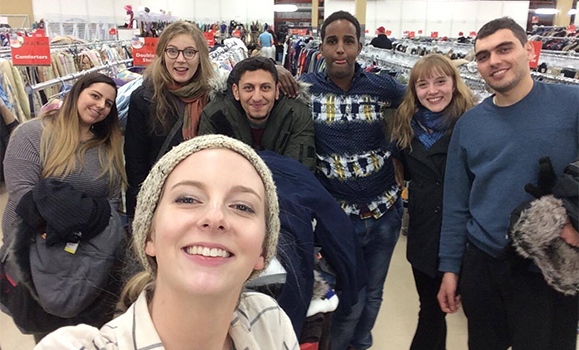 Emma Cruddas, chair of WUSC Dalhousie, and the students on this year's shopping trip.

While Emma says the outings are a lot of fun, they're also an opportunity to help students understand what they'll need for the colder days ahead.
"Someone may look at a pair of ear muffs and wonder why in the world they would ever need them," she says with a laugh. "People aren't quite sure what's necessary and useful…shopping turns into a bit of a winter lesson."

Shared experience

One WUSC member who is always happy to give advice and pitch in is Luka Igali. He knows firsthand what the students are experiencing.

Luka, who is completing his final year of studies in both Engineering and Economics, came to Dal in 2010 through the Student Refugee Program. Growing up in South Sudan, he says his first winter in Halifax was a bit of a shock, but the Winter Clothing Bursary made things a lot easier.  

"The bursary along with the help of other students made all the difference," says Luka. "People had been telling me about winter, but it's hard to fathom when you've never seen snow before. The first snowfall was beautiful, but so cold.

"I think it's reassuring for students to speak with someone who has had a shared experience. This is my way of helping others and staying involved with the WUSC initiative."

Stronger together

For the DAA, they also see it as a way to give back to students and contribute to their positive experiences at Dal.

"We've supported every student who has come to Dal through this program since it began," says Courtney. "As alumni, we take great pride in finding ways to help current students, and ensure they know that they are part of a strong community."