A lot can happen in 54 hours.

Just ask the members of Prudens, one of the 11 teams that emerged out of a Startup Weekend event held at Dal last Friday through Sunday.

"We've come really far over the weekend," says Jay Harris of the Prudens team, which came up with an idea for a startup focused on smart jewelry that would notify emergency contacts when the wearer is in trouble.

Harris, an Electronic Commerce master's student at Dal, and his partners — who came from Dal, Saint Mary's, NSCC and the broader community — started out as strangers when they first arrived on the Friday. Two days later, they walked home the winners of the weekend's top prize: $3,000 to pursue their business idea.

They were among the more than 60 people from universities and beyond who gathered in the Collider space on the second floor of the Killam Library for the event, organized by the Norman Newman Centre for Entrepreneurship's Launch Dal group.

Running with ideas

After quickly forming teams, Harris's group and other participants began working on their startup ideas. They spent time with mentors, receiving feedback and criticism that helped form their final project. "They showed us things we had never considered," says Harris. "It let us find out if the idea is valid."

The team says that, with their product, the message is the most important part: preventing violence against women by providing a fashionable and discrete device that would provide an alert in times of crisis.

"We want to be able to give people some kind of assistance, as well as provide aftercare," says Harris.

By Sunday afternoon, each of the 11 teams pitched their startup ideas to a panel of judges who chose Prudens for top spot.
Two other teams also took home prize money. CeeSix, a subscription service that provides all-in-one resource for diabetes care, won second place and $2,000. Tranquility Online, a website providing subscriptions for mental health resources and coaching, came third, receiving $1,000.

A global movement

Mary Kilfoil, academic lead of the Launch Dal initiative, sees the key to the weekend as being part of something larger. Startup Weekend is a global movement, and over 200 such events took place around the world last weekend.

"Participants come together with a common purpose — they take a problem, think about an opportunity to solve it and create a startup," says Dr. Kilfoil, noting that universities are great venues for such activity as they have deep pools of knowledge and talent.

Tranquility Online, for instance, emerged when a group of three former and current Dal students who met at the event coalesced around the idea of creating an online mental health portal. Joel Muise's background in Cognitive Behaviour Therapy, Keith Gelhorn's work in youth and adult coaching, and Miriam Ragab's interest in mental health collided to form a "perfect mesh of ideas" — and resulted in the third-place finish.

The team praised Ragab's work on the website herself — and just how impressed everyone was as she attended this event as a first-year student at only 15 years old. The team agrees they will keep in touch, and that they would come back to another Startup Weekend.

"I want to be in as many of these events as possible," says Muise. "The more mentors, the less headaches in the future."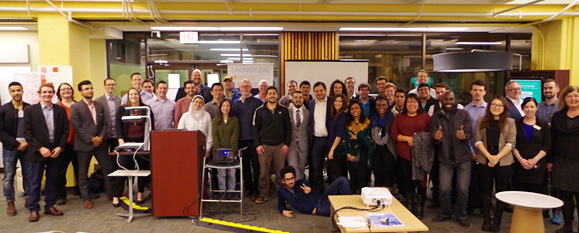 All of Startup Weekend's participants.