The atrium of LeMarchant Place is bustling with high school and Dalhousie students. The walls are peppered with handprints and Post-It notes filled with words and ideas.

Welcome to Dalhousie's Health and Wellness Discovery Day, an expo-style event aimed at engaging high school students, as well as the Dalhousie community, in learning about the importance of recreation and leisure, community resources for health and wellness, the strategies for overcoming stress and maintaining good mental health.

The Post-Its form the basis of an activity called "It's a Wonderful Web," one of the many interactive exercises dreamed up by Health Promotion and Recreation students at Dal for Discovery Day.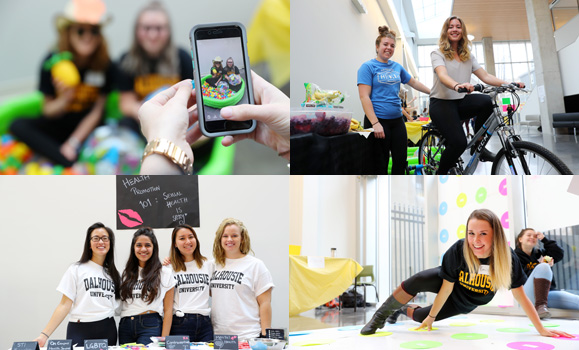 Sights of Discovery Day.
Hayley McCabe, one of the Dal students behind the "Web" activity, says the purpose of her exercise was for students to learn about the benefits of leisure and how it can have many different interpretations. Each Post-It stuck up on the wall bears a participant's suggested leisure pastime and its associated health benefit.

Judging by the words scrawled across the Post-Its stuck around the room here, those strategies can vary widely from person to person. One says "beach combing," another "playing crib," another "praying to Allah," and yet another "watching Netflix."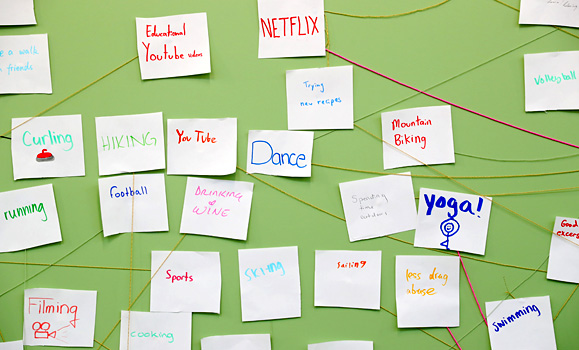 "My leisure activity is curling," says one attendee, Hayley, pointing to her note, which she linked to the benefit of "flourishing — to have my best possible future."

Facilitating wellness — one student at a time

Nearby, students are making handprints with paint, writing out one recreational activity and five positive impacts the activity has on them. These handprints make up the leaves of a tree, which inspired the name of this Discovery Day station, "Treesure."

"Treesure" organizer Korey Ashley says that they wanted a hands-on — pun intended — and messy activity that taught how leisure can foster self-awareness and encourage finding one's strengths through adventures.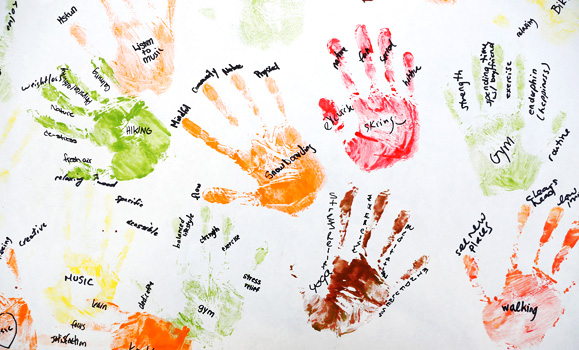 "This is a class project for them to learn how to help facilitate and educate wellness," says Susan Hutchinson, instructor of leisure education at Dal. "It's fun with a purpose."
The expo also gives high school students a chance to meet current Health Promotion and Recreation students at Dal and hear more about the different programs and career opportunities they could pursue in the area. Out of the 110 participating high school students, many said they learned a lot about health promotion, recreation and Dal's programs.

"It's great to see this level of engagement from the high school students," says Tyler Hall, one of the event's organizers.

Dr. Hutchinson says many of the participating high schools are encouraging the School of Health and Human Performance to take the event on the road, saying it's valuable for allowing students to learn about strategies in maintaining mental health.