Each year, Dal's Faculty of Agriculture holds its Blue & Gold awards banquet, honouring alumni who have distinguished themselves through outstanding service to their alma mater, their communities, Atlantic Canada and beyond.
A committed volunteer

For Greg Coldwell, the Alumni Volunteer of the Year award recipient, the moment may have been foreshadowed nearly 47 years ago. That's because he earned a Silver Medal for leadership upon graduating from NSAC in 1970. He then returned to the family farm, Riverbrook Farms Ltd in Port Williams, N.S., and his commitment didn't waiver.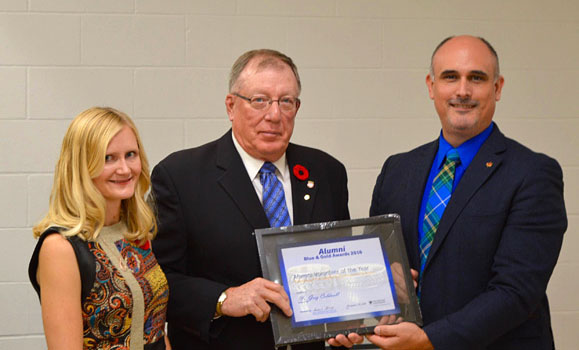 Alumni Association President Audrie-Jo McConkey, Greg Coldwell and Dean David Gray.
"Not only did we make life long friends at the AC, which was in part because we were exposed to a social life many of us had not experienced before, it also gave us something far more important and powerful — to face the challenges in the years ahead of us," said Coldwell.  "It was a time when agriculture went through major changes… It was an excellent education by a dedicated faculty."

Farming vegetables for over 30 years afforded Coldwell the opportunity to serve the industry as president of Kings County Federation of Agriculture as well as the Nova Scotia Federation of Agriculture. He served as chairperson of the Pea & Bean Marketing Board, Potato Marketing Board and completed a two-year term as chair of the Canadian Vegetable Processing Growers Commission. For three different terms, Coldwell was appointed as a board member of the Nova Scotia Crop and Livestock Insurance Commission, a commitment totalling approximately 12 years.

his interest in volunteering and being involved extends beyond the agricultural industry. In 2001 he became a charter member of New Minas Sunrise Rotary Club, bringing a whole new and invigorating dimension to his life.  Since joining, Coldwell has served on many of the club's committees and has even filled the role of president. Coldwell has been afforded the privilege of being named assistant district governor for Western Nova Scotia Region and nominated as District Governor Nominee for District 7820, a two-year commitment.

More recently, he became the District Governor in 2013-14. That same year, he helped lead his district and fellow Rotarians to raise $1.7 million dollars during the Million Dollar Dinner for Rotary District 7820. He presently serves as the Rotary Foundation chairman for District 7820.

Coldwell is always giving of his time and humble about volunteering in his community. That's why he is a founding member of 100 Men Who Give a Damn, helping to make a huge impact to local charities. He has taken leading roles as Village Commissioner in Port Williams for over 10 years and served his church as senior warden and chairperson of the Parrish Council for the last 19 years.

"It was an extreme honour to be recognized as Volunteer of the Year by an institution that had such a profound effect on my life and holds a special place in my heart," said Coldwell.
Committed to service

The Distinguished Alumni Award is the Faculty of Agriculture's most prestigious award, recognizing truly outstanding service and commitment to the Faculty of Agriculture, industry and the Alumni Association.

The 2016 recipient has done just that.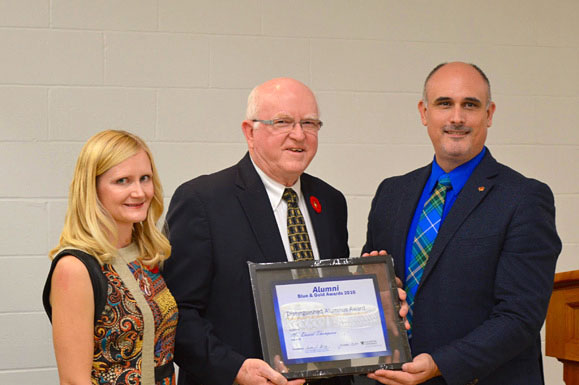 Alumni Association President Audrie-Jo McConkey, David Thompson and Dean David Gray.

David Thompson's active career in agriculture began immediately after graduation from NSAC in 1970.

After a stint with the PEI Department of Agriculture, Thompson accepted a position in private industry, where he really took off. He began a career with the crop protection industry, working in sales, marketing and providing technical support to farmers and industry in the Maritime provinces, Quebec and Maine. He became well known and respected among potato and cereal growers across the country.
A forward thinker in agriculture, Thompson was always attentive to environmental issues and as a result, initiated many stewardship programs. He's been a member of the Board of Directors of the World Potato Congress since 2000 and is currently serving as president and CEO. This organization works to promote the potato industry worldwide by hosting a World Potato Congress every three years and is recognized as a major player in the global potato industry.

In addition to this work, Thompson is also president of the Board of Directors of the PEI Grain Elevators Corporation, a role he has held since 2009, and has helped promote the growth of the grain and soybean industry on PEI.

"A sincere thank-you to the Dalhousie Faculty of Agriculture Alumni Association for the honor of the Distinguished Alumnus Award," said Thompson.  "The education I received at NSAC launched my 46-year career in agriculture."

In retirement, Thompson continues agricultural stewardship, working and volunteering with numerous organizations including the Potato Association of America, Canadian Association of Agricultural Retailers, Croplife Canada, Fertilizer Canada, Canadian Horticultural Council. Most recently, David has been appointed to the Board of Directors of the Canadian Agriculture Hall of Fame, representing Atlantic Canada.  Over the past number of years he has also been involved in his local community, serving as member of the Queen Elizabeth Hospital Foundation Board, the Rotary Club of Charlottetown, Kinsmen, K-40 and the Greater Charlottetown Area Chamber of Commerce.

Amidst his diverse agricultural experience over the past 46 years, Thompson has always remained interested in Dalhousie's Faculty of Agriculture. He is an ongoing supporter of the Chuck Harrison Memorial Bursary, in memory of a fellow class member. He also facilitates two other awards on behalf of his organizations: the Atlantic Council of Crop Life Canada Bursaries and the Atlantic Fertilizer Council Bursary.

"During my years at NSAC, I enjoyed a full social life, travelled, played hockey and most importantly made lifelong friends. Many of these friends continue to be an important part of my career today.  It is a privilege to join the prestigious list of previous honorees and I look forward to continued work with the Dalhousie Faculty of Agriculture Alumni Association."