For the second year, Dalhousie is kicking off a campaign to promote a census that collects information reflecting the university's diverse community.

While the census can be completed at any time, the "Be Counted" campaign launches today (November 21) and runs through December 2. The campaign encourages faculty/staff and students to fill out their respective censuses, which are confidential and take only a few minutes to complete.

"The census information informs us about our diversity, which helps us create the appropriate programs and supports to foster a respectful and inclusive working and learning environment," says Jasmine Walsh, acting assistant vice-president, Human Resources and co-project lead for Dal's Strategic Initiative on Diversity and Inclusiveness.

"This year, we recognized the need to reach out directly to students so that they understand why it's so important to complete the census," adds Arig al-Shaibah, Vice-Provost, Student Affairs. "By teaming up with Human Rights & Equity Services and the Dalhousie Student Union, we hope students will learn more about the census and take the time to fill it out. By doing so, they will help shape university policies and programs to make Dal a welcoming and supportive place for everyone."

Watch the census video here:
Why 'Be Counted'?

The census is part of the Diversity Data Project, identified within the university's Strategic Initiative on Diversity and Inclusiveness (5.2).
In 2015, more than 2,200 faculty and staff completed the census, but there are many groups for which more self-identification information is still needed — particularly part-time academics, casuals and facilities operational support staff, as well as students.

"As a student, I really want all folks on campus to understand the importance of completing the census," says Kathleen Reid, president, Dalhousie Student Union. "By participating, you can make sure our diversity is represented in the census data, which will help shape the university's programs, and the direction of resources, particularly those related to diversity and inclusiveness. The census isn't mandatory, but if you are willing to contribute to the conversation, you can be an important piece in steering our initiatives."

The faculty and staff data collected from the 2015 census is now available in a new Annual Employment Equity Report on the Human Rights & Equity Services website.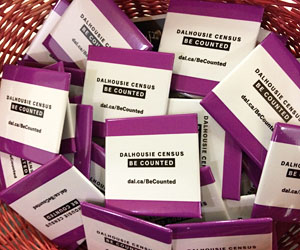 Visit dal.ca/BeCounted to complete the census and to learn more about it.
Want to help promote the "Be Counted" campaign? If you didn't receive a promo pin at this morning's kick-off at various locations on each campus, they are available in the Human Resources office, Room 150 and Human Rights & Equity Services office, Room 2, both in the Henry Hicks Academic Administration Building.