With Halifax's annual Holiday Parade of Lights coming up this Saturday, Dal Architecture students are hard at work in the final stage of assembling their float.

Well, not exactly a float in the traditional sense: the students are building a fleet of bikes with colourful, geometric butterfly wings that will "fly" through the streets using kinetic energy.

The team, which has been working on its contribution to the parade since mid-October, has created its own assembly line process to complete the construction. In this final week before the parade, two stations in the basement of the Medjuck Architecture Building are busy with students creating the parts needed to put it all together.

In the Laser Cutting room, students use a laser bed as a tool to create the acrylic wings, which will light up for the parade. Others spend time in the Wood Shop, working on the bikes. The team has created a working prototype of the design, which shows what the rest of the fleet should look like the day of.

The vision that will come to fruition on Saturday evening puts everything together: the wings attach to the bikes — provided for the team by the Dal Bike Centre — and flap as the students pedal. When it is all said and done, there will be between 13-15 bright, butterfly-like bikes moving through the streets.

"We want it to be that our kinetic energy from pedaling is not wasted," says Mahsa Shobbar, who organized this year's team. "Using bikes is more environmentally friendly."

Hands-on experience

Students in Dal's School of Architecture have been contributing a float to the Parade of Lights nearly every year for more than a decade. The team creating the float is comprised of first-year and master's students working together.

The first-years drive the idea," says Mahsa, "and the master's students are there to facilitate and guide… It's like we're passing on the tradition from year to year."

The number of students involved has varied through the process — with more joining in on the day of — but at the moment there are more than 20 working on the team. Early in the process it was a time commitment of about six hours a week or so, but leading up to the parade that's leapt up to about 10. The project is design built: the process involves assembling prototypes and changing the design as issues arise.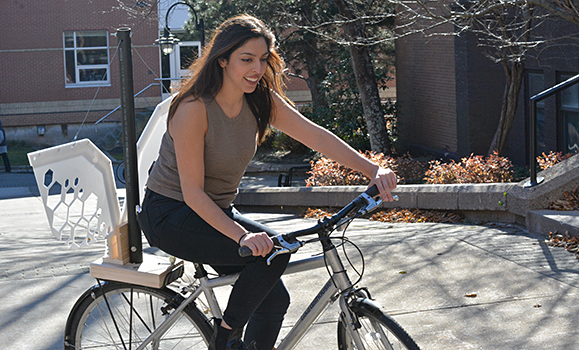 Mahsa, who is in her final year of her Master's of Architecture degree, is participating in Dal's contribution to the event for the first time.

"It's a great process," she says. "I wanted to have this experience before I graduated."

Rebecca Trainer, a master's student on exchange from Scotland, had heard great things about the production and decided to get involved.

"It's not something you would get to do otherwise," says Rebecca about creating the float. "It's really cool."

Upping their game

Each year, the team tries to build on the float from the previous year, improving it in the process. Last year, Architecture students created the image of a "jellyfish" swimming through the streets, propelled by foot, trailer and bicycle.

This year, the team changed things up with a more geometric theme for the butterfly's wings, as well as even more of a focus on the environmental impact.

The team still has work to do this final week, but the final product that comes together should be quite a sight.

"It will all come together in the end," says Mahsa, "and hopefully people will be pleased with it."
The Holiday Parade of Lights begins at 6 p.m. on Saturday, November 19, with a route that starts at Upper Water Street, travels down Barrington, up Spring Garden Road then across South Park to University Avenue, finishing at Robie Street.

The School of Architecture invites alumni, faculty, staff, students and families to watch the parade by the Medjuck Architecture Building (5410 Spring Garden Road). There will be cookie decorating and hot chocolate inside!