On November 3 and 4, leaders from across the field of food law and policy in Canada, the United States and the United Kingdom gathered at Dalhousie for a groundbreaking national conference to explore law's changing role in Canadian food systems help chart the future of food law and policy in our country.

The Future of Food Law & Policy in Canada was co-organized by Schulich School of Law Professor Jamie Baxter, who conducts research on agricultural lands and sustainable food production. Fellow organizers included Dal Law alumnus Glenford Jameson, a lawyer at Toronto-based G.S. Jameson & Co. specializing in food-sector issues; third-year Law student Jessica Rose; and Law alumna Shannon Paine, an associate at G.S. Jameson & Co.

"Glenford and I started talking about the conference a year ago," says Prof. Baxter. "We had no idea what it would look like, so we were surprised at the enthusiastic response." There were around 120 attendees, including more than 40 speakers. "We wouldn't have been able to host a conference of that scale without the enthusiastic support we received from the Schulich School of Law and Dean Camille Cameron."

Canada at a crossroads

The conference came at a critical crossroads for Canada's food systems. While the law and legal professionals already occupy influential positions in this space, they often approach food systems from a particular discipline or perspective, such as agriculture, health and safety, regulation and innovation or environmental planning.

As a result, food law in Canada has yet to develop around a clear understanding of its participants. The Future of Food Law & Policy in Canada was a unique forum for people to come together, make connections, share ideas, identify common needs and resources, and map new directions.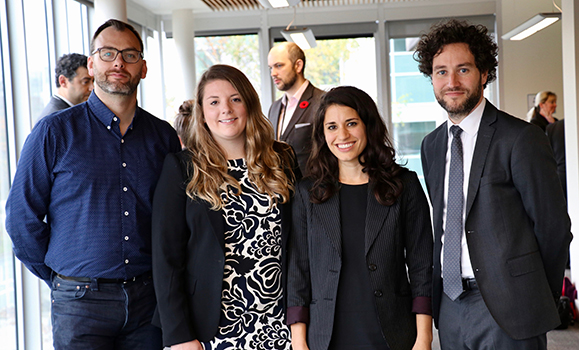 Organizers (left to right) Glenford James, Shannon Paine, Jessica Rose, Jamie Baxter.
A cluster of enterprising Schulich Law grads is working on the cusp of this emerging field, including Jameson, Paine, Daniel Coles and Malcolm Kempt.

"This is an area of law that's growing and needs exploration," said Prof. Cameron, opening the conference. "The potential for the intersection of the disciplines of food law and policy is great."

Dal partners and cross-collaboration

Delegates came from Canadian, American and British universities, law firms, non-profit organizations, corporations and government. Panel topics included the law and policy of sustainable food systems, food and human rights, legal issues in alcoholic and non-alcoholic beverages, global food governance and the intersection of food and animal law. In total, nearly a dozen Dal faculty members spoke at the conference, spanning seven different academic faculties.

"It was exciting to discover how many Dal professors are involved in researching the legal and regulatory aspects of food systems," says Prof. Baxter. "We were pleasantly surprised by the response we got from various faculties after we sent out a general call asking for proposals for speakers."

Prof. Baxter points in particular to collaborations with the MacEachen Institute for Public Policy and Governance, which hosted the Trade, Transparency and Economic Development panel, and the Health Law Institute, which collaborated to host closing keynote speaker Michael Roberts, executive director of UCLA School of Law's Resnick Program for Food Law and Policy.

Shining a spotlight on local, accessible food

A great deal of planning went into the menu for the conference, which student Jessica Rose organized with Dalhousie Student Union Catering Services' Food Service Director Adam Bellefontaine. Among the 11 Nova Scotia farms and suppliers were Martock Glen Farm, Fox Hill Cheese House, Schoolhouse Gluten-free Gourmet, Premium Seafoods and Acadiana Soy Products.

"It was important to us that we served delicious and healthy food with vegan and gluten-free options," says Prof. Baxter. "That can be challenging because food-procurement processes are governed by law, so we were thrilled that DSU Catering Services wanted to work with us on that."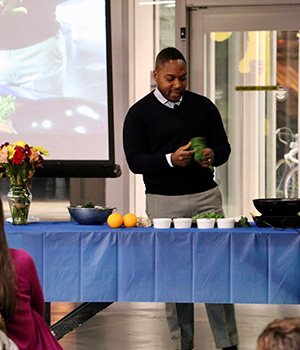 Another highlight was Bryant Terry's public talk at the Halifax Seaport Farmers' Market on the evening of November 3, which attracted nearly 250 people. Terry is a San Francisco-based award-winning chef, educator and author known for his activism to create a healthy, just and sustainable food system.

"We wanted a headline speaker for the public talk, and Bryant had experience in food justice and working in the community, so he was a good fit," says Prof. Baxter, who worked closely with Rose to organize Terry's visit. "He was very interested in learning what was happening here in Halifax with projects like Hope Blooms."

Although the conference just wrapped up, its organizers are already thinking ahead. "There's a lot of enthusiasm for what's going to happen next year," says Prof. Baxter. "We see this as a conference that a different Canadian university might host each year, to keep it national. There's a real energy and commitment among food law and policy folks, and we hope that the next organizers will build on this experience."