A major reinvention of Dalhousie's downtown Halifax engineering and architecture campus was set in motion Friday afternoon with the public launch of the IDEA project, a $64-million investment built on the support of multiple partners.

The project is set to transform Dal's Sexton Campus and help kick-start Halifax's emerging innovation district. Two new buildings will be added to campus and existing ones revitalized over the next two years, adding advanced technology and design labs; state-of-the-art engineering facilities; modern teaching and learning spaces; technology diversity programs; and incubation space linking students and faculty to industry and entrepreneurs.
Learn more: The IDEA project: How it will transform Sexton Campus

Friday's celebration event, hosted on the future site of the new buildings, both launched the public phase of the $64-million IDEA Project Campaign and announced a $32-million contribution from the federal government.

The Honourable Scott Brison, President of the Treasury Board, was on-hand to unveil the federal government's investment through its Post-Secondary Institutions Strategic Investment Fund.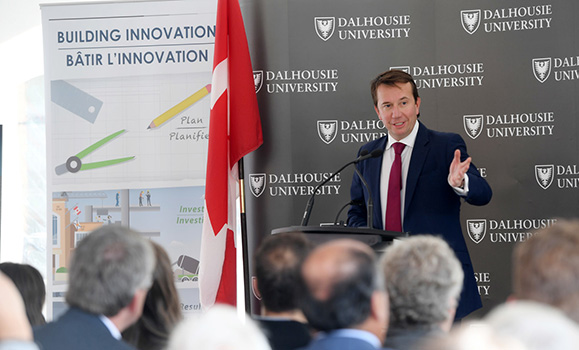 "This will dramatically enhance Nova Scotia's R&D capacity, providing greater opportunities for students, researchers and industry to collaborate, innovate and commercialize technologies," said Brison, who was introduced by Halifax Member of Parliament Andy Fillmore.

Brison said the IDEA project and other initiatives like it will play an important role in Nova Scotia of supporting current and future students as they train for and create the "high-value" jobs of the future.
Supporting key programs and research sectors

Dal's downtown campus hosts Atlantic Canada's only school of Architecture and its largest and fastest-growing Engineering program. In the works for several years now, the IDEA Project — which stands for "Innovation and Design in Engineering and Architecture" — will support rising enrolments, new design-centric curricula and enhanced opportunities for teamwork.

It will also support education and R&D in economic sectors critical to Nova Scotia and the Atlantic region by building on Dal's strengths in clean technology, ocean tech, and advanced manufacturing.

Dal President Richard Florizone, who served as MC for Friday's event, called the federal government's investment in the IDEA project "transformative" for the university and for the emerging innovation district in downtown Halifax.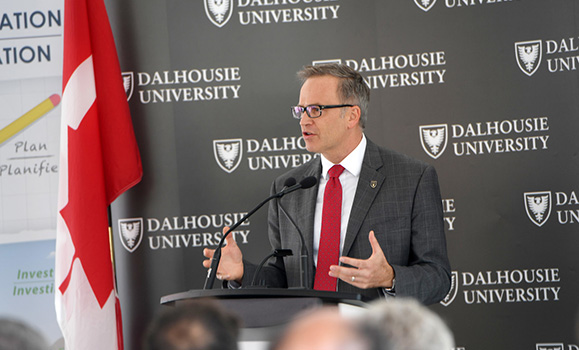 "It's my belief that we are building a district in this city that will be a hub and a centre where people will want to live, work, play and create and innovate," said Dr. Florizone, after gesturing to the much-celebrated Halifax Central Library located nearby on Spring Garden Road.
The power of partnership

Ottawa's investment will be matched by donations through the IDEA Project Campaign, which is raising an additional $32-million through the generous support of donors, industry partners and Dalhousie students.

Dr. Florizone emphasized the importance of these partnerships in turning the IDEA project into a reality, noting further gifts and donations will be announced in the weeks and months to come. "My thanks as well to deans Josh Leon (Engineering) and Christine Macy (Architecture and Planning) for their leadership in making this IDEA a reality," he later added.

Local philanthropist Marjorie Lindsay helped get the IDEA project campaign started years ago with a $1-million gift in honour of her late husband John Lindsay Sr., a Dal Engineering grad.


"When I made a gift to the IDEA project to honour my late husband . . . I knew something big was going to happen, but I never dreamed it would be this big," said Lindsay in remarks at the event.  "I only wish that John could be here to witness the joy and share in this dream come true."

Lindsay, who serves as honorary chair of the IDEA Project Campaign cabinet, said the IDEA project signals the start of a new era on Sexton Campus that will help support a "brighter future" for engineers and architects.

That support extends beyond the campus as well to students in other universities around the region who transfer to Dal in their third and fourth years to complete their Engineering degrees, something pointed out in remarks by the Honourable Kelly Regan, Nova Scotia's minister of labour and advanced education.

"While it may be a Dalhousie project, it has a province-wide reach," said Regan, noting this is just the latest example of Dal taking charge and creating an environment where Nova Scotians can thrive.
New buildings and more

The IDEA project's two new academic buildings — the "Innovation Building" and the "Design Building" — will stretch from Morris Street towards Spring Garden Road.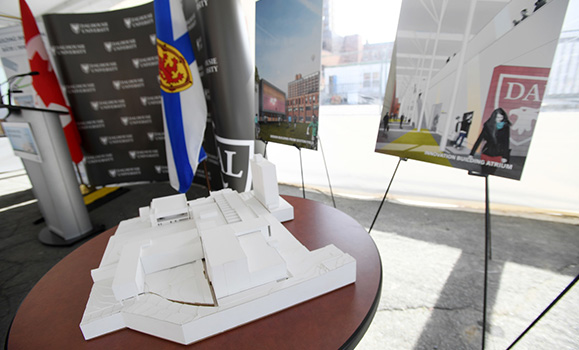 The Innovation Building will feature five student-centred workshops, including machine, working and prototyping shops as well as dedicated space to support student entrepreneurships and external startups and industry. The Design Building will include a 450-seat auditorium and four new design studios for students, important new spaces that will address existing gaps on the campus.
Learn more: The IDEA project: How it will transform Sexton Campus
"Being able to work effectively as a team is critical to our success not only as students but as future engineers," said Krista Prosser, one three students who spoke at the launch event.

Prosser, who is in her final-year of Mechanical Engineering at Dal, said new open-concept spaces will provide students with the informal atmosphere needed to better collaborate and encourage the flow of new ideas.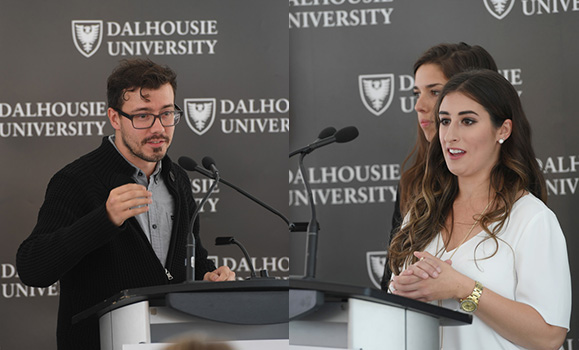 For Mark White, a master's student in the School of Architecture, the IDEA project is as much an investment in people as it is in infrastructure.

"It's an investment in the innovators, the designers, the engineers, the architects and the planners who are all emerging from Dalhousie's downtown campus," he said.
Several of those talented students and researchers were on-hand Friday afternoon to demonstrate some of their current projects, which included a wireless power-charging system and eco-friendly building panels made of cardboard and flax fibres.

The IDEA project will enable even more of this type of innovation in the years ahead, something Dr. Florizone says he's heartened to see being so widely supported by partners.

"There is a real sense of momentum building in this city, this province and this region," he said.
More coverage