What is public policy? What makes good public policy? And what are the public policy challenges facing Nova Scotia?

Three Nova Scotia leaders — Elizabeth Beale, Dan Christmas, and Danny Graham — recently sought to answer those questions before 65 invited lunch guests at the University Club, many of whom were Master of Public Administration (MPA) students. Those students come from a number of programs, including sociology, political science, information management and environmental studies, underscoring that students studying many things see the relevance of public policy.

Dalhousie's MacEachen Institute for Public Policy and Governance, led by Director Kevin Quigley (professor in the School of Public Administration), hosted the Sept. 20 event. Among the guests were a dozen members of the Canadian Association of Former Parliamentarians (CAFP), including the Hon. Jean Augustine (the first African-Canadian women elected to the House of Commons), Mary Clancy and Francis LeBlanc.

The guests spent their morning learning about Dal's oceans expertise on a tour that included CERC.Ocean, the Marine Environmental and Prediction and Response Network (MEOPAR), and the Marine and Environmental Law Institute. They also chatted with student researchers about their oceans work at Dal.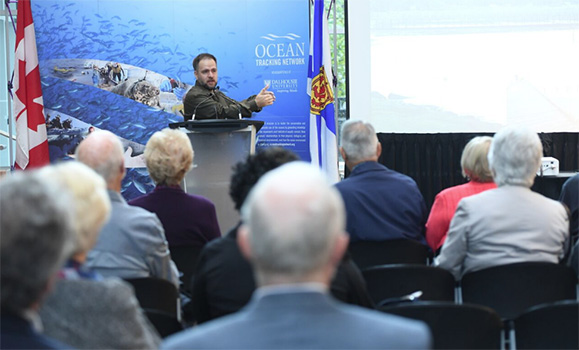 Diego Ibarra, lead on the OceanViewer project, speaks to the delegation.
Promoting vigorous public-policy debate

As it marks its one-year anniversary, the MacEachen Institute is actively building on the Honourable Allan J. MacEachen's legacy by promoting vigorous debate on progressive public policy issues. "If MPs aren't in touch with their constituencies, they can't do their job," said Dr. Quigley during his welcome address at the luncheon (introduced by Clancy, a 1974 Dal law alumnus and Liberal MP from 1988–1997). "Allan MacEachen was very connected to his riding."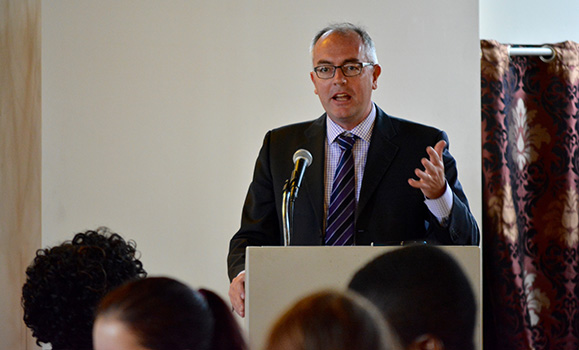 Dr. Quigley speaks at the luncheon.
Schulich School of Law Dean Camille Cameron, who is on the Governing Council for the MacEachen Institute, chaired the panel. "Active politics is not an easy job, but it's vital for our democracy," she said. She then thanked the former parliamentarians in attendance for their combined 112 years of public service before introducing the panel members.

Beale, former president and CEO of the Atlantic Provinces Economic Council, spoke about the economic challenges facing Nova Scotians, as well as her own career in public policy. "It's nerve-wracking but never boring," she said. First, she highlighted what's great about Nova Scotia (its many educational institutions, attractive quality of life, new and longstanding entrepreneurs), then she listed some of its challenges (sluggish labour markets, low productivity, youth retention).

"We need to look at who the real economic innovators are," said Beale. "We also need to better train and develop our workforce, create a more aggressive strategy to promote urban development, and empower our young people so they'll spend their careers and lives in Nova Scotia."

Urgent call to action for Nova Scotians

Christmas, the senior advisor to the First Nations community of Membertou, discussed the challenges addressed in the 2014 OneNS Commission Report Now or Never: An Urgent Call to Action for Nova Scotians. "Over the next 15 to 20 years, our population is going to decline," he said. "We projected that we'll lose up to 100,000 people from the workforce. And for at least 10 years, Nova Scotia has had the worst GDP performance in Canada."

A large part of the solution to solving the province's economic issues involved One Nova Scotia Coalition members talking to ordinary Nova Scotians about them — and also trying to change certain outdated attitudes. "Some people said that immigration wouldn't work in their communities," said Christmas. "As a visible minority sitting in those rooms, that shocked me. We need to figure out how to motivate Nova Scotians to look at the future in new ways."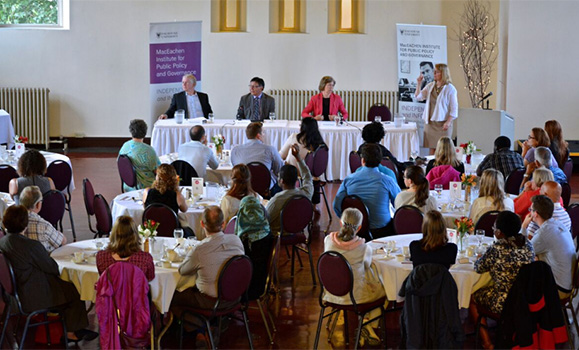 Graham, another Dal Law alum (1988), special advisor at McInnes Cooper and former leader of the Liberal Party of Nova Scotia, grouped Nova Scotia's growth challenges into three categories: economic, cultural and demographic. He was one of the authors of the subsequent One Nova Scotia Action Plan, in which the "prescription" includes focusing on post-secondary institutions, youth retention, immigration, the oceans and ICT sectors, and international trade.

"It's wonderful that the CAFP continues to gather to discuss pressing public policy issues," said Graham. "My dad was inspired by Allan MacEachen, and I was inspired by my dad. Every Nova Scotian needs to step up if we're going to realize our full potential."

The next generation weighs in

Troy Mrazek, a first-year MPA student in Dr. Quigley's Introduction to Public Policy class, attended the lunch. Because he has always wanted to practice some area of law, he's planning to apply to Dal's combined JD/MPA program. "I'm interested in public policy and its impact on law, business and government," he says, "so I'd like to focus on public or business law."

Although Mrazek said the issues the panel members discussed weren't new, he feels that having opportunities such as the MacEachen Institute event to continue these discussions is essential for Nova Scotia's growth. Mrazek hails from Antigonish and has chosen to stay in Nova Scotia to attend university—and he'd be happy to have a career here too. "I'm interested in regional economic development," he says. "If there's a spot here for me to work and thrive, I'm all for it."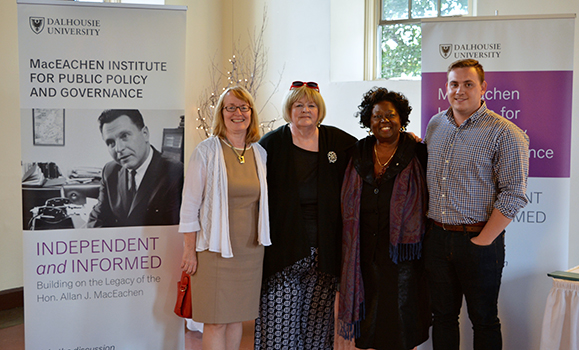 Left to right: Schulich School of Law Dean Camille Cameron, Mary Clancy, the Hon. Jean Augustine, and public policy student Troy Mrazek.