A new approach to daily commuting means a new look for University Avenue.

Community members braved damp weather Tuesday to celebrate the official opening of the University Avenue Protected Bike Lane. Nathan Rogers from Facilities Management highlighted the partnership with city and the details of the implementation. Volunteers from the Dal Bike Centre, Office of Sustainability, and the Halifax Cycling Coalition served cake, answered questions, tuned-up and loaned bikes to anyone interested in testing out the bike lanes. 
"We've been anticipating it for so long, so we're all very excited," said Kara Martin, president of the Dalhousie Bike Society, which manages the Bike Centre through a team of volunteers. "The majority of the people we've talked to are very excited that it's finally happened."


The protected bike lanes were installed late August. Dalhousie has partnered with the Halifax Regional Municipality to fund and maintain the pilot project, with the goal of studying and testing the new cycling infrastructure. This is only the second bike lane of its kind in Halifax.

Rochelle Owen, director of the Dal Office of Sustainability, thinks the project will benefit from being in a university setting.

"A lot of people are interested, we're getting lots of feedback, and that's the whole point of this project — to try to enhance protection for cyclists and to learn about other transportation related issues."

Martin said community feedback has been mainly positive since installation, with the parties involved working to address logistical issues around parking, loading and navigating safely in and out of the bike lanes. (See: "University Bike Lane kicks into gear", August 23)
Rogers highlights that according to Nova Scotia Transportation and Infrastructure Renewal, vehicles may temporarily stand or stop in bike lane while actively engaged in loading or unloading of goods or people. People are encouraged to load on side-streets if they can, but active loading is permitted within the break in the protective bollards.
"We do like to stress that this is just a pilot project," says Martin. "It's a learning experience for the city, and it's an integral part in getting to where we need to go. It's one of the first steps we need to make in order to get to a fully integrated, protected bicycle network throughout Halifax."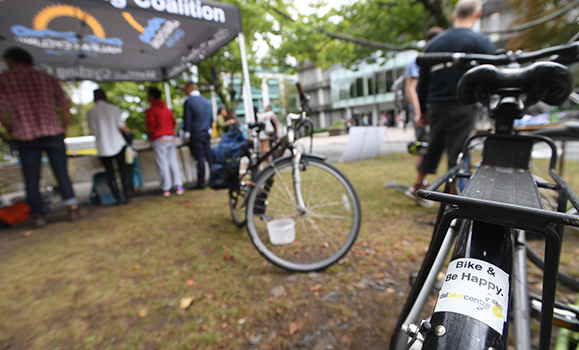 Martin thinks the protected bike lanes will have a positive impact on Studley Campus, serving the many student cyclists who live nearby. It will also encourage new cyclists by making them feel safer and more comfortable riding on city streets.
Almost 10 per cent of Halifax Dalhousie students, faculty and staff have reported primarily using a bicycle to commute to school or work. These statistics are much higher than the general Canadian public (about 1 per cent), Owen — a cyclist herself — has noticed an increase of popularity around cycling in Halifax.
"I think we're in a crosspoint," she said. "I see a lot more people cycling all year around."

Building off of the new bike lanes, Owen hopes that local cycling infrastructure continues to become stronger and better connected over the next few years.

"It's really about having vision for different transportation users... we're not quite there yet, in terms of having those connections and having that protection, but it took us five years to get this far, so let's celebrate this part and carry on with the journey."