On the first Saturday of the school year, after a hectic week of classes, many students would be looking forward to a weekend of relaxation. But that didn't stop nearly 200 Dal students from gathering in the Studley quad bright and early for Dalhousie's ninth annual Community Day.

Participants had the opportunity to spend their afternoon volunteering with one of 14 community organizations. Activities ranged from a food drive with Feed Nova Scotia all the way to building houses with Habitat for Humanity. The event offers a unique opportunity for new students to become familiar with Halifax, and for returning students to see the community from a new perspective.

"Community Day is one of many opportunities for Dalhousie students to give back," said Arig al Shaibah, vice-provost Student Affairs. "You will get the most of your time at Dalhousie by taking a broad view of the community."

Halifax's Poet Laureate Rebecca Thomas, herself a Dal alum, spoke at the event, and stressed the importance of helping those in need.

"The impacts of your presence are truly felt," she said, performing a poem dedicated to student volunteers.

Exploring Halifax

First-year students Sandra Sunil and Ilne Barnard saw the event as an opportunity to get to know their new home. Hailing from PEI and Alberta, the pair wanted to get involved and familiar with Halifax and the Dalhousie community. The pair spent the afternoon collecting non-perishable food donations for Feed Nova Scotia.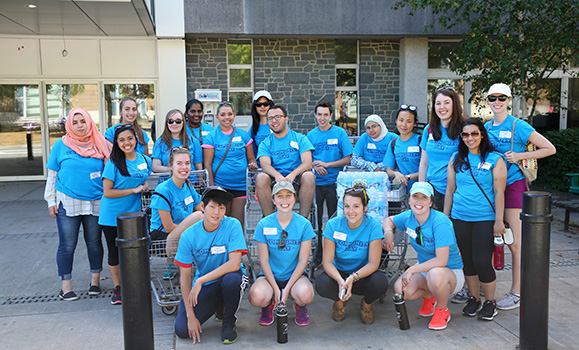 "Volunteering offers a sense of purpose," said Sandra, who volunteered with her hometown food bank before coming to Dal. "Volunteers sustain communities. They help those in need to flourish".

Across the city, a group of students gathered at Hand in Hand to fill serenity bags for women in need. Hand in Hand is a non-profit organization dedicated to helping those who are struggling get back on their feet.

"Our organization is almost entirely run by volunteers," said Kathy Broussard, who has been working with Helping Hands for three years. "We have a few staff members, but we rely on help from the community to run efficiently,"

The support Dalhousie students provide to community organizations — not just on Community Day, but through the year — is invaluable.
Dylan and Max, fifth-year Dalhousie students dressed head to toe in safety gear, echoed Broussard's thoughts.

"It's an important opportunity for Dalhousie students to appreciate their role in Halifax at large," said Dylan Ryan, who along with eight other students spent the day building a home with Habitat for Humanity. Like most of the organizations taking part in Community Day, Habitat for Humanity is 100 per cent volunteer driven.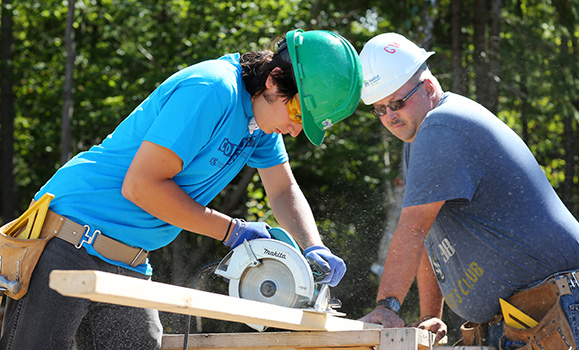 Finding new passions

Gisele and Alejandro, both in their first year at Dalhousie, partnered with the Halifax Cycling Coalition for the afternoon. The group promoted bicycle safety while lobbying for the installation of designated cycling lanes throughout the city.

"When you volunteer you get to find things you are passionate about. Things that you wouldn't necessarily find otherwise," said Giselle.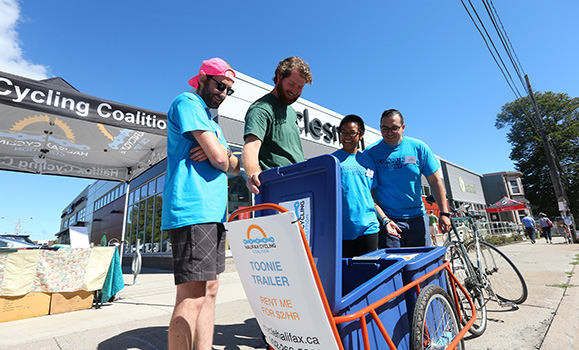 Just up the road, a group of Dalhousie students had the opportunity to literally make history — in a manner of speaking. Parks Canada, a first time participant in Community Day, recruited volunteers to help build a WWI Trench Exhibition atop Citadel Hill.

Holly Johnson was one of the student leaders who rolled up her sleeves to fill large bags of sand to keep the monument stable. Despite the hard work, she remained enthusiastic.

"I love to help others find ways to get involved," said Holly, who returned to the event for the third year in a row. "I will definitely keep volunteering throughout the school year."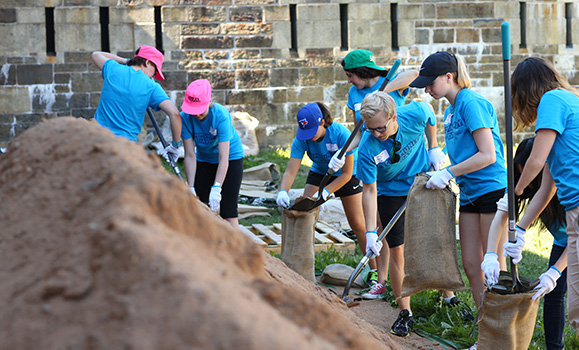 Even Dal Tiger joined in on the fun, promoting local produce by gardening with Common Roots Urban Garden.

Community Day ended with a debriefing session where students had the opportunity to reflect on how their contributions impacted the community, followed by a celebratory BBQ and a "dive-in movie" hosted by Dal After Dark — both well-earned opportunities to wind down after a hard (and good) day's work.