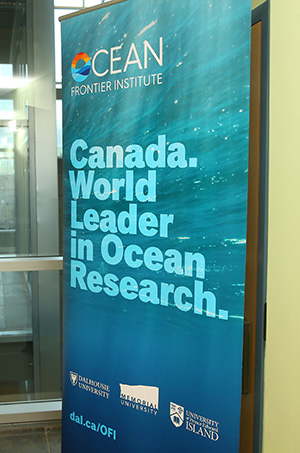 The Government of Canada has announced a massive new investment in a Dalhousie-led international ocean-science collaboration — one that positions Canada to become a global leader in the search for safe and sustainable solutions for harnessing the world's ocean resources.

The Honourable Scott Brison, President of the Treasury Board, was on campus Tuesday to share the news that the federal government would be committing $93.7 million through its Canada First Research Excellence Fund (CFREF) to support the Ocean Frontier Institute.

The Ocean Frontier Institute (OFI) is a powerful new partnership linking ocean experts from Dal, Memorial University and the University of Prince Edward Island with world-leading national and international collaborators in research, government and industry.

The government's investment represents the largest research grant in the history of Dal and its two partner universities. OFI has also attracted $125 million in additional support from provincial governments and partners — including a $25 million gift from business leader and philanthropist John Risley — for a total of $220 million in funding, an unprecedented investment in Canada's ocean-science sector.
Read also: A game-changer for ocean research: Inside the new Dal‑led Ocean Frontier Institute"

"This investment will truly help transform Atlantic Canadian ocean research from world-class to world-leading," said Minister Brison, announcing the funding on behalf of the Honourable Kirsty Duncan, minister of science, who was in Waterloo, Ont. for a national announcement of CFREF-funded initiatives.  

Minister Brison also thanked Risley for his generous support, calling his commitment "essential" and "catalytic" to the success of the OFI proposal.

A "vote of confidence" in Atlantic Canada

As Minister Brison noted in his remarks, OFI will focus its efforts specifically on the Northwest Atlantic and the Canadian Artic gateway — a region of the global ocean where changes happen first and fastest.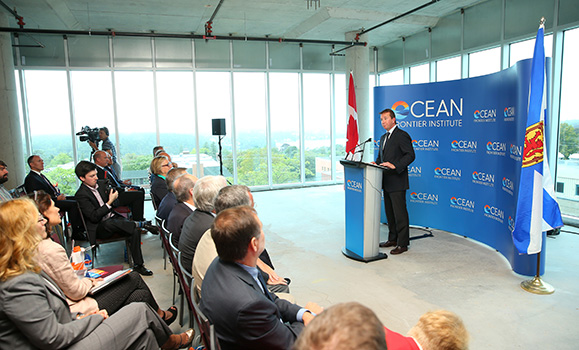 Treasury Board President Scott Brison speaks at the OFI announcement event.
"The Ocean Frontier Institute's research will help us better understand these changes and help us develop solutions that will help us contribute to the safer and more sustainable use of the ocean off Canada's coast and throughout the world," said Minister Brison, who was introduced at the event by Halifax Member of Parliament Andy Fillmore.

More than 200 people gathered into the unfinished fourth floor of Dal's Steele Ocean Sciences Building for Tuesday's announcement, which featured various speakers from across Dal and other OFI partners. (The location will eventually house staff, researchers and grad students with OFI.)

Dal President Richard Florizone thanked Minister Brison and his government for what he called a "visionary investment."

"Canada has just placed a huge vote of confidence in this region," said Dr. Florizone. "What better place for this visionary investment than right here in Atlantic Canada? We are entirely up to this challenge."

Dr. Florizone said the ocean represents one of Canada's greatest opportunities for sustainable economic growth and plays a key role in other issues related to food supply, security and the regulation of the Earth's climate. All of these, he explained, are reasons why we need to understand and manage it better.

"It is a problem that is too big and too complex for any one nation, one company or one university to advance and work on alone," he said. "That is why ... we have worked over the past 18 months to build the Ocean Frontier Institute."

Four of the top five ocean institutes in the world— as well as three federal departments, the Royal Canadian Navy, 19 industry partners, the Nova Scotia Community College and the National Film Board — will work together with OFI's partner universities to uncover these new frontiers in ocean science, management and innovation.
Read also: A game-changer for ocean research: Inside the new Dal‑led Ocean Frontier Institute"
An ambitious partnership


Dr. Florizone also thanked Risley for his investment and for his patronage of research in Atlantic Canada over the decades. While Risley was unable to attend the event in person, Dr. Florizone delivered remarks from the Clearwater Seafoods founder, in which he praised Dal and the federal government for contributing to the partnership.

"I have confidence the OFI can become an engine for regional economic growth and firmly establish us as global leaders in ocean science," he said.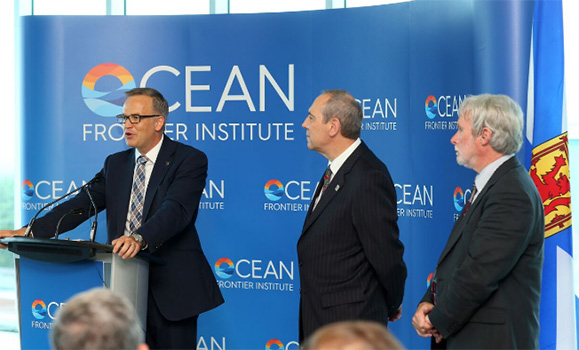 Dal President Richard Florizone (left) with the vice-presidents of research for Memorial (Richard Marceau) and UPEI (Robert Gilmour).

Dr. Florizone was joined at the podium by Richard Marceau, vice-president of research at Memorial, and Robert Gilmour, vice-president of research at UPEI, who both praised the parties involved for making OFI a reality.

"Our partnership is ambitious," said Dr. Marceau, noting OFI will lead the way to achieving breakthroughs in areas such as sustainable fisheries, sustainable aquaculture, marine safety, and ocean data and technology. "Through these breakthroughs we will enhance the safety of fishing, shipping and the oil and gas industry."

Dr. Gilmour highlighted his institution's strength in aquatic epidemiology, anchored by the research of Canada Excellence Research Chair Ian Gardner. Dr. Gardner's research focuses on developing cost-effective testing strategies and surveillance programs for the prevention and control of diseases in aquatic food animals.

"As we all recognize, the health of the ocean and the creatures that reside in and around them is crucial for our survival and also for the survival of future generations," said Dr. Gilmour.

Dal's award was the largest of 13 awards worth $900 million that were announced Tuesday across the country under the CFREF funding program, which is administered by the federal government's tri-party funding bodies. 

Alfred Leblanc, vice-president of communications, corporate and international affairs the Natural Sciences and Engineering Research Council of Canada (one of those federal bodies), said the award for OFI was well deserved.
"I'm delighted at the outcome," said Leblanc, noting the awards are made after a rigorous, competitive and merit-review process with leading experts and senior officials. "We are very excited about the work that will be done under this program."

Connections across sectors

Martha Crago, Dal's vice-president of research and master of ceremonies for Tuesday's event, thanked colleagues across Dal, Memorial and UPEI and other scientists in federal laboratories and in international partner labs for helping create the vision for OFI and helping her shepherd the proposal along the way.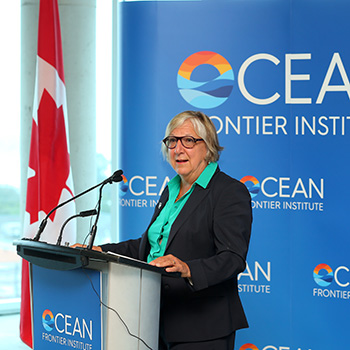 "What is now this empty shell in which you stand will be transformed into a vibrant workplace filled with scientists, graduate students, post-docs," said Dr. Crago, in reference to the unfinished space.

Dr. Crago also introduced the two individuals who will help lead OFI. Wendy Watson-Wright, who has worked with Fisheries and Oceans Canada as well as the United Nations, will serve as OFI's CEO, while Marlon Lewis, former chair of Dal's Department of Oceanography, will serve as launch scientific director until a permanent director can be recruited.
Read also: A game-changer for ocean research: Inside the new Dal‑led Ocean Frontier Institute"

Also speaking at the event was the Honourable Kelly Regan, Nova Scotia's minister for advanced labour and education. Minister Regan heralded Ottawa's investment as a "game-changer" for Nova Scotia.

"Thank you for your support of our university sector and sharing the vision of our premier that our universities help drive the provincial economy," she said. "It's nice to have a federal government that is a partner in our plans to move Nova Scotia forward."

She gave special thanks to Dal for helping pursue the economic development goals laid out in the One Nova Scotia report and action plan. "This, folks, is how we foster change right here in our own backyard, on our own shoreline."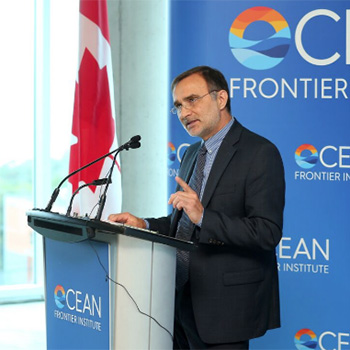 Representing one of OFI's industry partners, Jean-Paul Deveau, president of N.S.-based marine biotech company Acadian Seaplants, told a story about the disappearance of a particular type of seaweed off the coast of PEI to illustrate why OFI is so important.

"We don't know if it's climate change or some other factor that wiped out the seaweed in Prince Edward Island," he said. "This announcement today and the research that's going to result will help to answer questions like this. This research will create knowledge so that ocean industries in Atlantic Canada will be able to provide good, sustainable jobs and economic prosperity far into the future."

Following the formal portion of Tuesday's event, Minister Brison and others had a chance to hear first-hand from Julie LaRoche, a Dal marine biologist, and graduate students about some of the ocean data-capture technologies being spearheaded in Dal labs. OFI will enable Dal and its partners to create more of these kinds of groundbreaking technologies, with the aim of changing the nature of ocean science going forward.

As Dr. Florizone said earlier in the day: "Together we really will chart the ocean's future."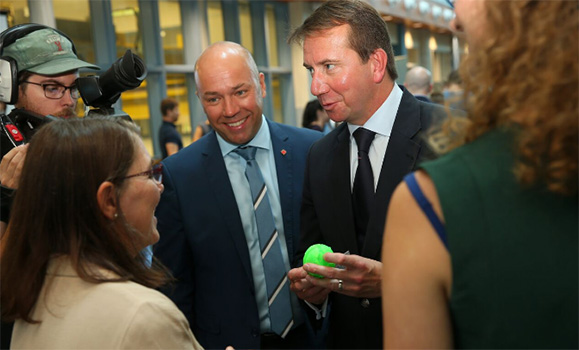 The Honourable Scott Brison and Halifax MP Andy Fillmore chat with Dal Biology Professor Julie Laroche (left) and her research team.

More on OFI