The accomplishments and dedication of two leading professors in Dalhousie's Department of Sociology and Social Anthropology have recently been recognized with their appointments as presidents to national organizations.  

Martha Radice has been elected as incoming president of the Canadian Anthropology Society (CASCA), an organization devoted to promoting and supporting anthropological research across the country. Howard Ramos was recently elected as president of the Canadian Sociological Association (CSA), a professional association that promotes research, publication and teaching in sociology in Canada.

National leadership

Dr. Radice, an associate professor with Dalhousie's Department of Sociology and Social Anthropology, is a prominent social anthropologist whose work focuses on the social, spatial and cultural dynamics of cities.

"It's great to have strong East Coast representation in Canada-wide associations," says Dr. Radice. "Right now, CASCA has a really good spread of executive committee membership from coast to coast, representing both official languages. For me, this is a chance to give back to an organization that I have always appreciated."

Radice is excited to lead an organization whose members have been a personal source of intellectual inspiration and professional mentorship since she attended her first CASCA conference in 1999.

Dr. Ramos, professor and associate dean of research in the Faculty of Arts and Social Sciences, is an accomplished political sociologist whose research focuses on social justice and equity issues — particularly social movements, human rights, Indigenous mobilization, environmental advocacy, ethnicity, race and Atlantic Canada.  

"Having two members of the Department of Sociology and Social Anthropology at Dalhousie elected as presidents of national associations shows how central the department is to Canadian social science," says Dr. Ramos. "Being elected as president of the CSA is a real honour and gives me a chance to give back to the association that I professionally grew up in."

An opportunity for collaboration

Lindsay DuBois, chair of Dalhousie's Department of Sociology and Social Anthropology, shares her colleagues' pride and enthusiasm.

"Being elected president of a national association is a tremendous sign of respect and vote of confidence from their colleagues," she says. " It's also great for us, since, as presidents, Drs. Ramos and Radice will gain a deeper understanding of what is happening in sociology and anthropology across Canada — knowledge they can bring back to us. At the same time their presidencies raise Dalhousie's profile on the national stage. We are extremely proud of our colleagues."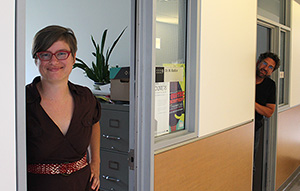 Drs. Radice and Ramos, who work out of neighbouring offices, are eager to work collaboratively in their new roles.

"Our department is a 'joint' department — combining sociology and social anthropology — so it's valuable to have such close communication with both the national associations of our two disciplines," says Dr. Radice.  

"Being in the same department, next door neighbours, and collaborators on projects makes being presidents of the CASCA and CSA at the same time really fun," says Dr. Ramos. "It also opens opportunities for us to work together on that front too."

Radice adds that in addition to her proximity to working with Ramos, "CASCA and the CSA already have a productive relationship. For example, the CSA has written a statement supporting our work to free Canadian anthropologist Homa Hoodfar, who has been imprisoned in Iran. Having direct contact between the organizations can help us take joint action to promote our disciplines and support our members."