It's not easy navigating a new home. For the recent influx of refugees from war-torn Syria, it can be challenging to crack the "codes" of working and living in a new country.

But computer code is a universal language — one many are eager to learn.

Last week, more than 30 Syrian newcomers to Canada and Halifax spent five afternoons on campus, learning HTML, CSS and Javascript to help expand their computer skill sets.  The camp was hosted jointly by the Dalhousie Computer Science (CS) Society and Syrian Student Society, and offered free of charge to participants.

Yaser Alkayale, a third-year Dal CS student from Syria who put the curriculum together, says one of their goals was to invite refugees who may feel uncertain about their place in the school system, and expose them to a taste of what computer science has to offer.

"We gave them some lectures, some lab work, some guest lectures, a little bit of a tutorial — as close to the full university experience as we could in that time," he explains. "Yes, they learned website creation, but what we hope they really learned was that computer science is cool, it's a big field with lots of opportunity and it's great to study at Dalhousie."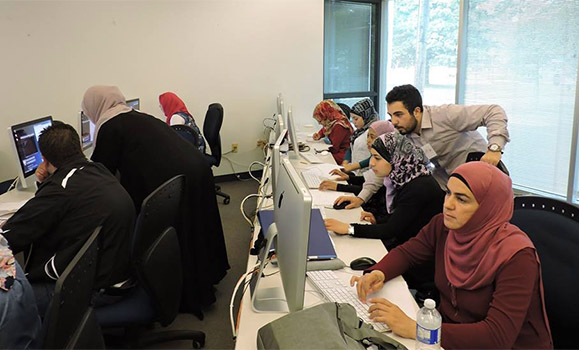 Expanding opportunities  

The camp was open to individuals hoping to get into university sometime in the near future, and attracted students ranging in age from 12 to 50.

"We wanted to introduce them to the university and what courses in computer science would be like," adds Zaher Abd Ulmoula, a member of the Syrian Student Society who's new to Halifax himself. (He's starting a master's in Computer Science this fall.) "Many of them didn't know anything about coding or programming languages."

Helping organize the camp was doubly valuable for Zaher, given it was his first time getting exposed to a Canadian classroom experience.

"I learned a lot about the teaching at Dalhousie," says Zaher, also from Syria. "It's very different from my country when I got my degree there [in IT Engineering]. It's good to know about that."


The inspiration for the camp came from Computer Science Dean, Andrew Rau-Chaplin, who suggested the idea to Yaser and also donated funds from the Faculty to support it.

"I actually took the curriculum for one of the courses we have in the Faculty — the introduction to website creation — and I just jammed it all into one week instead of three months," says Yaser. "A lot of parts were taken out, but they were able to come up with something that was close to what they would have come up with had they taken the course at Dalhousie."
Making a difference

Yaser says the students have gotten great feedback from participants, with many positive posts and thanks on their Facebook page. Going forward, they're discussing ways to continue the camp as a once-weekly session, provided they can find the funding and support to do so.

"We'd love to expand on it in the future," says Yaser.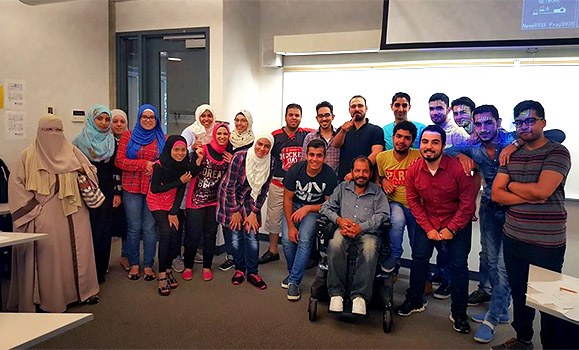 Camp organizers and participants.