Dal's Faculty of Agriculture has been selected to help lead a country-wide review and improvement of Ethiopia's agricultural education system, a partnership that builds on the Faculty's six-year, $18-million development project in the country.

For over 12 years Dalhousie's Faculty of Agriculture and its partners have worked to increase Ethiopia's agricultural capacity, and throughout those years, Dalhousie has continued to strengthen its ties with the country – sometimes in unexpected ways.

Earlier this year, the Ethiopian Ministry of Agriculture and Natural Resources approached Dalhousie's Faculty of Agriculture to be a lead contributor to a review and improvement of its technical and vocational agricultural training across the country. An unexpected opportunity, the Ethiopian government called upon Dalhousie to lead this project because of its close ties with the country that were strengthened even further with the announcement of a nearly six-year, $18 million project in February 2015 titled 'Agricultural Transformation Through Stronger Vocational Education' (ATTSVE).

ATTSVE, announced in Febraury 2015 by the Government of Canada with an event on Dal's Agricultural Campus, was officially launched in Ethiopia in July 2016 alongside the revised National Development Agent (NDA) curriculum.
This curriculum will standardize agricultural education across the country at all levels for the first time since the inception of Agricultural Technical Vocational Training Colleges (ATVETs) in 2000. It will train Ethiopian men and women to meet the needs of the country's labor market and enhance Ethiopia's commercial agriculture sector. The curriculum includes key themes spanning entrepreneurship, the environment, nutritional diversity and gender and is fully aligned with the new National Ethiopian Occupational Standard (EOS).

Celebrating an important partnership

On hand for the launch in Ethiopia were Martha Crago (vice-president research at Dalhousie), Keltie Jones (acting assistant dean, international at Dalhousie's Faculty of Agriculture, and ATTSVE staff and partners, including the Mennonite Economic Development Associates of Canada (MEDA), Jimma University College of Agriculture and Veterinary Medicine (JUCAVM) in Ethiopia, and McGill University.

"This is an outstanding and unanticipated outcome of the ATTSVE project and one that we're proud to lead at Dalhousie along with the support and expertise of our partners in Canada and Ethiopia," says Dr. Crago.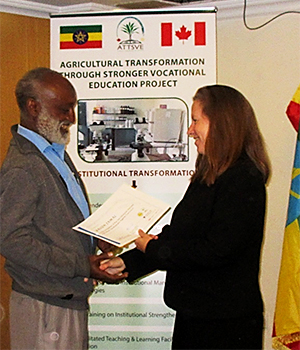 The event also recognized partners who were instrumental in the evaluation and development of the revised curriculum, including Dalhousie's Faculty of Computer Science, as well as more than 40 Ethiopian curriculum writers, agricultural experts and federal and regional government officials.

"It was wonderful to bring all of the curriculum writers and project coordinators together to celebrate the completion of the curriculum," says Dr. Jones (left, with Yasin Jemal, a senior instructor at Alage ATVET College. "They put an incredible amount of work onto this project, and they were pleased to hear the Ministry of Agriculture & Natural Resources and Ministry of Education representatives express a commitment to implementing the final product."

The revised county-wide curriculum may have been an unexpected outcome of ATTSVE, but it adds momentum to the project's ultimate goal of increasing the supply of male and female graduates from agricultural programs to develop Ethiopia's commercial agriculture sector.

"With the support of our partners, we're continuing to push beyond the boundaries of what's achievable in agriculture, and in the process, providing meaningful educational opportunities that can change the future in Ethiopia and of our world," says Dr. Jones.