It's a decades-long tradition on Dal's Agricultural Campus — one that attracts community members, families and children of all ages.

The Faculty of Agriculture's annual Community Day (formerly known as Community Open House) took place on a beautiful Thursday, July 21. Under bright, sunny skies, approximately 1,000 people made their way to the Bible Hill campus to explore hands-on research activities, tour gardens and labs and visit with some of the many creatures who call the Agricultural Campus home.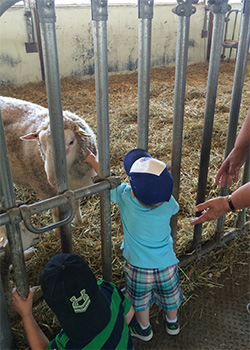 "It's always wonderful to see so many members of the community coming to our beautiful campus to enjoy our activities and learn about our incredible programs," says Dean Gray, dean of the Faculty of Agriculture and campus principal. "There's nothing like the buzz and energy of Community Day – it's something special."

A busload of visitors from the Halifax campuses were among the attendees contributing to that buzz and energy. OtherDal staff and faculty brought family with them to Community Day. Carol Burke, who works in the Office of the Assistant Vice-President of Facilities Management at Dal, brought her 15-month-old grandson Marshall (left) along for the trip.

"Marshall was so spellbound by the sheep that after reaching out to touch one of the sheep he turned, let go of the pen, and in his excitement took his first three steps to his mother," says Burke. "As you can imagine it was a wondrous moment for her and for me; the memory of Marshall taking his first steps at the 2016 AC Community Day is a family memory we will treasure for all time."

Above are a sampling of even more exciting sights from Community Day, as captured by Dal photographer Nick Pearce.