"Who feeds on octopus?" asked Dal Biology professor Boris Worm, as someone grabbed the roll of bright pink tape being passed around a circle of kids and others huddled together in the atrium of the Steele Ocean Sciences Building Thursday afternoon.

"Okay, the shark feeds on the octopus," he said, as the tape is then passed to a child wearing a 'Shark' nametag. "Anything else a shark feeds on?" he continued. As the questions continued, an intertangled web of tape began to emerge until Dr. Worm yanked it away, some of it falling to the ground.

"If we start changing the web, things change," he said.

Dr. Worm was using this exercise to show how climate change and other issues are creating new challenges for the ocean, one of the world's most important natural resources.
It was also a simple example of the sorts of hands-on activities that will be featured in a groundbreaking new educational initiative from Dalhousie University and the National Film Board — one aimed at increasing ocean literacy among Canadian youth.

A school unlike any other

The Honourable Dominic Leblanc, Minister of Fisheries, Oceans and the Canadian Coast Guard, visited Dalhousie Thursday to announce $250,000 for Ocean School, an immersive educational project designed to inspire youth ages 11 to 15 to learn more about how the ocean works.

Dal scientists are working with NFB filmmakers to bring the ocean education to life through engaging learning experiences using cutting-edge technologies, powerful storytelling techniques and audiovisual teaching platforms.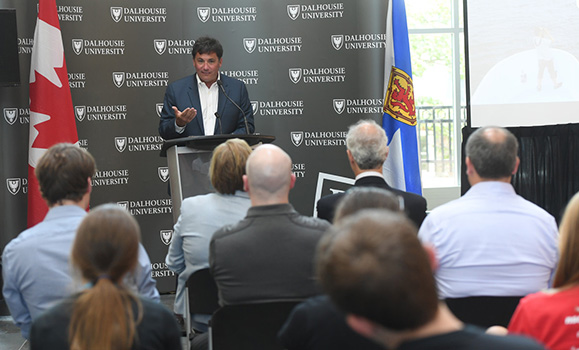 Minister Leblanc at the announcement event.

"Essentially, you've pioneered the classroom of the future," said Leblanc, in remarks during the announcement event Thursday. "You've taken groundbreaking storytelling and filmmaking and combined it with world-class, cutting-edge science, technology and research."

Leblanc called the partnership between Dal, the NFB, Nova Scotia and the federal government "remarkable," noting that the project will help teach the next generation of oceanographers and scientists to meet the many challenges currently facing the ocean and the Earth's ecosystems.

The funds will be used for an Ocean School pilot project that will launch early next year in some grade seven classrooms in Nova Scotia. In addition to supporting the roll out of the pilot in schools early next year, the province has also committed $120,000 for the initiative.
"This program is going to reach so many more students and people outside of the scientifically inclined groups of kids, which is such an amazing accomplishment," said MLA Patricia Arab, who spoke at the event on behalf of the Honourable Karen Casey, Minister of Education and Early Childhood Development for Nova Scotia.
Dal and NFB will use the experience to refine the materials as needed, with the aim of expanding the program across the country over the next three years, before eventually offering it in other countries.
Films, learning resources and virtual reality

The project will be built around a few central elements: a program of short films and teacher resources, immersive virtual-reality learning experiences, and a physical headquarters at Dal where students can engage directly with marine experts and take part in hands-on projects.

The minister highlighted the cost accessibility of some of the different technology that will be used as part of the Ocean School curriculum, including a 360-degree virtual reality platform that operates using a simple smartphone attached to a pair of goggles.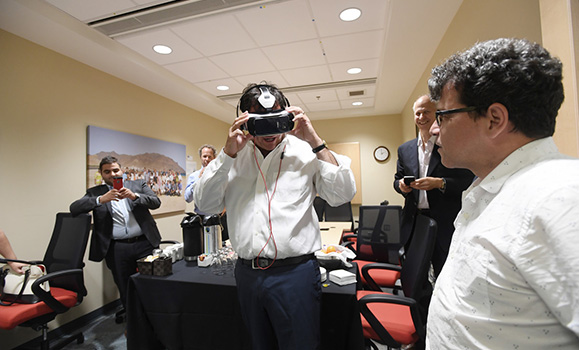 Minister Leblanc tests out the Ocean School virtual reality platform.

Martha Crago, Dal's vice president of research and master of ceremonies for Thursday's event, thanked Leblanc for his government's generous investment and called his government's commitment a "dream come true."

"Thank you for your commitment to the ocean, your commitment to young people, and your commitment to science," she said. "This is truly remarkable."

She noted that Dal has more than 100 researchers whose work touches on the ocean, mentioning an underwater holographic microscope from Halifax-based imaging company 4Deep that was initially designed in a Dal physics lab. Now it's being used by Dal ocean scientists to capture information useful for managing fisheries.
The power of partnership

André Picard, executive director of institutional programming and production at NFB, said the organization is thrilled to be working with Dal on creating original, immersive and bilingual audiovisual and infographic content for the project.

"This is the most ambitious, promising, and innovative partnership the NFB has ever undertaken," said Picard. "Together, we are doing groundbreaking work in redefining the learning experience for young Canadians." He also thanked the Province of Nova Scotia for its willingness to participate in the pilot project.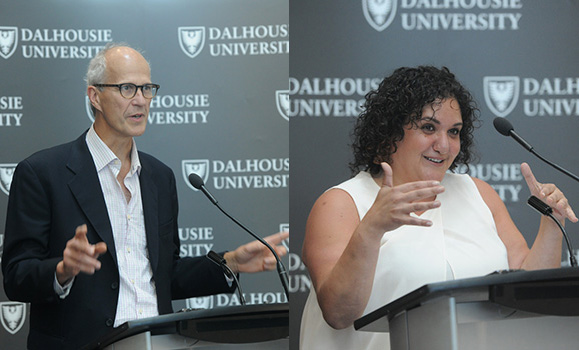 NFB's André Picard (left) and Nova Scotia MLA Patricia Arab.

Patricia Arab, MLA for Fairview-Clayton Park, spoke about some recent and exciting changes within the provincial education system that have enabled the innovative new teacher-led approaches to curriculum that bring in more technology and hands-on learning.
To end, she pointed to the big picture.

"Our shared goals are to increase the ocean literacy of Canadians of all ages, contribute to a more engaged citizenry, motivate young people to pursue further study and eventually work in this field and foster a better stewardship of our oceans."