Dozens of Dalhousie researchers in the natural sciences and engineering fields have secured millions in new research dollars from one of Canada's top federal funding agencies.


The Honourable Scott Brison (left), president of the Treasury Board of Canada, was on campus Thursday morning to announce the latest round of funding from the Natural Sciences and Engineering Research Council of Canada (NSERC).

Brison's announcement pertained to researchers from Dal and five other Nova Scotia universities. It was made on behalf of the Honourable Kirsty Duncan, minister of science, who was in Hamilton, Ont. to make a simultaneous national announcement.  

More than 70 established and emerging researchers at Dalhousie — studying everything from the role of the brain's networks in modulating pain to hydraulic fracking's impact on earthquake activity — will receive a total of $10.1 million in new funding, distributed in annual portions over the next three to five years.

The funding includes Discovery Grants and Research Tools and Instruments Grants for faculty ($8.2 million), various scholarships and fellowships for graduate and post-doctoral students ($1.84 million), and a Discovery Accelerator Supplement ($120,000).

"We want to congratulate all of the universities and all of the researchers who will be able to use these funds to take their research to a different level," said Brison, who was introduced by Halifax Member of Parliament Andy Fillmore.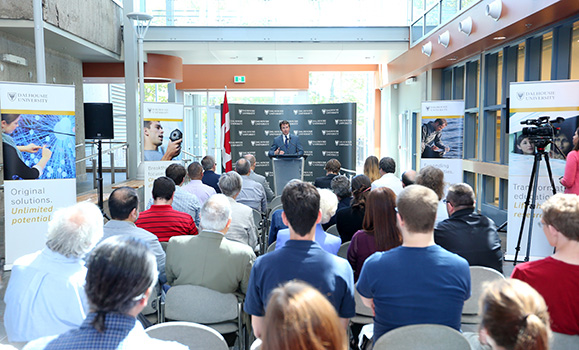 Global reach, local impact

Brison, a Dal alumnus and long-time MP for Nova Scotia's Kings-Hants riding, said the new funding — part of a national NSERC investment of more than $465 million supporting more than 4,000 individual awards — will help position Canadian scientists as global leaders on research and development.

"A lot of the research that is being conducted by our researchers and scientists has the potential to really move the needle for the world. So thank you for your work," he said at the event, held in the atrium of the Steele Ocean Sciences Building.
Dal President Richard Florizone, master of ceremonies for Thursday's event, thanked Brison and the federal government for the "new wave of support" for science and engineering researchers at Dal.

"Dalhousie and indeed all Nova Scotian universities are trying to do the same thing, which is to meld the global and the local — to develop the best research by global standards that also makes a difference in the lives of our communities and the lives of Canadians," he said.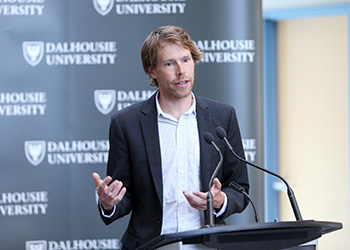 Dr. Florizone noted how NSERC awards play a crucial role in shaping the research landscape in Canada for scientists such as Dal's Christopher Algar (left), one of the 53 recipients of a Discovery Grant at Dal this year.

Dr. Algar, an assistant professor in the Department of Oceanography, will receive $110,000 over five years to further his research on how nitrogen from land-based fertilizers impacts marine environments and fish populations when it makes its way into the coastal ocean.

"I hope to understand how susceptible our coastal waters, our bays, our estuaries are to the input of this excess nitrogen," said Dr. Algar. "And the hope is that we can use this knowledge to make informed decisions . . . maybe about where the best or ideal location for an aquaculture farming operation may be."

Understanding our atmosphere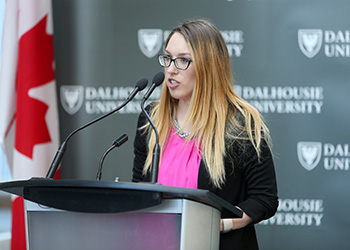 Attendees also heard from Melanie Hammer (right), a doctoral student in Atmospheric Science who will receive a $63,000 scholarship over three years to advance her research on the interaction between atmospheric particles, climate and human health.

Hammer's research, conducted with Randall Martin's Atmospheric Composition Analysis Group, uses satellite and meteorological data from NASA and other organizations to learn about the absorption or scattering of solar radiation by atmospheric particles (or aerosols).

"This work is important because it improves scientific understanding of how particulate absorption affects climate warming and atmospheric climate change," said Hammer, noting that the research could help with the development and implementation of policies to improve air quality.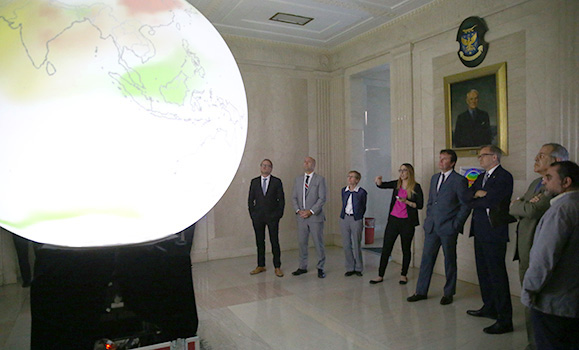 Following the formal speaking portion of Thursday's event, Brison and others walked to the Sir James Dunn Building where Hammer spoke more about her research and presented a visualization of particulate data — ranging from fossil fuel emissions to sand and sea salt — on a spherical projector.

"Exposure to aerosols is actually one of the leading causes of premature mortality, globally," she said. "So it's very important to understand the processes behind these particles."