Dal President Richard Florizone has been seeing even more of the Dal community than usual lately: following six straight days of Halifax convocations, totaling 15 ceremonies, he leapt straight into his second annual year-in-review sessions.

"If I accidentally shake your hand and bestow you an honorary degree, you'll forgive me," he joked at the start of the first session, held in the McCain Building's Scotiabank Auditorium on Studley Campus last Tuesday, June 7.

Launched last year, the annual Inspiration and Impact events are an opportunity for President Florizone and his senior leadership team to share progress on the university's Strategic Direction as well as gather feedback and answer questions from the Dal community. (This year, Dr. Florizone also incorporated his 30-minute presentation into his annual Halifax community meeting, held on Thursday, July 9.)

Across the four events — one on each of university's campuses: Studley, Carleton, Sexton and the Agricultural Campus in Truro — nearly 350 individuals turned out to hear Dr. Florizone offer highlights from each of the Strategic Direction's five priority areas: Teaching and Learning, Research, and Service ("the three core areas of our mission," as Dr. Florizone described them), plus Partnerships and Reputation as well as Infrastructure and Support.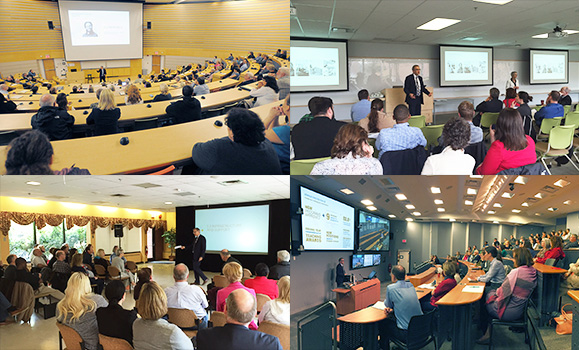 Scenes from sessions across campuses: (clockwise from upper left) Studley, Sexton, Carleton and the Agricultural Campus. (Studley photo Danny Abriel, other photos Erin Stewart.)
"I'm three years into my presidency, and we're halfway through the period covered by our Strategic Direction that we defined together as a community" said Dr. Florizone in his Studley Campus presentation. "We're seeing some progress, and there are other challenges that we still need to get underneath.

"But most importantly for me, we're seeing in areas like diversity, innovation and entrepreneurship that when we work together as a community — with true partnership and engagement, both internally and externally — we really can make progress on some of our greatest opportunities and challenges."

Sharing insights and stats

Throughout his presentation, Dr. Florizone presented stats and insights from the forthcoming Strategic Direction Progress Update, due to be published on Dal's Strategic Planning website following its presentation to the Board of Governors later this month.

Under the Teaching and Learning header, Dr. Florizone highlighted some of the new programs launched or in the works, from Medical Physics to the new minor in Black and African Diaspora Studies, as well as the fact that nine Dal programs earned full accreditation in their reviews this past year. He noted that while Dal's overall enrolment has held steady — at a time when other universities are struggling somewhat — student retention remains an area of focus, as Dal lags behind its U15 peers across Canada in the percentage of undergraduate students who continue into their second year.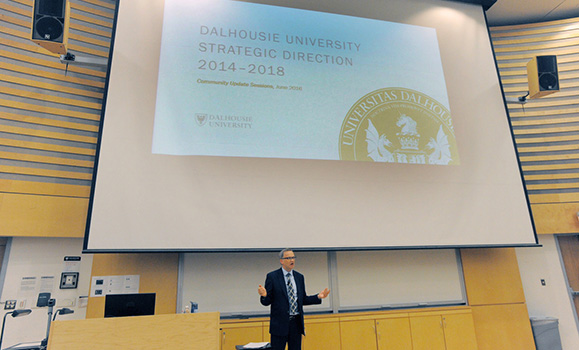 "The numbers have been basically flat over the past couple of years, but our analytics on this and the attention paid to it has significantly improved," said Dr. Florizone, explaining how the university has been working to identify groups and attributes of students most at-risk of not returning. "We can then develop programs that we can take to donors and alumni and say, 'We want you to help our students to be as successful as you were.'"

Under Research, Dr. Florizone placed particular emphasis on the number of high-profile research awards Dal faculty have received over the past year: the Killam Prize for Axel Becke, Dal's first Trudeau Fellowship for Jocelyn Downie, six new Canada Research Chairs and five new inductees into the colleges of the Royal Society of Canada. Physicist Jeff Dahn, recipient of one of the inaugural Governor General's Innovation Awards, was highlighted in a feature video — one of several throughout the presentation that helped bring the different strategic focus areas to life.

Watch: Inspiration and Impact feature videos

Later, Dr. Florizone shared an anecdote that came out of his 100 Days of Listening, the process that kicked off his presidency in 2013 and which shaped the priorities of the Strategic Direction.

"Dal is the leading medical/doctoral university in the region. We train more Nova Scotians than any other university in the region, we do more than 80 per cent of all publicly-funded research in the province… but there was a bit of this mood out there that saw Dal as elite and aloof. I've always said 'elite' I don't mind — it speaks to excellence — but 'aloof' I'm not crazy about. But it reflects the sense that Dal hasn't reached its full potential to act as a leading light in this region."

Continuing into Service, Dr. Florizone discussed the importance of sharing Dal's successes and ongoing community impact, such as the work of community clinics in Law, Social Work and Dentistry that touch the lives of thousands every year. And he also highlighted Dal's growing efforts to position the university at the heart of the province's innovation ecosystem, from growing co-op terms (which have increased 15 per cent over the past two years) to the thousands of students and companies engaging with the university's three sandbox spaces for emerging entrepreneurs.

Conversations with the community

President Florizone concluded each presentation with a scan through the two support areas of the Strategic Direction. For Partnerships and Reputation, he discussed key partnerships with government (27 federal visits to campus this past year) and Dal's alumni and donors, which contributed more than $32 million in 2015-16 to support programs and initiatives on campus — the highest total in four years. In Infrastructure and Support, he highlighted forthcoming construction projects on campus (the new fitness centre, the upcoming IDEA Building on Sexton Campus) and the university's varied efforts to support and grow diversity and inclusiveness within the community.

"It's a fundamental value of the university," said Dr. Florizone, noting accomplishments from the past year including the hiring of Dal's first executive director of diversity and inclusiveness and the completion of the first Dalhousie Census. In a video, the Elders in Residence program, launched last fall, was featured.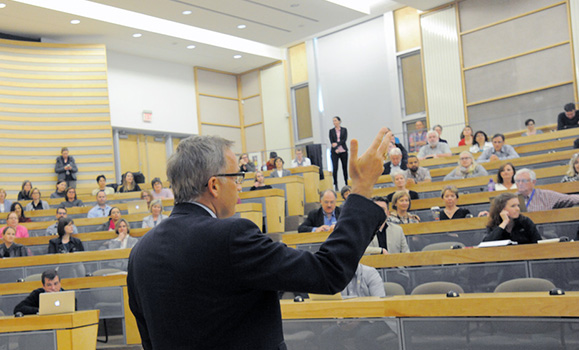 At each session, the presentation was followed by a question-and-answer period, with members of Dr. Florizone's senior leadership team — such as Provost Carolyn Watters and Vice-President Finance and Administration Ian Nason — helping address audience questions. Topics ranged from graduate student funding support and storytelling to medical partnerships and fossil-fuel divestment.

In response to one question about the Strategic Direction, Dr. Florizone offered his advice for how Dal staff and faculty can incorporate its ideas into their daily work.

"When I talk externally about what this plan is all about, I simplify it sometimes to be about what I call 'the four Rs': retention, our students and their success; research, our priority research areas; returns to society, that giving back to the community; and respect, that's diversity/inclusiveness. And what I try and do is keep those four Rs in my head at all times… it's a useful tool think about our work in those terms."

Each session concluded with a reception for attendees — but not before Dr. Florizone offered his gratitude for their work over the past year.

"I want to thank you for your passion and commitment to Dal," he said. "All this success is your success."
More info