Convocation ceremonies are built on age-old rituals, from formal academic processions to the wearing of gowns and hoods.

This spring, Dalhousie has added two new traditions to the mix that offer special recognition for graduates of Indigenous and African descent, helping create a more meaningful, inclusive ceremony.

Linking past and present


For the first time, an Elder will join Indigenous graduates on stage during their ceremonies and, by request, present a gift of a traditional medicine pouch after they receive their degrees.

"It's a very proud moment for us," says Geri Musqua-Leblanc, head of Dal's recently launched Elders-in-Residence program.

Each pouch was hand made out of deer hide by Dal's Elders and contains a mix of traditional medicines such as sweet grass, buffalo sage, tobacco and cedar leaf, which can be used for everything from offerings to smudging ceremonies.

Musqua-Leblanc says it's a small gesture with big significance. "Anything that is given to you by an Elder is of great importance and significance," she says. "They will keep these."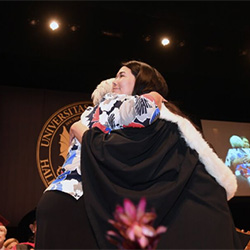 Jacqueline Smith, a French and History graduate originally from Opaskwayak Cree Nation in central Manitoba, says taking part in a ceremony of this sort means a lot to her.

"Growing up my family wasn't really involved in ceremonies. I didn't really grow up with a lot of traditions," says Smith, who received her degree and medicine pouch Tuesday. "It was only in recent years that I learned that about myself, that there is this whole part of me that I don't know."

Smith says she first became interested in learning more about her background after spending second year studying abroad in Dijon, France, where she often found herself unable to answer people's questions about her history.

She later added a Canadian Studies minor to her degree and spent last year as co-president of the Dalhousie Native Students Association, a role that she says has put her more in touch with her heritage. She says receiving the medicine pouch at convocation will be a way of helping others learn more, too.

"It helps make us more visible and hopefully those Indigenous students who maybe don't know about it on campus will learn about it," she says, adding that it will also ensure non-Indigenous people know that "we do go to post-secondary'"

Patterns of recognition

Also new this spring, graduates of African descent are being offered the chance to borrow a traditional kente sash to add to their academic dress for convocation.

Kente cloth originated among the Ashanti people in Ghana and was traditionally worn by royalty in the West African country. Over the years, though, kente cloths came to be used much more widely and the sash variation is now a common sight at graduations and other ceremonies in Canada and elsewhere.

"It is now known that this represents something to identify that they are from the black continent," says Oluronke Taiwo, Dal's Black student advisor, on the wearing of the sash by students.

Taiwo wears one herself during convocation ceremonies each year when she is on stage to cheer graduates, and says the Registrar's Office suggested this year that the university offer students the opportunity to wear it as well.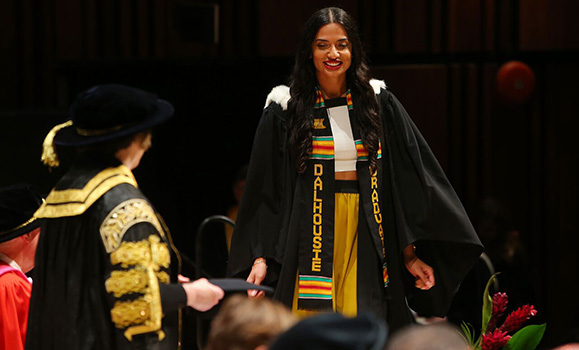 Dominique Oliver-Dares crosses the Rebecca Cohn stage with her kento sash. (Nick Pearce photo)
Student Dominique Oliver-Dares was one of those who decided to do so when she received her degree during an afternoon ceremony Tuesday. She says it's actually the second time she has worn a kente sash to a graduation ceremony, having done so years ago when she graduated from Auburn Drive High School in Cole Harbour, N.S.

"There are plenty of obstacles within the Black community that create barriers to getting through high school and university," the International Development Studies grad says. "So I think it's really good for us to kind of celebrate ourselves and recognize that we are here.

"We're a marginalized population and very small, but we historically have made a lot of contributions to Nova Scotia. I think that this is a representation of pride, resilience and presence."

Oliver-Dares, who will attend the Schulich School of Law at Dal in the fall, says wearing the sash is also a way for African Nova Scotians and other Black individuals to link back to their history.

"Systematically, we've been removed from our history, our languages and traditional religions stripped. That kind of forced us to make our own culture of being a Black Canadian or a Black American that is different from being a native African," she says.

"We still recognize those roots and we're still very proud of those roots."