It's a once-in-a-lifetime opportunity: two students from Dalhousie's School of Public Administration have won a national competition and, with it, the chance to present their ideas to some of Canada's top public servants.

Salman Dostmohammad and Jude Long learned last week that their essay, "Regulating the Sharing Economy: Applying the Process for Creative Destruction," was awarded the grand prize of the Blueprint 2020 National Student Paper Competition.

The Institute of Public Administration of Canada (IPAC) originally created Blueprint 2020 as an internal initiative for reforming the public service.

"In 2013, IPAC opened it up as an essay competition," says Markus Sharaput, lecturer in the School of Public Administration (SPA) and the school's administrator for the contest. "The idea was, what do the best and the brightest out there have for ideas about improving the public service?"

Since then, students across Canada have competed yearly with essays addressing public service issues. This year Dostmohammad and Long won not only the grand prize, but also the People's Choice Award, which is decided by public voting.

"They've been invited to receive their award, present their paper and sit on a panel with high-ranking public servants," says Dr. Sharaput. "This is a chance for them to meet public servants and actually present a policy idea."

A rigorous competition

Dr. Sharaput explains the competition's rigorous selection process. The first level is internal: SPA chose three essays to compete, all of which were among the 10 national semi-finalists chosen. The other Dal semi-finalists were Brett Taylor with "Delivering the New Government's Historic Infrastructure Investment" and Alison MacDonald and Jessica MacMillan with "Is there a G.O.C. App for that?" (MacDonald and MacMillan's paper also made it to the top-five finals.)

At the semi-final level, each student or team creates a video about their essay. Dostmohammad almost literally dreamed up his team's video: "I woke up in the middle of the night with an amazing idea for the concept and the script," he says. They enlisted videographer Patrick Campbell, a friend of Long's, to create the short. "The video portion was a wonderful experience," says Long.

Once the five finalists were announced, the authors presented to a panel of federal deputy ministers who made the final selection.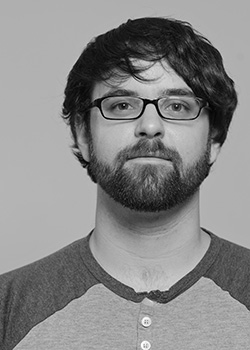 "I'm feeling overwhelmed with pride and gratitude for everyone who has helped us along this journey," says Long (right).

"I am very excited at this accomplishment," says Dostmohammad. "Blueprint 2020 is really a competition of ideas, where you are competing with the best and the brightest in the country." He recalls the long nights of work that went into their paper. Long notes that team-work, trust and "sheer faith" contributed to their win.

Sharing success

The essay subject that drove their hard work was the "sharing economy," which has long interested both students. Long explains the concept as "a hybrid market model that refers to peer-to-peer-based 'sharing of access to goods and services.'" (Uber and Airbnb are examples.)

"The sharing economy interested me because I am technologically oriented and could see large systemic problems with the regulatory structure surrounding it," says Dostmohammad. "This is not just a problem facing Canada, but the world at large."

Long explains further: "There are always trade-offs that must be considered when weighing the option of regulating an industry or service versus the consequences and outcomes of deregulation." Their treatment of the subject grew out of an assignment for Dr. Sharaput's Organizational Design class; Dr. Sharaput notes that the other Dalhousie entries also came from academic work in the SPA. "We've worked to make that transformation easier over the last couple of years," he says.

Long and Dostmohammad, midway through their Master of Public Administration studies, appreciate SPA's support. "I feel the school prepares students well as it provides a solid foundation for the skills that are drawn upon in the public service," says Dostmohammad, adding that his time in SPA so far has left him feeling empowered and confident. Long calls the SPA faculty and staff "an incredible bunch, always willing to lend a helping hand and advise us on any questions or concerns we have about the program."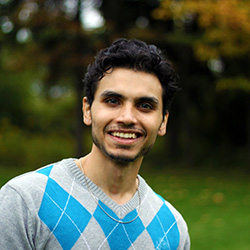 Both students are currently in internships: Long is with the federal government's Atlantic Canada Opportunities Agency, and Dostmohammad (left) is at the very place where he presented the team's paper, the Privy Council Office. "I am working in the Legislation & House Planning department, where I support the Cabinet and the Prime Minister," he says. "I work with an extremely bright and talented team and am receiving the opportunity of a lifetime by learning from them."

Dostmohammad and Long plan to continue serving the public. "My hope and dream is to become an established thought leader and create a significant contribution to Canada," says Dostmohammad. Long is not quite sure what his professional future holds, but he intends to remain in Nova Scotia: "I feel it is my civic duty to see that our province grows and prospers in the years to come."

Dr. Sharaput explains that the win will help the students as they build careers in the public service. "This is high profile," he says, noting the involvement of IPAC, the Canada School of Public Service and the Canadian Association of Programs in Public Administration. "People will remember their names."