Modern, bright and full of natural light: meet Dal's new fitness centre — or, at least, what it will look like when it opens its doors in 2018.

Construction of Dalhousie's new fitness centre is set to get underway this summer. Located on South Street, the centre will be the first major addition to fitness and recreation facilities on Dal's Halifax campuses in more than three decades.

"This is such an exciting opportunity and will be a whole new era for student wellness at Dalhousie," says Kathie Wheadon, director, facility & business services, Athletics & Recreation. "Dalplex has served us well, but we've outgrown it and students have long told us that they want updated facilities, modern equipment and bright, pleasant workout spaces."

Students, current and future Dalplex members, neighbours, faculty and staff were invited to a public gallery walk and information session Tuesday night to get a closer look at the final renderings.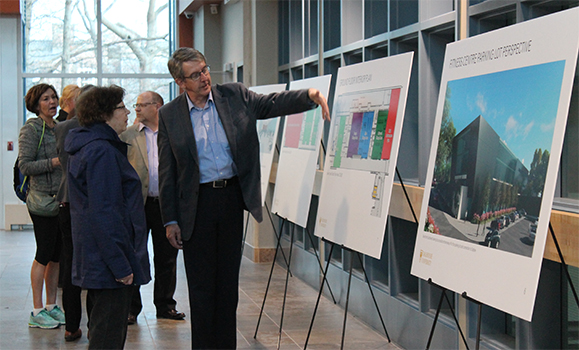 Community members learning more about the facility.

A look inside

The new facility responds to a long-standing need for improved student fitness and recreation facilities on campus, an issue identified in multiple student surveys over the years. And, like Dalplex (which will remain in operation once the new centre opens), it will also be a community resource, allowing individuals and families in the surrounding neighbourhoods access to facilities and resources to support healthy, active lifestyles.

The new centre, with a natural, brightly-lit atmosphere throughout its nearly 57,000 square feet, will feature:
Fitness space for cardio, strength training and high performance workouts.
Four large multi-purpose fitness rooms, allowing a wide variety of fitness classes to be scheduled simultaneously.
Universal washrooms and three new change rooms (men's, women, universal), each of which will include individual privacy options with private change and shower stalls.



Renderings of the first (left) and second floors.

The centre will be fully accessible, with entrances from the Dalplex parking lot and South Street level. It will feature efficient building systems for heating and cooling, a robust roof system and future possibility for solar panels. The building is targeted for LEED Gold Certification.

The fitness centre will cost $23.3 million, funded in large part by a $180 per-student fee. The annual fee, approved by Dal's Board of Governors in 2011/2012, will come into effect for all Halifax students once the new facility is open.

Built through consultation

The project, identified in the university's 2010 Campus Master Plan, was initiated with an extensive needs assessment, programming analysis, site options analysis and business planning exercises conducted through 2013.

Students consulted during the process sent a clear message: they wanted better weight-training and cardio equipment, dedicated fitness rooms and natural, light-filled spaces. This new facility responds directly to those needs. The extensive consultations — which also included, community members, faculty, staff and Dalplex members — allowed the university to accommodate many suggestions in the planning and design process.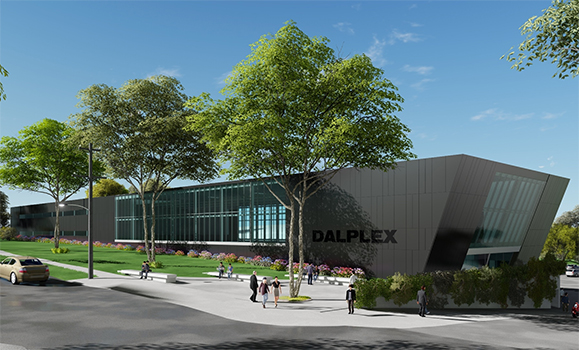 The new fitness centre, as viewed from South Street.

"The most recent design removes a courtyard which will cut down on noise and loitering concerns raised by stakeholders," says Peter Coutts, assistant vice-president, capital construction. "We've incorporated other stakeholder feedback by removing some of the glass exterior to maintain privacy for those working out and provide more storage space for fitness equipment."

Excavation on the site, including rock blasting and drilling, began in the fall of 2015 and is now complete. The new facility is anticipated to be completed by the first quarter of 2018, just in time for Dal's 200th anniversary celebrations that year.
Learn more: Campus Development website