Be brave. Engage broadly. Work boldly.

These were some of the big themes that flowed through the remarks at the official launch of Dalhousie's MacEachen Institute for Public Policy and Governance, which attracted nearly 500 guests — many of them prominent political and policy leaders — to the Marion McCain Arts and Social Sciences Building Monday morning.

The event, which was free and open to the public, celebrated the legacy of the institute's namesake, the Honourable Allan J. MacEachen, and featured a panel discussion on the future of public policy. It concluded with a talk featuring the Honourable Jean Chrétien, former prime minister of Canada, and the Honourable Bob Rae, former Ontario premier and prominent member of parliament.  

The nationally focused, non-partisan, interdisciplinary MacEachen Institute supports progressive public policy development and citizen engagement. Formed through a grant of funds from the For the Public Good Trust 2011 to honour the legacy of Mr. MacEachen and advance his interest in progressive public policy, the Institute will harness the strengths of experts in Dalhousie's Faculties of Arts and Social Sciences and Management and the Schulich School of Law, as well as the Office of the Vice-President, Research and broader communities beyond Dalhousie and across Canada.
Learn more: MacEachen Instutite for Public Policy and Governance
Celebration and consideration

Attending the landmark event were community members, Dalhousie alumni, and invited guests and media. Well-known faces in the audience included former Halifax NDP MP Megan Leslie (who will chair the institute's External Advisory Council), current President of the Treasury Board Scott Brison, former Liberal MP and Halifax Mayor Mike Savage, the Honourable Lena Diab (MLA Halifax Armdale), former Nova Scotia Premier Darrell Dexter, and Acadia University President and Vice-Chancellor Ray Ivany.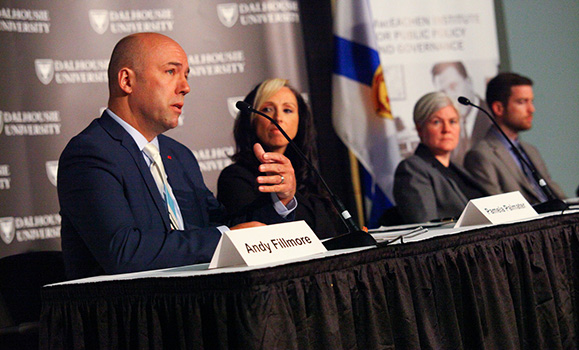 After opening remarks from Dal's Vice-President Research Martha Crago, the institute's scholarly director, Kevin Quigley, moderated a panel on the future of public policy featuring Kim Brooks (Schulich School of Law Associate Professor and former dean), Andy Fillmore (Liberal MP for Halifax), Pamela Palmater (Mi'kmaq lawyer and associate professor in the Department of Politics and Public Administration at Ryerson University) and David Morgan (Trudeau and Vanier Scholar and PhD candidate with Dalhousie's Department of Political Science).

The panelists discussed four pressing topics: the challenges that political parties face today; what the Syrian refugee experience adds to Atlantic Canada; how to balance short- and long-term infrastructure needs; and how a policy institute based at Dalhousie can best have regional, national and international impact.

Following the panel was an engaging discussion between Chrétien and Rae, who spoke about Allan MacEachen's contributions to Canadian public policy. (MacEachen, who is 94, was unable to travel to Halifax for the event.) Chrétien first met MacEachen in 1963 and spoke about his long-time colleague during the early days of their political careers.
"He was an extremely nice but demanding guy—he would tell you if you weren't doing a job well," said Chrétien. "He was a good example to me because of the public policies he developed. He was 'Mr. Cape Breton' and always preoccupied by the needs of the people, both in his riding and in the rest of Canada."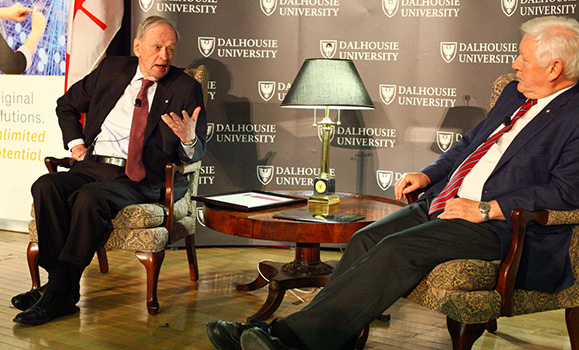 A bold beginning

MacEachen Institute will look at progressive ways to tackle public policy and governance issues through research and open discussion with a variety of informed players. It hopes to serve as the "go-to" destination for rich and robust public-policy debate, discussion and research — whether it be provincially, regionally or nationally, or whether by scholars, students and/or community members.

When Dr. Quigley asked what the institute should aim to accomplish in its first few years, Palmater (who also sits on its External Advisory Council) replied: "We have a real and historic opportunity to do things differently—to be like Star Trek and go boldly where other institutes aren't willing to go. Let's be brave and engage people on the ground, like the Inuit in the North who can tell you firsthand what's happening with climate change. Let's think about policy ideas and innovations that will impact everyone's well-being. If we do that, we can take policy-making to a new level."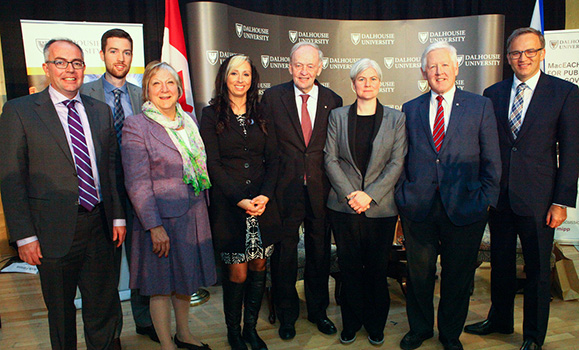 Left to right: Kevin Quigley, David Morgan, Martha Crago, Pamela Palmater, Jean Chrétien, Kim Brooks, Bob Rae, Richard Florizone.
Learn more: MacEachen Instutite for Public Policy and Governance