On Wednesday, more than a dozen Aboriginal chiefs from across Atlantic Canada spent their morning discussing education at Dalhousie's University Hall.

The roundtable was organized by the Honourable Carolyn Bennett, Canada's Minister of Indigenous and Northern Affairs. The discussion was focused on strategies for building a stronger education system for First Nations, as well as the importance of indigenous languages and cultures.

Following the roundtable was an announcement event from the Atlantic Policy Congress of First Nations Chiefs, sharing results of a new study on First Nation economic contributions to Atlantic Canada. The report, titled "$1.14 Billion Strong," [PDF], offers evidence of the significant impact of the region's Indigenous people's on the economy — from Indigenous businesses through to direct spending.

Minister Bennett, in her introductory remarks to the roundtable, discussed the importance of challenging and deconstructing stereotypes about Canada's Indigenous peoples.

"The exciting job we have together, now, of moving First Nations, Inuit Metis from being perceived as part of the 'problem' column into the 'solutions for Canada' problem — that is what we get to do together," she said, introducing the discussion. "Robust Indigenous communities [are] going to be the engine that drives Canada forward."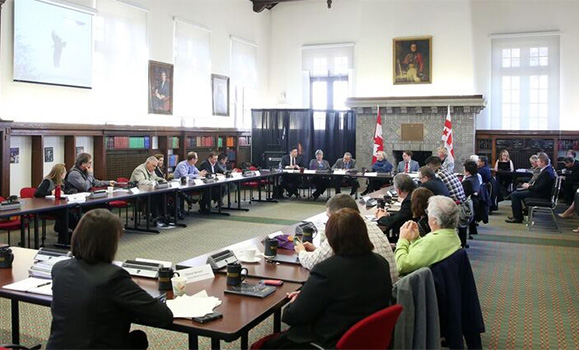 Dal President Richard Florizone was invited to attend the roundtable, and was eager to listen and learn from the conversation. He briefly noted Dalhousie's emerging strategy in responding to the calls-to-action from Canada's Truth and Reconciliation Commission.

"At Dalhousie, we welcome the guidance and the recommendations of the TRC's calls to action, and we take our response very seriously," he said. "We don't have all the answers yet, in terms of curriculum changes or supports that need to be in place for our Indigenous students, but we're committed on that path of working with our colleagues and our Aboriginal Advisory Council, as well as all of you, to advance that."

Dalhousie announced a partnership with the National Centre for Truth and Reconciliation in January. The university also launched its new minor in Indigenous Studies this past fall, as well as its new Elders in Residence program.

Wednesday's roundtable discussion was co-chaired by Chief Morley Googoo, Assembly of First Nations regional chief for Nova Scotia and Newfoundland, and Dal faculty member Patti Doyle-Bedwell. Prof. Bedwell, who was the first Mi'kmaq woman to earn tenure at Dalhousie, has served as chair of the Council on Mi'kmaq Education, as well as chair of the Nova Scotia Council on the Status of Women, and currently teaches in International Development Studies about indigenous peoples and international human rights. She was also director of Dal's Transition Year Program for 18 years.