The federal government has stepped up its support for entrepreneurship and innovation programming at Dalhousie with a new $250,000 investment.

The funds, to be channeled through the Atlantic Canada Opportunities Agency (ACOA), will go the university's Norman Newman Centre for Entrepreneurship (NNCE) to further support its many programs and initiatives, from the popular Starting Lean course to events such as startup weekends, pitching workshops and an on-campus business accelerator.

Darrell Samson, Member of Parliament for Sackville-Preston-Chezzetcook, was on campus Monday to announce the new funding, which he said is intended to help Dal build on its already impressive successes in this area.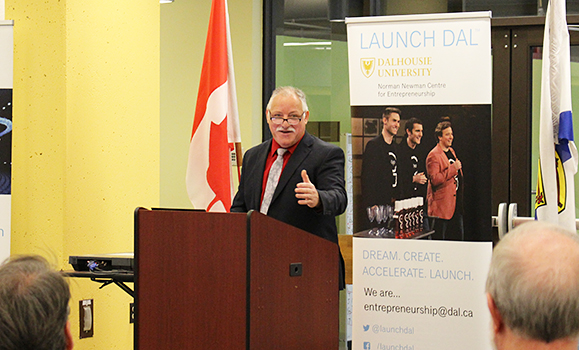 "The depth and breadth of the entrepreneurship programming at the Norman Newman Centre is now being recognized nationally and internationally as best practice," Samson told a crowd of about 30 assembled in the Collider collaboration space in the Killam Library. "That's the thread that we are building on to increase our profile and success."

Unlocking potential

Monday's event was also a send-off of sorts for three teams of Nova Scotia students who will be among eight Canadian teams competing against 40 others later this week in the International Business Model Competition at Microsoft's headquarters in Redmond, Wash.

The teams — one from Dal and two from Saint Mary's University — were selected last month during Canada's Business Model Competition, a national qualifying event hosted annually by Dal.

Samson said it's become more evident over the last 10 to 15 years just how important integrating business, education and the community is to creating a successful entrepreneurial culture.

"There's an incredible amount of research and entrepreneurial potential in post-secondary institutions waiting to be unlocked," he said.

Dal professor Mary Kilfoil, the academic lead for the Launch Dal initiative and emcee of Monday's event, thanked ACOA for its continued support during comments, as did Ed Leach, director of the NNCE.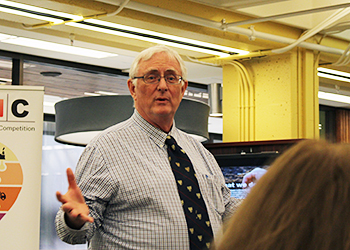 "This support from ACOA is building connective tissue . . . for all of us to do better and greater things," said Dr. Leach (right), after praising some of the different people in attendance who the NNCE has collaborated with on programming of one kind or another.

Forging connections

Among those pinpointed by Dr. Leach was Sabrina Poirier, Nova Scotia program director at Venture for Canada (VFC), a not-for-profit fellowship program that trains and connects university graduates with positions at startups in Canada.

Recently, also at the Collider space, Halifax MP Andy Fillmore announced nearly $50,000 in funding (again through ACOA) for VFC to support the placement of six fellows at venture-backed Nova Scotia companies.

"We're so thankful for the work that you guys are doing," said Poirier. "You're actually creating this culture of people looking at entrepreneurship differently. We have this wonderful pipeline and pool . . . that we're able to tap into and take students to the next level."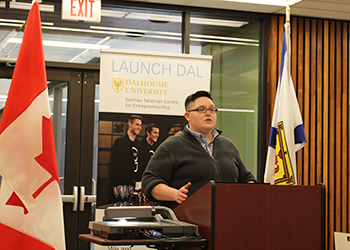 Holly Fisher (left), an animal science student on Dal's Agricultural Campus, was also invited to speak Monday about her startup group 3 Meals, which is one of the three teams heading to the international business competition this week to pitch her business idea for using mealworms as an alternative source of protein.

Fisher credits the Cultiv8 innovation sandbox based at the Ag Campus for introducing her to the Starting Lean course and some of the other programming at Dal, through which she met her teammate Hartley Prosser.

"We're extremely honoured to be one of the teams representing Dalhousie University and Nova Scotia," Fisher said. "We just want to say thank you so much to Ed and Mary and to Cultiv8 for giving us a chance to work on our business skills and also make us realize that we are entrepreneurs."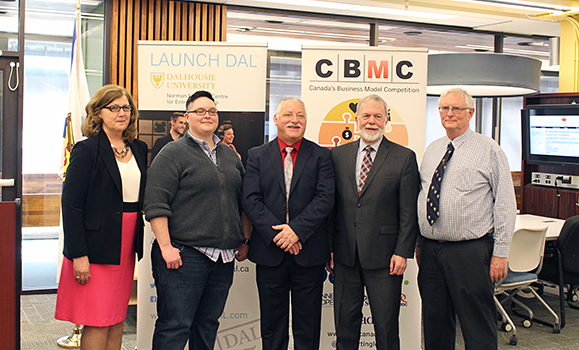 Left to right: Mary Kilfoil, Holly Fisher, Darrell Samson, Bertrum MacDonald (interim dean, Faculty of Management), Ed Leach.