It feels like home — yet it's actually a teaching facility.

On April 14, Dalhousie's School of Occupational Therapy unveiled brand new renovations to its simulation suite. Located on the second floor of the Forrest Building, the suite assists students by allowing them to run simulations putting theory into practice, gaining skills in assisting persons with varying abilities in real-life situations.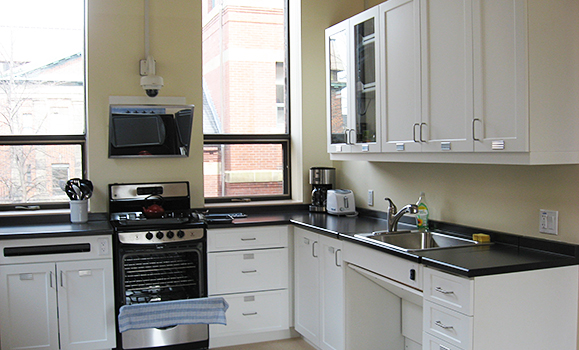 The simulation space kitchen.
The space is essentially a fully functional apartment, divided into a series of sections such as a bathroom, kitchen, bedroom and living area in an attempt to replicate an authentic home-care experience.

"As a school we've spent three years redesigning the simulation suite so that it would be state-of-the-art," explains Tanya Packer, director of the School of Occupational Therapy.

"We've blended accessible spaces with non-accessible space because people live in the real world, and when our students graduate they go into people's homes to try and help them be more independent. Homes are not perfect, so while we have a lot of 'perfect' features — such as a height adjustable sink, or a mirror above the stove so that if you're in a wheelchair you can tell if food is boiling, or cupboards that pull down — we also have features like the stove which is much more like what you'd find in a typical home."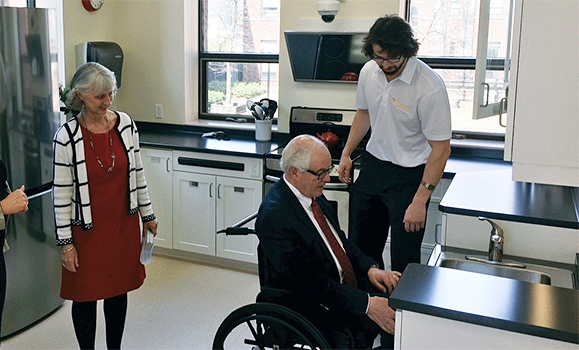 Dean Will Webster tries out the space in a wheelchair, with the help of OT student Eric Tremblay, as Director Tanya Packer observes.

In addition to the functional renovations, the aesthetics of the space have also received an upgrade. The look of each module in the suite has been updated to appear warm, inviting and almost lived-in. "Our goal was to blend aesthetics and accessibility; we didn't want the space to scream this is for people with disabilities," says Dr. Packer.

One element of the suite that you won't necessarily find in your typical home is the network of cameras arranged around the ceiling. Everything in the suite can be recorded, allowing students the opportunity to not only review their work with their instructors, but remotely witness one-on one demonstrations in a classroom setting.

"We can actually have our class sitting in the classroom and view a demonstration on something — like an interview process or a home assessment — without making clients nervous and without being in the way" said Thane Borden, a first-year student in the program and vice-president of the Dalhousie Occupational Therapy Student Society.

Other Dal health programs have also expressed interest in using the new space in their teaching, including Nursing and Physiotherapy, and it will also be used for interprofessional education events.