Dalhousie's Mona Campbell Building is so green it's bronze.


The Studley Campus facility, first opened in 2010, earned third-place honours in the "university and college buildings" category in a new ranking of Canada's top 12 green buildings from Corporate Knights, an influential media and research company focused on corporate ethics.

The dozen winning buildings featured in the 2016 Green Buildings Review, released last week, were chosen by a panel of building industry experts from a shortlist of 22 leading facilities drawn up by Corporate Knights staff from an original pool of 200. The panel selected the top three green buildings in each of four categories, which also included "hospitals," "office buildings" and "other public buildings."

The ranking cites several reasons for the Mona Campbell's recognition, including that in 2012 it became the first university building in Atlantic Canada to achieve LEED Gold certification — a globally recognized benchmark for the design, construction and operation of sustainable buildings.

"I think the Mona Campbell is Dal's flagship building," says Rochelle Owen, director of Dal's Office of Sustainability. "There was a lot of effort put into the building."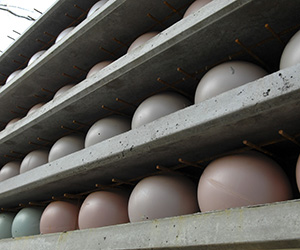 At the time of its opening, the Mona Campbell was one of just three buildings in North America built with "Bubbledeck" technology, a novel design and construction technique based around using hollow, recycled plastic balls as a way to reduce concrete use.

Jeff Lamb, assistant vice-president of Facilities Management at Dal, says finding a local contractor willing to adopt Bubbledeck for the project was a bit of a challenge — but one that proved worthwhile.

"We took a risk," Lamb says, noting that some people thought it would disrupt the schedule and budget. In the end, the building was finished on time, within budget and, most notably, with 33 per cent less concrete.  

Owen says the Mona Campbell helped set a new sustainability standard for building projects at the university after it opened. Tom Traves, president of Dal at the time, created a new policy that all buildings going forward would need to be LEED Gold candidates, a rule that has been followed on every project since, including LeMarchent Place (2014), the Wallace McCain Learning Commons (2015), and the Collaborative Health Education Building (2015).

Other notable green features of the Mona Campbell include a solar wall that helps heat air, a bike room with indoor racks and showers, a rain water cistern that reduces the use of potable water, a partial green roof, and a vaulted glass atrium-style ceiling that ensures maximum natural light enters the building during daylight hours.

Another noteworthy feature is the network of sub-meters that track everything from water use to temperature in the building and provide valuable data that administrators like Owen can use to create new ways to improve the building's performance.

"We're working on an ongoing basis on this building to tweak things and work on energy performance," says Owen, "and we've only been able to do that because we put in sub-metres."

Also celebrated alongside the Mona Campbell Building in the universities and colleges category were the Jim Pattison Centre of Excellence at Okanagan College, which received gold, and the Centre for Interactive Research on Sustainability at the University of British Columbia, receiving silver.