For most student-athletes, the first year at a new school or on a new team means a gradual process of getting comfortable, of settling in and putting down a foundation for future achievement.

Kristin Clarke is that rare student athlete who has accelerated the process.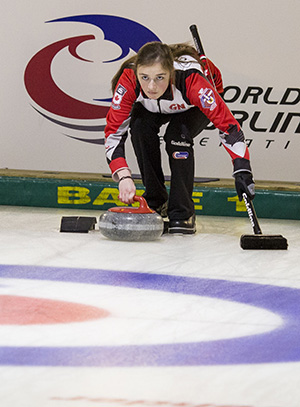 The first-year Respiratory Therapy student is also in her inaugural season as the third for Nova Scotia's junior women's curling rink and the skip of the women's team at Dalhousie. It's been anything but a slow start for the Hammonds Plains, N.S. native, as her teams have racked up gold medals on the national and international stage.

Back in January, Kristin and her Nova Scotia teammates Mary Fay (skip), Karlee Burgess (second) and Janique Leblanc (lead) won the Canadian Junior Curling Championship in Stratford, Ont. The victory earned the rink the chance to represent Canada at the World Junior Curling Championships in Denmark.

On March 13, Kristin and Team Canada earned a 7-4 win over the USA team to capture the world title.

"It's been indescribable — it still feels surreal," says Kristin. "It's been my dream for so long and to have it come true is such an unreal feeling."

Kristin says the international experience was rewarding from both a competitive and personal perspective.
 
"First of all, just to wear the maple leaf and know that we were Team Canada was such an amazing feeling. And going to Copenhagen, it's such a beautiful city and we had a couple days before we started playing where we were able to tour around and experience it.

"That actually made it feel more real: that we were in another country, competing for Canada."

According to Kristin, the strong bonds she has with her teammates are a key reason they've been so successful.
 
"I think it's honestly just our work ethic and our team chemistry. Both of those factors make it easier for us to perform on the ice," she says. "We put a lot of practice time in and when you get along and you're able to motivate each other, it makes it so much easier."

Representing Dal

Kristin's winning streak goes beyond her world championship run with Fay's rink. She's also the skip of the Dal team — which includes Alicia Brine, Raquel Bachman, Hayley McCabe Naish and Emily MacKenzie — that won the Atlantic University Sport (AUS) women's championship in February.

As with her world champion teammates, Kristin says the Dal rink has succeeded with a mix of skill, determination and closeness.

"We all put a lot of time into curling and we get along so well."

Just a few days after returning from Denmark, Kristin was on a flight to Kelowna, BC for the Canadian Interuniversity Sport (CIS) championship tournament. She believes that Dal rink has what it takes to rise above some tough competition.

"There's certainly some big names that are going to be there this weekend, but if we bring our 'A' game we can definitely come out on top."

As of Monday morning (March 21), the Dalhousie team is 2-0 in round-robin competition, earning victories over Alberta and Brock. The tournament runs through Wednesday.

Finding a balance

A CIS championship would cap a year of winning, globetrotting and balancing the demands of school and competition for Kristin. She's grateful to the professors who've accommodated her unusual schedule and the friends and classmates who have supported her.

"It's certainly a juggling act," she says. "My professors have been very accommodating and super-helpful throughout this journey. They'll work around things and help me out to make sure I'm getting along and understanding the material, even when I'm away.

As for her classmates: "We're really close-knit and they were all super supportive and proud of me when I came back (from worlds). It's a nice feeling."

Kristin is driven to pursue curling to the highest levels of competition and hopes to one day compete in senior-level national and international events, including the Olympics. "I want to take it as far as I can and know that I did my best to get there."

At the same time, she's also dedicated to fulfilling another dream through her studies. "Once I complete my degree I'll be able to work as a respiratory therapist, and that's something I can do to help other people."

In a year of firsts, Kristin has gone far beyond simply laying the groundwork for the future. And while she continues to pursue her goals in curling and in the classroom, she can look back fondly at the past few months.

"It's been an amazing year."